Changing your brake pads always comes with a tough choice; which brand should one choose?
Sometimes it is almost impossible to answer when two brands are pitted against each other, for example, ATE brake pads vs. Ferodo.
The main difference between ATE and Ferodo brake pads is that ATE offers very affordable products, while Ferodo carries a substantial price tag. With both companies being famous for innovations, which is better?
There are many ways to compare two brands of brake pads manufacturer, but which is a better choice for you often depends on subjective factors.
We will try to give you objective facts about each of these brands and their products.
Performance, price, and longevity can be measured, so let's see how these brands compare.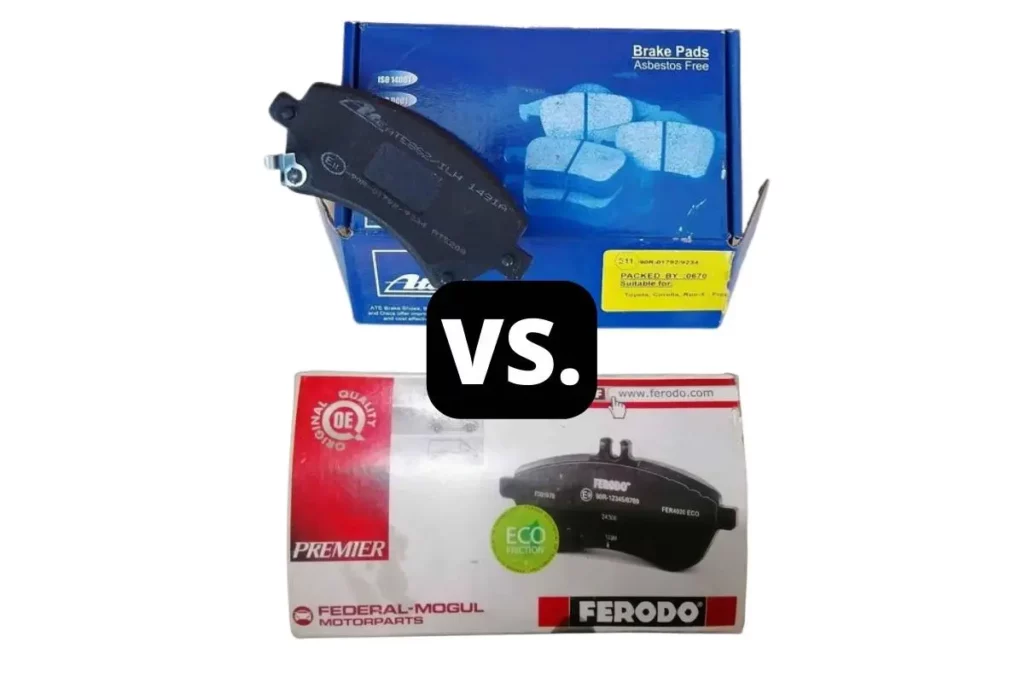 ATE vs. Ferodo Brake Pads Comparison Table
Before we get into the fine details of this comparison, and if you are impatient to get the gist of this comparison, you can check the table below to see how these brands fare when compared per some important factors.
While this isn't a direct comparison of their individual products, it should give you a general picture.
When comparing individual products, both companies have some that are either better or worse than others from the competitor.
But this table is a snapshot of the brands' strengths.
We will get to more detailed information about each of them in a moment, but here you can already see some substantial differences between these brands.
| | | |
| --- | --- | --- |
|   | ATE | Ferodo |
| Origin | Germany | UK |
| Price | Low | High |
| Performance | Average | High |
| Durability | Above average | Above average |
| Variety | High | High |
ATE Brake Pads vs. Ferodo Detailed Comparison
Comparing two different brands of braking pads is not always such an easy task.
Especially when it comes to companies that have large portfolios and a large fan following, some measure of objective criteria can be established.
There is a wealth of information out there, and we went and collected them.
So, we can say we have a pretty clear picture of these two brands and the strengths and weaknesses of their products.
Without further ado, here's how they compare.
Origin
ATE is a German company that has been making OEM parts for the automotive industry for more than 100 years.
They started as a maker of radiators for German car manufacturers. But quickly shifted to making brakes and brake parts.
Hydraulic brakes and ABS systems were innovations created by their engineers.
Ferodo is a British company founded in 1897 as a manufacturer of brakes for horse-drawn carriages and carts.
They are the reason why we talk about brake pads in the first place, as these company has invented brake lining.
Price
Regarding the price of their products, there is a substantial difference between these two brands.
ATE brake pads' prices range between $10 and $175, depending on the model of vehicle they are intended for.
Often equal to other OEM replacements but much cheaper than aftermarket parts.
On the other hand, Ferodo products can be found at a price point north of $375 for some performance brake pads.
But, on average, though some parts can be found at similar prices, Ferodo is roughly twice the price of ATE brake pads.
Performance
ATE brake pads are well known for their performance. They can safely bring you to a stop.
And over the expected distances, no matter what make and model of a car is in question.
But, compared to other brands, ATE products have a very weak initial bite.
Anyone who has ever driven with Ferodo brake pads will tell you that when they are cold, they brake the way many other branded pads do when warmed up. But when warm, they are much better.
The sole criticism about them is that you shouldn't use cheap brake discs with them, as these pads will shorten their lifespan.
Durability
Depending on your driving style, the brake pads of these companies will last you some 20 to 30 thousand miles; if you are very soft on the brakes, it takes even longer.
And there aren't many differences between them in terms of durability.
Except for the one mentioned above. When it comes to Ferodo brake pads, you must pair them with quality brake discs.
They are not harder than ATE brake pads, but they do put wear on low-quality discs.
Brake Pad Variety
Both of these companies are well known for being makers of many OEM products for various car brands.
In addition, they have thousands of products in their portfolios.
But, despite the equal sheer numbers of models, Ferodo covers with their products one market segment that ATE doesn't: Performance and motorsports.
Advantages and Disadvantages of Ate Brake Pads
ATE brake pads are affordable, and for many cars are very affordable. After all, they are the OEM company.
And their products generally perform the same or better than other OEM brake pad makers for those specific vehicles.
But, for some vehicles, ATE doesn't make pads that carry their brand, which are the products you will hear people complain about the most because their quality is not like their other products.
Related: Brembo Brake Pads vs. OEM (In-Depth Comparison)
Advantages and Disadvantages of Ferodo Brake Pads
Ferodo brake pads provide you with nothing but stopping power.
Their quality and performance are not easily matched, especially regarding their performance parts.
They have the reputation of being very silent and very good.
But when it comes to their price, it can be a bit too much for some people. There are more expensive brake pads from some other brands, but they, in general, do not provide equally higher performance.
And also, if you have low-quality brake discs, they will wear them quickly, which creates another expense.
Related:
Conclusion
Two European brake pad brands with a century or so of experience making brakes and brake parts.
But you can choose only one. If you want to save a buck and you are happy with the performance of the OEM parts, ATE is the company you should take into consideration.
But if you are looking for an upgrade of performance, your only choice is Ferodo.
Sources
https://rennlist.com/forums/997-forum/961683-ate-brake-pads-and-brembo-rotors-review-daily-driving.html
https://www.rallysportdirect.com/part/brake-pads/fer-frp3067h-ferodo-ds2500-front-brake-pads/reviews
https://www.benzworld.org/threads/ferodo-brake-pads-review.1463849/