Rev up your curiosity as we introduce you to a wheel showdown like no other.
We're kicking off with a comprehensive wheel brand comparison of BBS vs ESR.
Discover their origins, manufacturing secrets, and what sets them apart in terms of quality, pricing, and warranties.
We'll analyze the pros and cons, ultimately answering the question: Who takes the wheel throne?
Stick around – it's time to find out!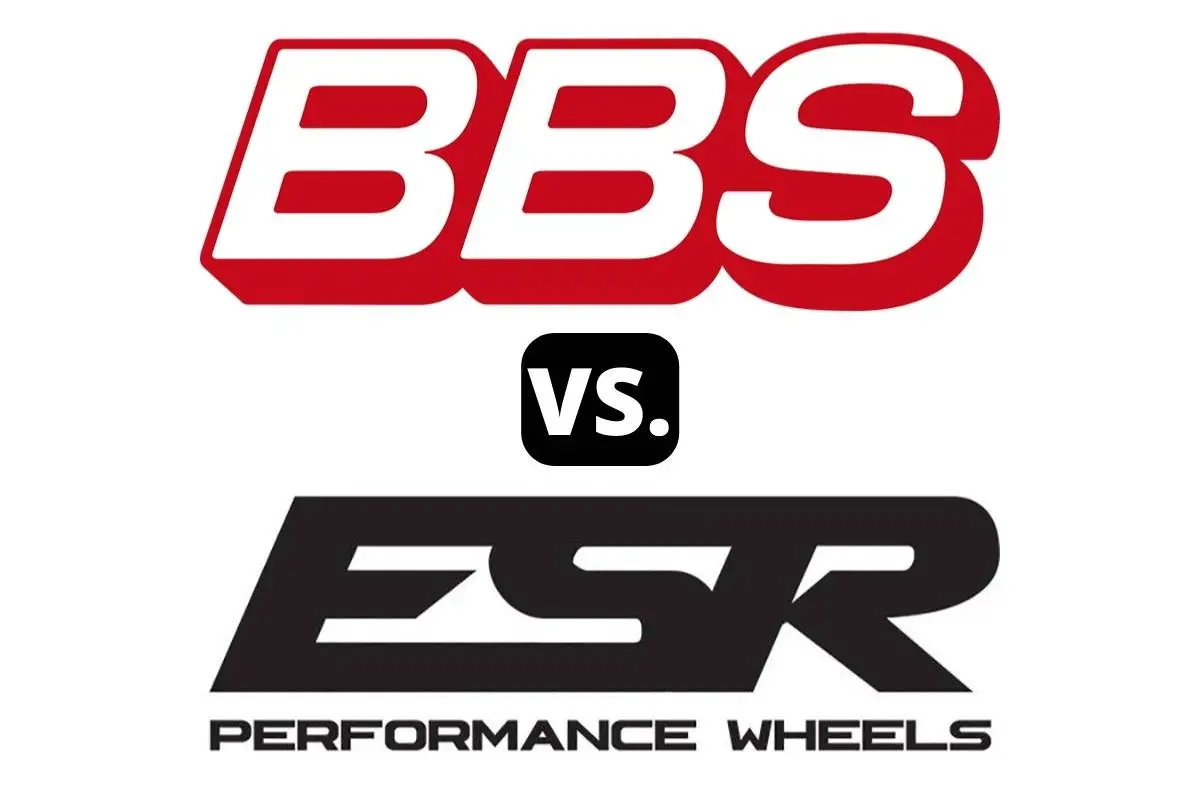 BBS vs ESR – Comparison Table
| | | |
| --- | --- | --- |
| | BBS | ESR |
| Year founded | 1970 | 2014 |
| Country of origin | Germany | United States |
| Made in | Germany and Japan | United States |
| Manufactured by | KW Automotive GmbH, Washibeam Co. Ltd | Wheelimage Corp |
| Build quality | High | Good |
History
Get ready to dive into the stories behind two wheel manufacturing companies – BBS and ESR.
These brands didn't just appear out of thin air; they've got histories filled with interesting twists and turns.
We'll walk you through their journeys, from their early days to where they stand today.
BBS Wheels History
BBS is a leader in the automotive industry and is one of the world's best manufacturers of OEM, racing, and aftermarket wheels.
It supplies the highest quality forged wheels to giant automotive companies like BMW.
Heinrich Baumgartner and Klaus Brand founded this company in 1970 as they were desperate to find a way to increase the performance of their cars on the racetrack.
Their development of the three-piece racing wheel grabbed the racing world's attention and started going up the ladder from that period.
The warehouse in Georgia was established in 1983 and has been selling and supplying aftermarket wheels and other products.
BBS provides services to almost every major racing event too.
The three other facilities are located in Germany and Japan.
One of the warehouses in Germany takes care of the original equipment products and aftermarket wheels, whereas the other one is responsible for all racing and top-quality forged wheels.
The facility in Japan is where the infamous RS wheel was manufactured. This wheel's design propelled them into having such a huge success.
In March 2021, BBS was acquired by KW automotive GmbH.
ESR Wheels History
ESR began its journey in 2014 and is under the ownership of a company called Wheelimage Corp.
Their main headquarters are located in Southern California, where they work on creating wheels.
In the beginning, they focused on making wheels that looked like well-known designs such as BBS RS, Volk TE37, and others.
Basically, they were blatantly ripping off designs and manufacturing complete replicas.
These reps came at a very affordable price, often just around $600-$800 for a whole set.
Manufacturing Techniques
Wheel manufacturing is an art that employs three primary methods: casting, flow-forming, and forging.
Casting involves molten metal being poured into a mold, allowing intricate designs but with moderate strength.
Flow-forming merges casting and forging, spinning the wheel under high pressure to enhance strength without compromising weight.
Forging, the most robust method, employs extreme pressure to shape solid metal, producing lightweight and incredibly durable wheels.
BBS Wheels Manufacturing Methods
The manufacturing methods used by BBS are the following:
Low Pressure Cast
Rotary Forged (Flow Formed)
Die Forged
Magnesium Wheels (BBS Racing Wheels)
ESR Wheels Manufacturing Methods
In comparison, here are the different methods used by ESR to make their wheels:
Cast Wheels
Forged & Multi-Piece Wheels
Wheel Series
BBS and ESR have a number of series available. Below you'll find information about their current line-up.
BBS Wheel Series
Design Line (Cast)
Performance (Flow Formed)
Forged (Die forged)
ESR Wheel Series
ESR Cast Wheels Series
ESR Forged Wheels Series
Popular Models
We've compiled a list of some of the best-selling models for BBS and ESR.
BBS's Renowned Models
BBS RS
BBS LM
BBS E88
BBS RK
ESR's Renowned Models
ESR CS15
ESR SR01
ESR SR07
ESR CS8
Price
Alright, let's dive into the exciting world of wheel prices! We're talking about BBS and ESR, the masterminds behind those round wonders.
It's like a treasure hunt – each brand has its own stash of price tags, ranging from budget-friendly to splurge-worthy.
BBS Wheels Price
BBS wheels will cost you a lot more than other aftermarket wheels competitors. Their average price is usually between $300 and $1800 per wheel, depending on your choice of rims.
ESR Wheels Price
ESR wheels can range from affordable options to higher-end, forged series wheels.
It's recommended to check with specific retailers or online platforms for the most up-to-date pricing information on ESR wheels.
Warranty
When it comes to peace of mind, warranties play a vital role in the wheel-buying journey.
Let's delve into the warranty offerings of BBS and ESR, unlocking the promises they extend to keep your wheels spinning smoothly.
BBS Wheels Warranty
Structural warranty for manufacturing defects for 10 years
Wheel finish warranty for painted wheels for 2 years
Wheel finish warranty for polished wheels for 2 years
ESR Wheels Warranty
Lifetime structural warranty
Limited Wheel finish warranty for 2 years
Advantages and Disadvantages
Before making a decision, it's crucial to weigh the pros and cons that BBS and ESR bring to the wheel table.
In this section, we'll take a close look at what each brand brings to the road – the advantages that make them shine, and the drawbacks to consider. Get ready for the full scoop!
BBS Wheels Pros & Cons
Pros
Cons

✔

High build quality

❌

They cost a lot

✔

Durable and reliable

✔

Enhanced looks

✔

Better grip and Improved fuel efficiency due to their lightweight
ESR Wheels Pros & Cons
Pros
Cons

✔

Budget-friendly price

❌

Lower quality cast wheels, heavy and some of their wheel series are complete knock-offs to other popular brands

✔

Variety of sizes

✔

Wide range of finishes

✔

Decent quality for their Forged series
Final Verdict
The moment of truth has arrived. After exploring the ins and outs of BBS vs ESR, it's time to put the puzzle pieces together:
In the battle between BBS and ESR wheel brands, BBS emerges as the superior option. Boasting high build quality, BBS wheels are renowned for their durability and reliability.
They not only enhance the overall appearance of a vehicle but also provide better grip and improved fuel efficiency due to their lightweight design.
However, one significant drawback of BBS wheels is their steep price tag. With an average cost ranging from $300 to $1800 per wheel, BBS wheels demand a considerable investment.
On the other hand, ESR wheels offer a more budget-friendly alternative. While they provide decent quality, especially in their Forged series, ESR wheels fall short when it comes to overall craftsmanship. Some of their wheel series are complete knock-offs of other popular brands, and their lower quality cast wheels may not meet the same standards as BBS.
Although ESR wheels offer a variety of sizes and finishes, they struggle to match the exceptional quality and performance that BBS wheels deliver.
Ultimately, if you prioritize top-notch quality and are willing to invest heavily in your wheels, BBS is the clear winner.
However, those seeking a more cost-effective option with a decent level of quality and customization options will find ESR wheels to be a suitable choice.