Rev up your curiosity as we introduce you to a wheel showdown like no other.
We're kicking off with a comprehensive wheel brand comparison of JNC vs Volk.
Discover their origins, manufacturing secrets, and what sets them apart in terms of quality, pricing, and warranties.
We'll analyze the pros and cons, ultimately answering the question: Who takes the wheel throne?
Stick around – it's time to find out!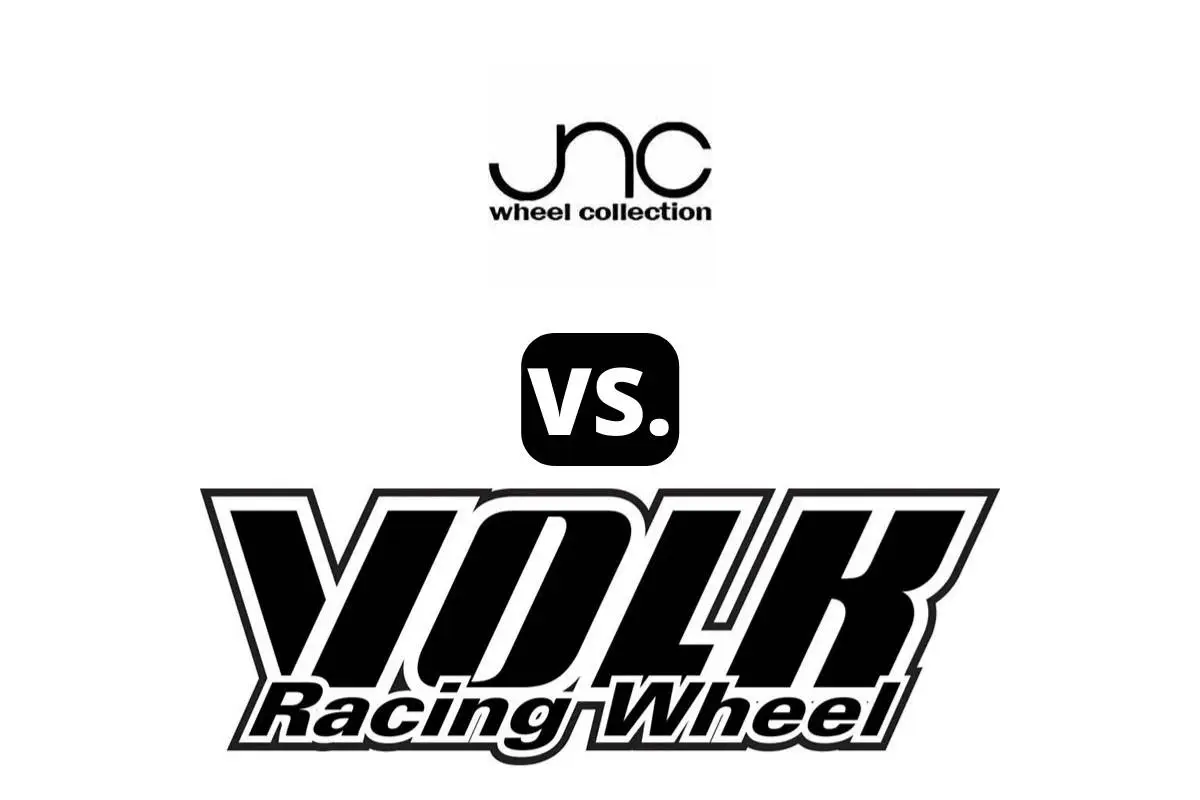 JNC vs Volk – Comparison Table
| | | |
| --- | --- | --- |
| | JNC | Volk |
| Year founded | 1998 | 1973 |
| Country of origin | United States | Japan |
| Made in | China (Not 100% confirmed) | Japan |
| Manufactured by | JNC | Rays Engineering |
| Build quality | Questionable | Very High |
History
Get ready to dive into the stories behind two wheel manufacturing companies – JNC and Volk.
These brands didn't just appear out of thin air; they've got histories filled with interesting twists and turns.
We'll walk you through their journeys, from their early days to where they stand today.
JNC Wheels History
JNC was founded in California in 1998.
JNC wheels are manufactured under the production concept, meaning the company's main focus is to offer elegant and affordable aftermarket wheels to the whole world.
Unlike other wheel manufacturers, JNC does not have any parent company.
In 1998, the aftermarket wheel industry was at its peak.
During this time, everyone started to modify their vehicles with elegant and gorgeous sets of wheels.
However, not all wheel manufacturers were affordable. As a result, JNC came into existence and started making reasonable quality wheels with inexpensive price tags.
In no time, JNC became popular all around the world. Their target market was not only limited to California. Instead, they offered their wheels to the United States, Spain, Canada, and several other countries.
Volk Wheels History
Volk Racing is a Japanese wheel manufacturer that has been producing high-quality wheels for over 40 years.
The company is known for its TE37 wheel, which is considered a masterpiece and the origin of the forged sports wheel.
Here is a brief history of Volk Racing and the TE37 wheel:
Volk Racing was founded in 1973 by RAYS Co., Ltd, a Japanese wheel manufacturer.
In the early years, Volk Racing produced wheels for both street and motorsports applications.
In the 1990s, Volk Racing began to focus more on motorsports and produced wheels for various racing teams.
In 1996, Volk Racing released the TE37 wheel, which was a one-piece forged aluminum wheel designed for both motorsports and street applications.
The TE37 wheel quickly gained popularity among racing enthusiasts due to its lightweight construction and durability.
Over the years, Volk Racing has released various variants of the TE37 wheel, including the Super Lap edition, which was a bare-bones forged wheel designed for racing.
Today, Volk Racing continues to produce high-quality wheels for both street and motorsports applications, and the TE37 wheel remains one of the company's most popular and iconic designs.
Manufacturing Techniques
Wheel manufacturing is an art that employs three primary methods: casting, flow-forming, and forging.
Casting involves molten metal being poured into a mold, allowing intricate designs but with moderate strength.
Flow-forming merges casting and forging, spinning the wheel under high pressure to enhance strength without compromising weight.
Forging, the most robust method, employs extreme pressure to shape solid metal, producing lightweight and incredibly durable wheels.
JNC Wheels Manufacturing Methods
The manufacturing methods used by JNC are the following:
Volk Wheels Manufacturing Methods
In comparison, here are the different methods used by Volk to make their wheels:
Wheel Series
JNC and Volk have a number of series available. Below you'll find information about their current line-up.
JNC Wheel Series
Volk Wheel Series
TE37 Series
CE28 Series
ZE40 Series
G25 Series
RE30 Series
SF Winning Series
SE37K Series
Progressive Model Series
Formula Model Series
Racing Model Series
Popular Models
We've compiled a list of some of the best-selling models for JNC and Volk.
JNC's Renowned Models
JNC 001 (CCW Classics Replica)
JNC 002 (Work Equip Replica)
JNC 004 (BBS RS Replica)
JNC 005 (BBS LM Replica)
JNC 006 (Volk CE28 Replica)
JNC 014 (Volk TE37 Replica)
Volk's Renowned Models
Price
Alright, let's dive into the exciting world of wheel prices! We're talking about JNC and Volk, the masterminds behind those round wonders.
It's like a treasure hunt – each brand has its own stash of price tags, ranging from budget-friendly to splurge-worthy.
JNC Wheels Price
JNC is a wheel manufacturer that is known for their inexpensive price tags.
Volk Wheels Price
Volk Racing are much more expensive than most aftermarket wheel brands.
Volk Racing wheels start at around $500 per wheel and can go up to $1000 or more for a single wheel.
Volk Racing wheels are known for their high-quality construction, unique designs, and lightweight forged construction.
Warranty
When it comes to peace of mind, warranties play a vital role in the wheel-buying journey.
Let's delve into the warranty offerings of JNC and Volk, unlocking the promises they extend to keep your wheels spinning smoothly.
JNC Wheels Warranty
Limited warranty to cover defects in material and workmanship for 1 year
Volk Wheels Warranty
General structural warranty for 3 years
Limited Wheel finish warranty for 1 year
Advantages and Disadvantages
Before making a decision, it's crucial to weigh the pros and cons that JNC and Volk bring to the wheel table.
In this section, we'll take a close look at what each brand brings to the road – the advantages that make them shine, and the drawbacks to consider. Get ready for the full scoop!
JNC Wheels Pros & Cons
Pros
Cons

✔

Budget-friendly

❌

Poor customer service, wheels break easily and they are reps/knock-offs

✔

Variety of designs

✔

Low pressure casting

✔

Good looks
Volk Wheels Pros & Cons
Pros
Cons

✔

Supreme build quality

❌

Very Expensive

✔

Style and street cred

✔

Strong and lightweight construction

✔

Advanced forging techniques
Final Verdict
The moment of truth has arrived. After exploring the ins and outs of JNC vs Volk, it's time to put the puzzle pieces together:
In comparing the wheel brands JNC and Volk Racing, it is evident that Volk Racing has a significant edge over JNC.
While JNC offers budget-friendly options and a variety of designs, their overall quality is questionable.
On the other hand, Volk Racing boasts very high-quality construction, showcasing advanced forging techniques and lightweight forged materials.
Although JNC wheels have an advantage in terms of affordability, Volk Racing's prices are considerably higher.
Starting at around $500 per wheel and reaching well over $1000, Volk Racing wheels demand a premium price due to their supreme build quality and unique designs.
One crucial aspect where JNC falls short is customer service, as it has been reported as subpar.
In contrast, Volk Racing maintains a strong reputation for their exceptional customer service.
Furthermore, JNC wheels have been criticized for their fragility, often breaking easily, while Volk Racing wheels are renowned for their robust and durable construction.
Volk Racing also holds a significant advantage in terms of street credibility and style, further enhancing their appeal.
Considering the information provided, it is clear that Volk Racing surpasses JNC in terms of overall quality, construction, customer service, and reputation.
Although Volk Racing may come with a higher price tag, the exceptional build quality and advanced forging techniques make it a worthwhile investment for those seeking top-notch performance and style.