When you buy a BMW, it will come with run-flat tires. This style of tire adds extra safety to the vehicle but can result in a bumpy and noisier ride than other types of tires.
If you want to continue using run-flat tires on your BMW, you may be wondering what the quietest tires to choose are.
Luckily several quiet run-flat tires can be used on a BMW. One of the most popular choices is Bridgestone DriveGuard run-flat tires. Other great choices include Michelin PS2, Goodyear Eagle LS-2 Run On Flat, and Michelin AS 3+.
Do you want an almost silent set of run-flat tires for your BMW? You've come to the right page.
Today, we will introduce you to several of the best choices for more muted run-flat tires. Keep reading to learn more about them. 
Before you continue reading, we hope that you find the links on our website useful. If you click a link on this page and make a purchase, we may earn a commission at no extra cost to you, so thank you!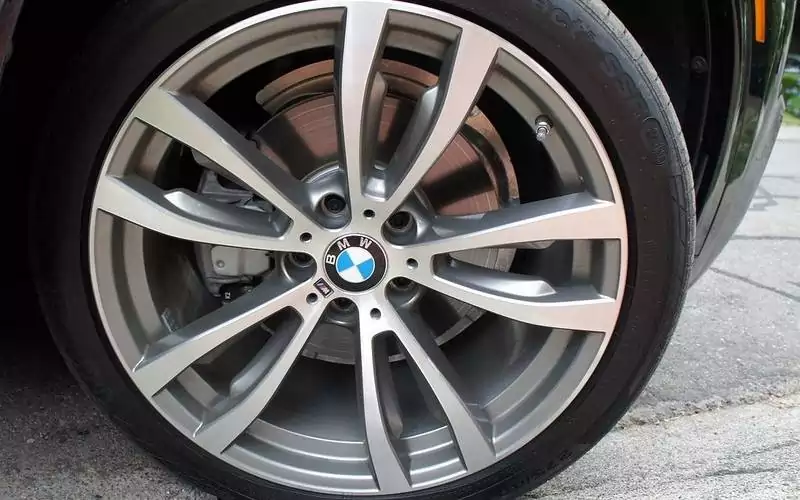 What Are The Best & Quietest Run-Flat Tires For BMW?
If people want a silent tire for BMW, they typically don't look at run-flat tires. This is because run-flat tires aren't known for being low-pitched, especially when they are taken on the highway.
One of the disadvantages of driving a BMW with run-flat tires is that it can be a very rough and loud ride.
However, many tire manufacturers know that people prefer a more muted sound type of tires and have worked out a few of the kinks with run-flat tires.
This is great news for BMW drivers who feel more comfortable driving with the safety levels included with these tires.
If their tire goes flat, they will still be able to drive it home or to a shop, so they won't be stranded. We can't say the same if we compare them with tubeless tires, for example.
Having those extra miles of run time that run-flats provide can be a lifesaver.
We did some digging around to find out what some of the best quietest tires to use on BMWs are. This way, you can drive feeling safe without having to hear every bump your tires hit.
Bridgestone DriveGuard Run-Flat Tires
✔

Close to silent ride


✔

Comfortable ride


✔

Superb grip even on wet roads


❌

Not the best in the winter
If you were to ask any experienced driver who uses run-flat tires what their top choice tire would be, they would likely say Bridgestone DriveGuard run-flat tires.
These are some of the most popular run-flat tires available currently. There are many reasons people prefer Bridgestone DriveGuard run-flat tires, and being close to a silent ride is one of them.
This tire was designed to be more comfortable of a ride than run-flat tires are known for. The design helps to make them lower-pitched, even on the highway.
On top of being quiet, these tires are an excellent choice because they have a superb grip. BMW drivers feel safer driving on rainy days, knowing the tires won't slip on the wet surface. 
While these tires are a popular choice for BMW drivers, they aren't good tires to drive in winter conditions.
The Bridgestone DriveGuard run-flat tires have poor snow traction.
Michelin PS2 Run-Flat Tires
✔

High performance


✔

Good grip on tight corners


✔

Low noise levels


❌

More expensive
Michelin is one of the most popular tire brands, and people know they can rely on this brand to provide quality tires.
Many BMW drivers are impressed by how muted these run-flat tires are once they're put on. These tires were designed to be ultra-high performance. 
These tires are unique compared to other run-flat tires because Michelin features a variable contact patch, which helps control noise by putting more rubber on the road.
This patch was initially put on the tires to help with consistent performances, tight corners, and safely test different maneuvers in your BMW. 
While these tires have received very good reviews from BMW users, they ranked low in durability. They are also at a higher price point than other run-flat tires.
Goodyear Eagle LS-2 Run On Flat
✔

Very smooth ride


✔

Good performance in wet conditions


✔

Can be used in even light snow conditions


❌

No tread warranty

Goodyear Eagle LS-2 Run on Flat also receives great reviews for offering a smooth drive. BMW drivers are impressed by how much more comfortable these quiet tires are to drive than other leading brands.
Usually, with run-flat tires, drivers can feel every bump they hit. Goodyear has designed a run-flat tire that offers a much smoother ride.
This is another run-flat tire that was designed to make driving in wet conditions safer. These tires have a very good rating from BMW drivers for their superior grip and traction.
Drivers can go around tight bends on rainy days without losing traction. They are even good tires to drive through light snowy conditions.
While these tires are good quality, the brand doesn't offer a warranty on the tread. This has been very off-putting for many BMW drivers who were thinking about investing in these tires. 
Michelin AS 3+ Run-Flat Tires
Michelin makes our list again. If you were to search "quietest run-flat tires" on BMW and similar forums, you would notice a lot of BMW drivers recommending the Michelin AS 3+.
It has been ranked as one of the most silent tires that BMW owners can invest in. Part of the reason these tires have softer levels of noise on the road is because of the unique grip design.
The Michelin AS 3+ tires were designed to offer more grip. There is also a high silicone compound that reduces the braking time. This feature is just as effective on wet surfaces as it is on dry.
Overall, these tires have received a nearly perfect rating. They ranked high for having a low noise level, excellent performance, and durability.
The only aspect for which the Michelin AS 3+ run-flat tires didn't get a near-perfect rating was their performance on the ice.
These are not the best tires to drive with during the wintertime, especially roads getting icy. 
Should Run-Flat Tires Be Quiet?
If you are a new BMW owner, you may feel lost when searching for different opinions on how noiseless a specific set of tires really is.
There are several great tire brands to choose from when picking out a more muted in terms of sound type of tire for your BMW. What can throw you into an even bigger loop is when some people suggest one brand as quiet, but others say it's noisy. 
You should be aware of some problems when purchasing a set of run-flat tires for your BMW.
We mentioned some very reputable tire companies above.
Most reputable brands manufacture run-flat tires that have low levels of noise. However, this is only at first. However, after driving around, the tires will begin to get noisy.
For this reason, a quiet tire is likely only going to stay that way for the first 10 kilometers. After that, you may begin to hear some noise.
Final Thoughts
What are the best run-flat tires for BMWs?
If you're looking for a gentle on-the-ear set of run-flat tires, one of the best selections is the Bridgestone DriveGuard, which has received many great reviews from BMW drivers.
Michelin is another great performance tire brand to check out for quite run-flat tires. Two of the best picks for BMWs are the Michelin AS 3+ and Michelin PS2 run-flat tires. 
Do you have a favorite or go-to tire brand? If the company is reliable, they likely manufacture quiet tires.
Typically, tires only become noisy after experiencing wear and tear on the road.
Sources
https://www.2addicts.com/forums/showthread.php?t=1396830
https://www.bimmerfest.com/threads/which-quiet-rft-tires-should-i-buy.967952/
https://www.quattrotires.com/tires/michelin-pilot-sport-ps2
https://www.quattrotires.com/tires/michelin-pilot-sport-as-3+-run-flat