Every car enthusiast is aware of the phrase, "the tires on your vehicle are the one single link to the road surface."
Whether you're passionate about cars or not, it's wise to compare different tires in the market and choose the right one as a car owner. How about Yokohama and Toyo?
The main difference between Yokohama and Toyo Tires is that Yokohama's tires create more noise but are more sustainable for dry environments. In contrast, Toyo's tires are more cost-effective, have a higher tread life, and are suitable in both wet and dry areas but are mostly limited to heavy-duty vehicles.
While both tires are effective in their own way, they have their own quirks that may be suitable for one user but not the other.
This article will go into depth regarding the primary differences between Yokohama and Toyo tires to help you make an informed decision in your purchase.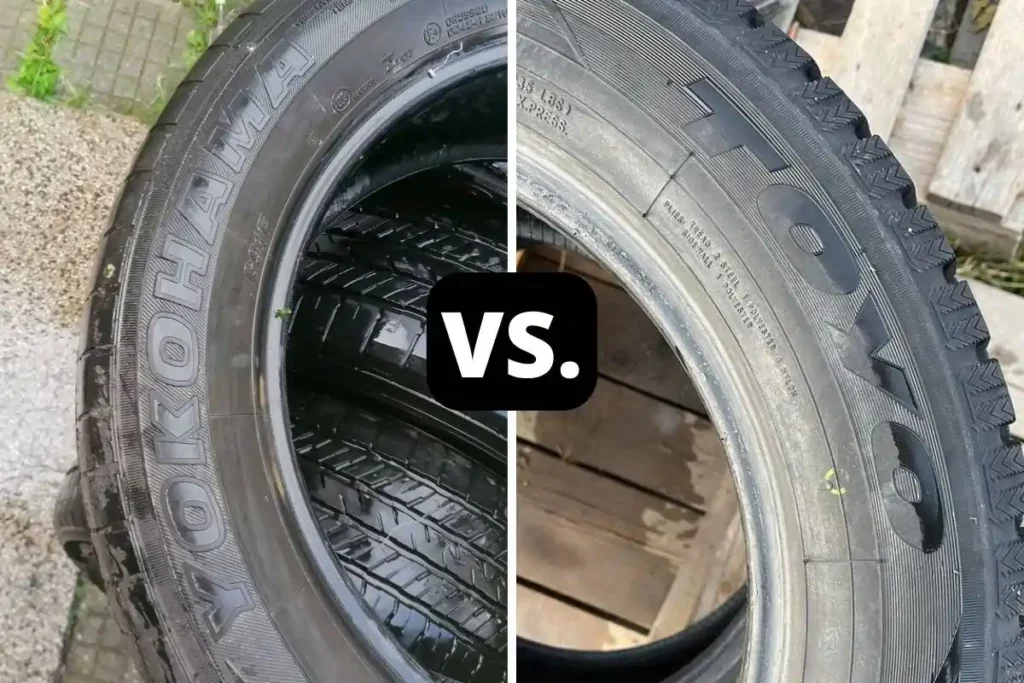 Yokohama vs. Toyo Tires: Comparison Table
Here is a quick summarized comparison table between the two brands.
We have gathered the necessary information to differentiate these brands and make it easier for you to choose the right one.
You can use it as a reference point before jumping into the rest of the article.
| | | |
| --- | --- | --- |
| Aspects | Yokohama | Toyo Tires |
| Versatility | Suitable for many kinds of cars. | Mostly suitable for heavy-duty cars rather than smaller ones. |
| Traction/Tread Life | Excellent traction and tread life in limited environments. Don't work well in icy or snowy areas. | Excellent traction and tread life in wet and dry environments. |
| Sustainability | Environmentally friendly and sustainable. | Not as sustainable |
| Price | High. Suitable for high-end users. | Affordable. Suitable for users looking for mid-range tires with good functionality. |
| Noise | Noisy above a certain level of speed. | Quiet regardless of speed. |
| Materials and Technology | Oils from orange peels. Nanotechnology. | Nano-balance and 3D observational technologies |
Yokohama Tires
Yokohama, established in 1917, has made its mark in the automobile industry as a brand that prioritizes both sustainability and quality functionality.
Versatility
Yokohama tires are suitable for most kinds of cars. Most of Yokohama's tires have a problem of weakened traction in wet areas, but there are specialized tires designed to be used in wet, cold, and snowy environments.
You can choose a Yokohama tire for your car size based on the V, H, or H speed rating.
Traction and Treadwear
Yokohama is known for producing tires not only sustainable in terms of environmental aspects but also in terms of traction.
Their tires function well on a variety of road types, especially in dryer areas. For example, Advan Sport A/S received a fraction score of A to AA.
They're also decent in terms of treadwear. Most Yokohama models have a rating of 400-650.
Noise
Yokohama tires function well but produce some level of noise after exceeding a specific amount of speed.
Several customer reviews say that they start making noticeably high noises, especially above 30 or 35 mph speeds.
Materials and Environmental Impact
Yokohama tires are more environmentally sustainable than most others in the market as they're 80% petroleum-free.
They use unique materials in their products, such as oils extracted from orange peels.
This makes them an excellent choice for users who are environmentally conscious and want a product that not just functions decently but has a smaller carbon footprint too.
Yokohama tires also offer excellent temperature resistance since they use nanotechnology, which helps them remain durable and usable in a variety of temperatures.
Price
Yokohama tires are mainly for high-end users, as there is a unique brand identity and image associated with Yokohama, which many high-end users find attractive.
Other brands, such as Toyo, may provide you with similar functionality at lower prices.
Pros and Cons of Yokohama Tires
Pros
Cons

✔

Environmentally friendly and sustainable.

❌

Noisy

✔

Durable and long-lasting in diverse kinds of environments.

❌

Expensive

✔

Good brand image.

❌

Weak in terms of wet braking

✔

Suitable for different kinds of cars.

❌

Weak in terms of rolling resistance
Notable Yokohama Tires in The Market
1. The Yokohama Geolandar
It comes in different versions, with some functioning very well in muddy and asphalted areas and others handling snowy and icy environments very well.
2. Yokohama Advan Fleva:
Ultra High Performance is a premium quality product in the market, with excellent tread life and a strong grip in dry conditions.
It also offers superb resistance to hydroplaning and is relatively affordable as compared to other Yokohama tires.
The drawback is that it doesn't come with a warranty and that the wet braking could be tweaked.
3. Yokohama IceGUARD is a perfect option for users living in cold environments. Just as the name suggests, it offers excellent traction, grip, and tread in snowy and icy scenarios, but it is average at best for drier environments.
If you're keen on buying this model, you might want to check out some of the problems associated with the Yokohama Geolandar.
Toyo Tires
Toyo Tires is a universally recognized brand and offers quality functionality along with affordability. Let's dissect its features and compare them with Yokohama:
Versatility
Versatility is not Toyo's best forte, as most of their tires are designed for heavy-duty vehicles. If you want quality tires for a smaller car, you might want to go for Yokohama or other brands.
Toyo tires offer excellent durability, traction, and tread life, but they don't have much variety in their passenger and day-to-day car tires, which won't be the best option for users who want more choices.
Traction and Treadwear
Toyo tires offer superb traction and treadwear both on and outside of roads.
The Open County M/T, for example, has scalloped shoulder blocks that provide excellent grip and traction in muddy, snowy, or icy environments and also function well off-road.
Noise
Compared to Yokohama, Toyo tires are relatively quieter as they have a silent-wall technology that gets to the root of tire noise – resonance in the tire cavities.
This ensures the user a comfortable, nuisance-free ride no matter how much they speed.
Related: Cooper vs. Pathfinder Tires (In-Depth Comparison)
Materials and Environmental Impact
Toyo uses durable materials in their tires with nano balance and 3D observational technologies to optimize their functionality.
Different products by Toyo have additional features to help them absorb moisture and improve traction on complex pathways.
In terms of environmental sustainability, Yokohama fares better than Toyo.
Price
Toyo tires are some of the best quality tires in the mid-range category, which is a plus point for users on a budget.
Related: Ironman Tires vs. Michelin (In-Depth Comparison)
Pros and Cons of Toyo Tires
Pros
Cons

✔

Function well in both wet and dry environments.

❌

Not suitable for smaller cars.

✔

Quieter

❌

Not the most environmentally sustainable.

✔

More affordable

❌

Lack of variety in day-to-day car tires.

✔

Innovative use of technology
 
Notable Toyo Products in The Market
1. Toyo EXTENSA HPII All-Season Radial Tire is a best-selling product known for being quiet, smooth, and comfortable for long periods of time. They offer decent traction in both wet and dry areas.
2. Toyo A23 All-Season Radial ensures excellent and smooth driving in diverse environments – off-road, on-road, wet and cold, etc. It also has a reasonable price and treads life.
3. Toyo Observe GSi-5 is stud-less and designed to handle all kinds of environments and is available in versions for both passenger and RV or SUV cars. The Spider Sipes technology improves traction while accelerating and braking.
Related: Low Profile vs. High Profile Tires (In-Depth Comparison) 
Conclusion: Which One To Purchase?
Yokohama and Toyo produce tires of excellent quality, but their targeted audience may differ.
If you want more choices in your day-to-day tires, aren't on a budget, have a smaller vehicle, and are looking for a more environmentally sustainable product, Yokohama is the one to go for.
If you want something quieter and functional in a diverse range of environments, whether it's snow, ice, mud, on-road or off-road, at an affordable price, consider Toyo tires.
Related: Achilles Tires vs. Michelin (In-Depth Comparison)
Sources
https://www.forbes.com/wheels/accessories/best-toyo-tires-for-2022/
https://www.sdwheel.com/blogs/328/are-toyo-tires-worth-it#:~:text=Toyo%20has%20consistently%20created%20high,their%20tire%20compounds%20and%20materials.
https://worldtirereview.com/yokohama-tire-reviews/
https://www.passatworld.com/threads/toyo-or-yokohama-tires.170667/