Michelin's Premier LTX tire is the company's all-season light truck tire for SUVs and crossovers.
The tire is pretty impressive all around, though it does have some significant wear problems you'll want to consider before buying them.
The Michelin Premier LTX tire has a significant problem with premature wear. The problem is caused by the materials used to produce the tire. However, incorrect vehicle alignment can also play a role. Buyers can work with their tire dealer to get a replacement or prorated credits to buy new tires.
Vehicle tires are a significant investment, and buyers will likely have high expectations with those from a manufacturer like Michelin.
In this guide, you'll learn all about the wear problems with Michelin Premier LTX tires, what you can do about it, and how to minimize wear as much as possible.
Before you continue reading, we hope that you find the links on our website useful. If you click a link on this page and make a purchase, we may earn a commission at no extra cost to you, so thank you!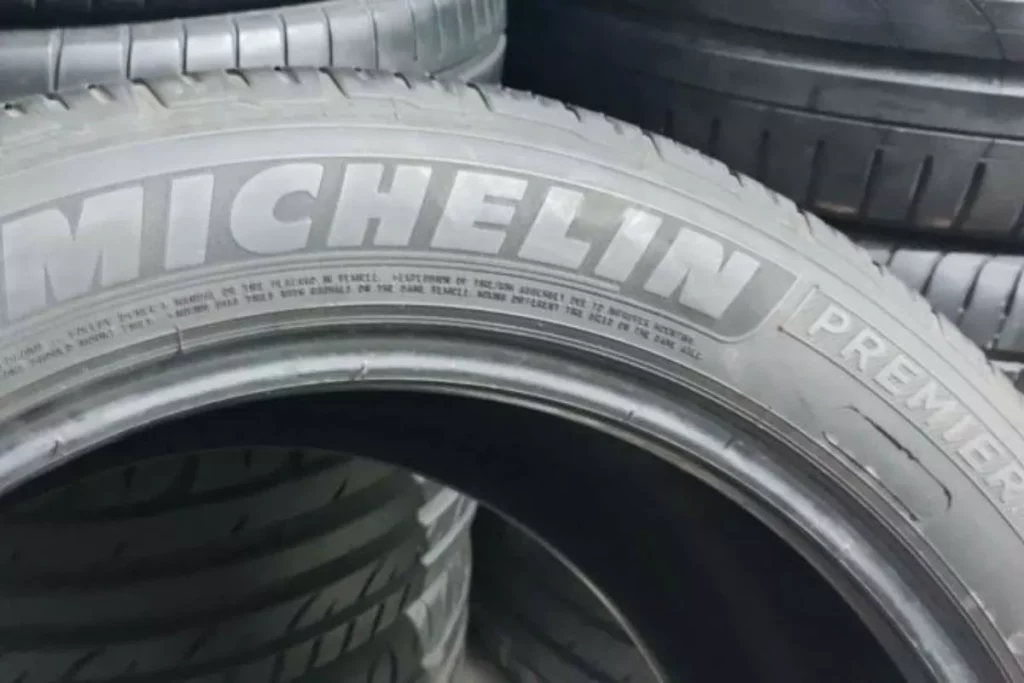 What Problems Do Michelin Premier LTX Tires Have?
Michelin's Premier LTX tires perform very well in many different ways. Still, these tires have one significant problem that makes them stand out for all the wrong reasons: they wear out too quickly.
Sure, all tires wear out eventually. That's especially true after extended use and as the tires approach the end of their useful lifespan.
Shockingly, Michelin's Premier LTX tires wear out much sooner than their rated mileage of 60,000 miles.
This problem hasn't gone unnoticed by car companies, either.
For example, GM released a Service Bulletin for North America in 2019, informing dealers of this problem, its causes, and how they should work with customers to resolve it.
In that service bulletin, the company describes the problem as 'premature or accelerated tire wear' on several vehicles equipped with Michelin Premier LTX tires.
Why Do Premier LTX Tires Wear Out Prematurely?
There are two reasons a set of Michelin's Premier LTX tires might wear out prematurely, one having to do with the vehicle and another with the tires themselves.
Those reasons are:
Vehicle alignment issues: Incorrect tire alignment on a car will cause Premier LTX tires to wear out faster than expected. Not only will those tires wear out prematurely, but they'll also wear out at different rates from one another.
Materials used to make the tires: The composition of materials used to make tires continually changes. Those changes typically improve their performance, but they sometimes have side effects. For example, the materials might cause the tires to wear out a lot quicker than people are used to with other tire models and brands.
Michelin Premier LTX Treadwear Compared to Similar Tires
Tire Rack has a special tire rating category for Crossover/SUV vehicles. You can see in the figures below that the Premier LTX has one of the worst scores on treadwear.
Actually, out of 47 tires in total for this category, it is placed almost at the bottom of the pack at the 41st position.
We have narrowed the tire list down to the top 10, Michelin Premier LTX (placed 41st), and the bottom of the table – Cooper Discoverer SRX LE (placed last at 47th).
| | | |
| --- | --- | --- |
| Position | Tire | Treadwear Score |
| 1 | Pirelli Scorpion AS Plus 3 | 9.5 / 10.0 |
| 2 | Yokohama Geolandar CV G058 | 9.2 / 10.0 |
| 3 | Continental CrossContact LX25 | 9.2 / 10.0 |
| 4 | Cooper Endeavor Plus* | Excellent |
| 5 | Yokohama Geolandar X-CV | 9.0 / 10.0 |
| 6 | Bridgestone Alenza AS Ultra | 8.9 / 10.0 |
| 7 | Cooper Evolution H/T | 8.8 / 10.0 |
| 8 | Sumitomo Touring LX T | 8.8 / 10.0 |
| 9 | Michelin CrossClimate SUV | 8.7 / 10.0 |
| 10 | BFGoodrich Advantage T/A Sport LT | 8.7 / 10.0 |
| 41 | Michelin Premier LTX | 5.0 / 10.0 |
| 47 | Cooper Discoverer SRX LE | 1.6 / 10.0 |
* Tire Rack Projection
How Do You Fix Michelin Premier LTX Wear Problems?
When you find that your Michelin Premier LTX tires have worn out, there is no other option but to replace them with new tires.
As you saw earlier, the problem of these tires prematurely wearing out is a known issue. So, don't go buying a brand new set of tires just yet.
Instead, here's what you can do to resolve the problem:
Contact Your Dealer
First and foremost, contact the dealer you bought your Michelin Premier LTX tires from.
You're likely not the first customer who has experienced problems with these tires, so the dealer will be able to advise you on what to do next.
While some people might rush to buy new tires, contacting your dealer first allows you to discuss the options that are available to you.
Check Your Warranty
As you work with your dealer to find a solution, be sure to check that your tires are still within the manufacturer's warranty period. 
Checking the warranty will also help you understand what kind of benefits you might be entitled to when your tires wear out prematurely.
Check For Any Alignment Issues
As you saw earlier, one of the root causes of this problem is your vehicle alignment. So, if you've been driving with those tires for less than 12,000 miles, you must ensure that your car's alignment is in the correct range.
Checking the alignment is especially important if you've noticed the steering wheel leading or pulling as you drive with your Michelin Premier LTX tires.
Collect Prorated Credit Towards New Tires
Suppose your Michelin Premier LTX tires wear out prematurely despite correct vehicle alignment. In that case, you might be entitled to prorated credit towards a new set of replacement tires.
The exact calculation of that prorated credit will depend on your mileage. So, you'll have to discuss that directly with the dealer who sold you those tires.
How Do You Reduce Tire Wear?
Despite the risk of Michelin Premier LTX tires wearing out prematurely, there are several steps you can take to prevent excessive wear.
Here are 6 steps to reduce tire wear in your Michelin Premier LTX tires:
#1 Maintain Correct Air Pressure
Firstly, you can reduce wear on your Michelin tires by checking and maintaining correct air pressure at all times.
JACO ElitePro Digital Tire Pressure Gauge – Professional Accuracy – 100 PSI
✔ Pro Accuracy
✔ Strong & Rugged
✔ Advanced Engineering
✔ Smart Display
Check Price
#2 Keep Tires Properly Inflated
Remember: underinflated and overinflated tires alike will wear out quicker than they should. Use a tire inflator to properly inflate your tires according to your manufacturer's recommended psi.
AstroAI Tire Inflator Portable Air Compressor Air Pump for Car Tires
✔ Toughultra Technology, Enhanced Durability
✔ Programmable Inflation
✔ Compact Size & Easy to Store
✔ Smart Preset & Auto Off
✔ Easy Nighttime Use
Check Price
#3 Practice Smooth Driving Habits
Aggressive driving habits can also speed up the wear on your Michelin tires. For example, hitting potholes and going too fast around curves can speed up the wear on your tires.
#4 Maintain Your Suspension System
The suspension system on your vehicle keeps your tires firmly on the road. However, when any of its components are loose, damaged, or misaligned, it'll also cause some tires to wear out faster than others.
#5 Rotate Tires Regularly
Another tire maintenance task you shouldn't neglect is tire rotation. Rotation is when you switch the tire positions on your car, allowing each one to experience more even wear.
#6 Check For Correct Vehicle Alignment
Last but not least, check your alignment and correct it if necessary. The alignment process is when you adjust the vehicle suspension to ensure that your Michelin tires move at the correct angles.
What Do the Reviews Have to Say?
"Just like others who have gotten this tire not very happy with the fact that a 60,000 mile tire wears out so fast and has such poor tread life."

Tire Tack Customer
"These are on the wife's SRX. She is not an aggressive driver and has 400 mile one way trips to visit family a few times a year. Good tires in all regards except mileage. Not even 3 years old and down to the wear bars at 31,840 miles."

Tire Tack Customer
"The majority of the miles on the car are highway miles. To date, the wear is average at best. The road noise, which was a concern with the last set purchased is poor. I will look to purchase a different manufacturer for the next set."

Discount Tire Customer
Frequently Asked Questions (FAQs)
Here are a few more questions and answers about your Michelin Premier LTX tires that you might find helpful:
What Are Michelin Premier LTX Tires For?
Michelin produces the Premier LTX tires for SUVs and light-duty pickups, to be used for all seasons.
These tires incorporate Michelin Evergrip technology and an evolving tread, both of which maintain wet grip even as the tires wear out.
Are Michelin Premier LTX Tires Good In Snow?
No, the Michelin Premier LTX tires are not meant for use in icy and snowy conditions.
While they do just fine in light winter conditions, you'll want to invest in specialized tires if you're driving around plenty of snow and ice.
How Many Miles Should Michelin Premier LTX Tires Last?
Michelin guarantees the Premier LTX tire for up to 60,000 miles. However, Consumer Reports tests find that they'll last up to 40,000 miles.
Suppose your tires wear out before Michelin's guaranteed mileage.
In that case, you might be eligible for a replacement or prorated credits towards a new set of tires.
When Should I Replace My Michelin Premier LTX?
Regardless of the mileage, you should replace your Michelin Premier LTX tires when the tread wears out. More specifically, you can consider your tires worn out once they show a tread depth of 4/32 inches (or 3.22 mm).
At that point, the tires are no longer safe to use and must be replaced with new ones as soon as possible.
Sources
https://static.nhtsa.gov/odi/tsbs/2019/MC-10160420-9999.pdf
https://www.acadiaforum.net/threads/michelin-premier-ltx-tires.36449/
https://www.consumerreports.org/products/all-season-truck-tire/michelin-premier-ltx-388350/overview/
https://www.tirerack.com/tires/michelin-premier-ltx
https://www.tirerack.com/tires/surveyresults/surveydisplay.jsp?type=CSTAS&sortValue=23#ratingsSort