If you're interested in purchasing a set of BF Goodrich KO2 tires, you should be fully aware of the common issues that drivers have experienced with them.
Luckily, we've compiled this guide to key you into the main problems with KO2 All-Terrain tires based on customer reviews and experiences listed in online auto forums.
The main problems with BF Goodrich KO2 tires include issues with balancing, traction in various conditions, vibration, handling, noisiness, and tire durability. Some of these problems can be lessened with proper tire maintenance, like regular rotations, but other problems seem to persist regardless.
Keep reading if you'd like to learn more about customers' problems with these tires and how you can troubleshoot them (when possible).
We'll discuss specific experiences and at what mileage these problems tend to occur.
In the end, we'll also answer some frequently asked questions about KO2 tires, so stay tuned!
Before you continue reading, we hope that you find the links on our website useful. If you click a link on this page and make a purchase, we may earn a commission at no extra cost to you, so thank you!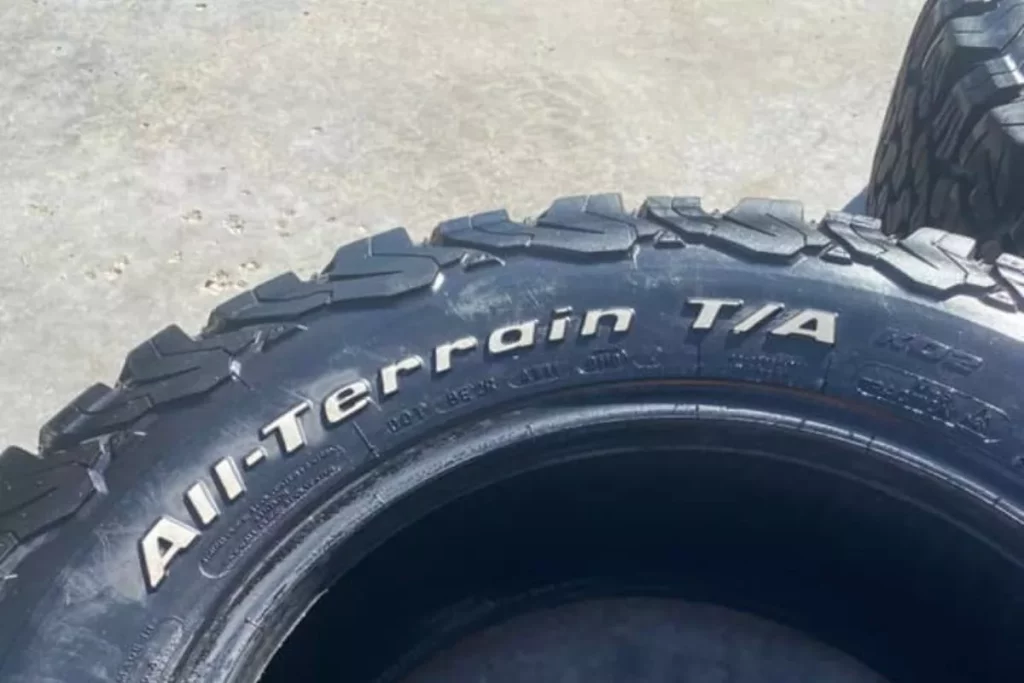 BF Goodrich All-Terrain T/A KO2 Problems
Below, we discuss specific problems drivers have experienced when using BFG All-Terrain T/A KO2 tires.
Note that some of these tire problems are more common than others – such as vibration and road noise at high speeds.
On the other hand, some issues are more hit or miss, such as bad traction on wet or snowy roads. 
Poor Traction 
Loud Road Noise
Bad Handling
Vibration Problems 
Low Durability
Issues with Balancing
Keep in mind that some issues cannot be fixed with tire rotations, proper air pressure, and other maintenance tasks and thus require you to replace your tires altogether. 
Poor Traction 
Among the customer reviews, ratings, and forum advice we found in our research, a common complaint was that these tires don't have good grip/traction.
Depending on the conditions of the road, customers have noticed problems such as:
Poor mud traction
Poor snow traction
Getting stuck on ice
Getting stuck on slate
Bad traction on sand
Poor off-road traction
Worse snow driving in comparison to DuraTrac tires
Considering the fact that these tires are marketed as "all-terrain" tires and are "Severe Snow Rated", this is an unfortunate problem to have. 
But there are some ways that you can prevent the loss of tread and hopefully improve traction, including regular tire rotations, maintaining tire pressure at all times, and driving defensively on wet or snowy roads. 
JACO ElitePro Digital Tire Pressure Gauge – Professional Accuracy – 100 PSI
✔ Pro Accuracy
✔ Strong & Rugged
✔ Advanced Engineering
✔ Smart Display
Check Price
Loud Road Noise
By far, one of the most common problems with KO2 tires is the road noise issue.
Customers have complained about everything from the tires being loud and heavy to being loud and stiff or excessive in regular driving conditions. 
Even when the tires were still brand new, people noticed how loud they were – enough to drown out the sound of the radio and interfere with phone calls.
Customers have also stated that the tires "make more noise than I can stand" and that they "have horrible road noise" that sounds like a jet plane.
Possible fixes to road noise can be costly, but there are options, including:
Soundproofing car doors, trunk, or wheel arches & installing vibration dampers on the car floor
KILMAT 80 mil 36 sqft Car Sound Deadening Mat,
Experience the superior adhesion of self-adhesive automotive butyl and foil sound deadening material, boasting an 80 mil thickness. KILMAT is a user-friendly and DIY-friendly solution, providing efficiency and ease of installation for optimal soundproofing results.
Check Price
Making sure the tires are properly inflated
AstroAI Tire Inflator Portable Air Compressor Air Pump for Car Tires
✔ Toughultra Technology, Enhanced Durability
✔ Programmable Inflation
✔ Compact Size & Easy to Store
✔ Smart Preset & Auto Off
✔ Easy Nighttime Use
Check Price
Bad Handling
Handling issues aren't super common with BFG KO2 tires, but they can happen depending on your car model and other factors. 
Sometimes, drivers notice that these tires cause issues with steering, making it difficult to drive straight and steady or make turns without pulling on the steering wheel. 
Unfortunately, handling issues is difficult to troubleshoot, but getting your tires rotated at every oil change and keeping air pressure right can minimize problems. 
Vibration Problems
It's sad to see that vibration problems are also common with KO2 all-terrain tires and noise complaints. 
Some customers started dealing with this problem as soon as they had the tires installed. Vibration intensifies with these tires at higher driving speeds, such as highway speeds. 
Even after completing regular tire rotations, alignments, and air pressure maintenance, people have experienced persisting tire vibration.
It can be so intense in some cases that you feel like you are shaking or wobbling when driving your car. 
Low Durability
With all-terrain tires, you want to have good tread and durability.
Unfortunately, though, there have been some complaints of low durability with KO2 tires, including issues such as:
Splitting tire sidewalls
Cracked tire sidewalls
Loss of 50% of the tread after just a couple of years of driving
Tread worn out after only 16,000 miles
Need for replacement after only 10,000 miles
Pick up nails at low mileages
Uneven tread wearing 
When it comes to cracks and splits in tire sidewalls, you, unfortunately, can't do much to repair them and will have to replace the tire(s) entirely.
Otherwise, issues with quick-wearing tread and uneven tread can be lessened with regular alignment and rotation, as well as good inflation.
Issues with Balancing
Last, but definitely not least, we want to note the issues with balancing BF Goodrich KO2 tires. You should be able to comfortably rotate/balance your tires each time you get an oil change (roughly every 5,000 miles).
However, customers have had to re-balance these tires every 1,500-2,000 miles. 
Without extra-frequent balancing of these tires, you may experience horrible vehicle shaking and wobbling while driving.
In worst-case scenarios, drivers even experienced persisting shaking and tire imbalance after frequent rotation.
Final Thoughts
BF Goodrich KO2 problems range from bad road noise to vibration, wobbling, and poor handling at higher speeds.
They're all-terrain tires, but they reportedly don't track well on snow, rain, mud, sand, and other terrains. 
Make sure that you have handled all regular tire maintenance – such as rotations, alignments, and inflation – before you resort to replacing them.
And if you don't currently own these tires, be aware of their problems before purchasing them. 
FAQs
Are BF Goodrich KO2 Tires Any Good?
Depending on who you ask, these are decent all-terrain tires. On the BF Goodrich Tires official product page for the KO2s, the tires have an average rating of 4.1/5.0 stars (garnered from nearly 1,000 customer ratings). 
Some of the most positive reviews have to do with the tire design, although there are multiple firsthand experiences with road noise, poor winter traction, and other issues when driving with these tires. 
How Long Do BF Goodrich KO2 Tires Last?
BF Goodrich All-Terrain KO2 tires are designed to have a relatively short tread life of 50,000 miles (this is what the warranty covers) when compared to other tires.
However, what they lack in terms of mileage, they tend to make up for in terms of performance on different terrains. 
Are BF Goodrich KO2 Tires Noisy?
According to many customer reviews of the KO2 tires, they can be overly noisy, especially when it comes to road driving and highway driving.
It's not as noticeable when it comes to rough terrain driving, but it's something to keep in mind if you intend to use the tires for long-distance driving purposes.
Are BF Goodrich KO2 Tires Good on Highway Roads?
BF Goodrich KO2 tires drive well on highway roads, but drivers have to be wary of issues with handling/steering, road noise at higher speeds, and vibration at higher speeds.
Some reviews have expressed that the tires are "unsuitable for everyday commuting." 
Are BF Goodrich KO2 Tires Good in The Rain?
BF Goodrich KO2 tires are technically "all-terrain" tires – not "all-weather" tires. According to firsthand customer experience, KO2 tires perform decently well in rainy conditions.
However, there are some reports of the tires not gripping well on wet roads. 
Sources
https://www.reddit.com/r/ToyotaTacoma/comments/bhdo19/unpopular_opinion_bfg_ko2s_arent_that_good_of_a/
https://www.reddit.com/r/subaru/comments/f3kw41/a_word_of_caution_about_the_bf_goodrich/
https://www.bfgoodrichtires.com/auto/tires/all-terrain-t-a-ko2?cid=PSH%7CBFGoodrich_GGL_BRND_KO2_Clicks_SEA_EXTM_US_EN+KW+-+EN+BR_ALL%7CGOOGLE%7C580301045643%7Cc%7CBfg%20ko2%20tire%7Ce%7C&utm_source=GOOGLE&utm_medium=cpc&utm_campaign=BFGoodrich_GGL_BRND_KO2_Clicks_SEA_EXTM_US_EN+KW+-+EN+BR_ALL&utm_term=Bfg%20ko2%20tire&utm_device=c&gclsrc=aw.ds&&gclid=CjwKCAjw2rmWBhB4EiwAiJ0mtR4ApRGOXYHdQjxx9lqZFSamYAtT0WLBGA6dxZ7ItYqijy-nZQNgfxoCDDsQAvD_BwE&gclsrc=aw.ds
https://www.bfgoodrichtires.com/auto/tires/all-terrain-t-a-ko2?cid=PSH%7CBFGoodrich_GGL_BRND_KO2_Clicks_SEA_EXTM_US_EN%20KW%20-%20EN%20BR_ALL%7CGOOGLE%7C580301045643%7Cc%7CBfg%20ko2%20tire%7Ce%7C&utm_source=GOOGLE&utm_medium=cpc&utm_campaign=BFGoodrich_GGL_BRND_KO2_Clicks_SEA_EXTM_US_EN%20KW%20-%20EN%20BR_ALL&utm_term=Bfg%20ko2%20tire&utm_device=c&gclsrc=aw.ds&gclsrc=aw.ds&gclid=CjwKCAjw2rmWBhB4EiwAiJ0mtR4ApRGOXYHdQjxx9lqZFSamYAtT0WLBGA6dxZ7ItYqijy-nZQNgfxoCDDsQAvD_BwE#