You may or may not be aware of the mixed reviews that Bridgestone Ecopia tires have gotten over the years.
That's why we've researched forums and Bridgestone product pages to determine the main Bridgestone Ecopia problems – for both the H/L 422 Plus and EP422 Plus tires. 
Some of the main problems with Bridgestone Ecopia tires include loud road noise, rough riding, and bad tread longevity, among others. Many of these problems are flaws in the design that can't be fixed without replacing the tires. 
If you want to learn about some of the other problems that customers have faced with Bridgestone Ecopia tires, keep reading.
We're exploring possible troubleshooting solutions when possible.
Stick around and read to the end of the article to get answers to frequently asked questions, too!
Before you continue reading, we hope that you find the links on our website useful. If you click a link on this page and make a purchase, we may earn a commission at no extra cost to you, so thank you!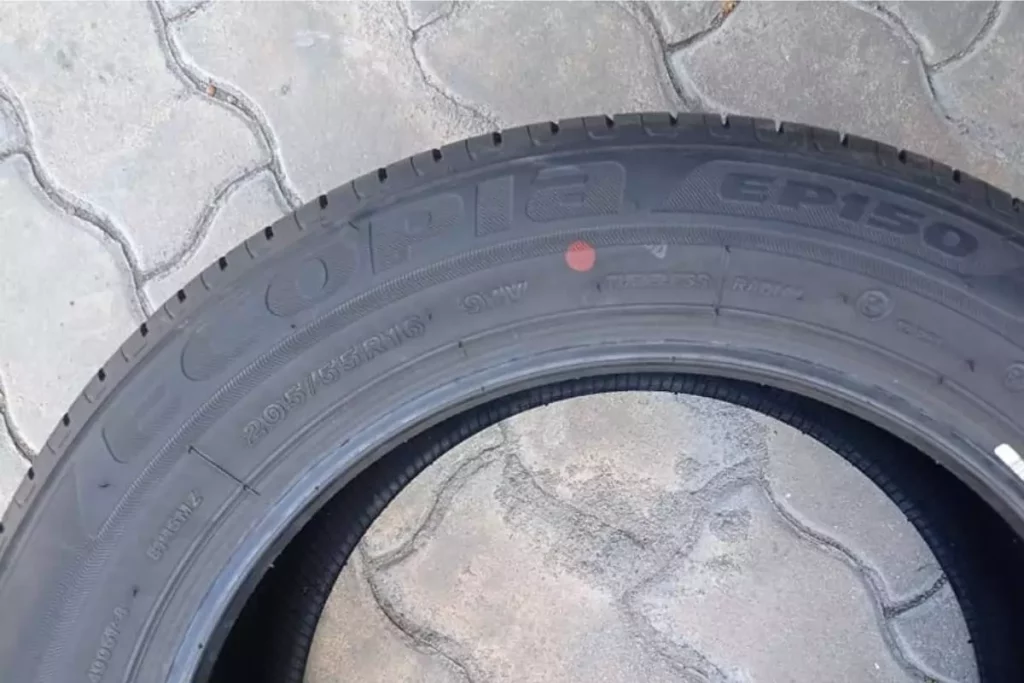 Common Problems with Bridgestone Ecopia (H/L 422 Plus & EP422 Plus)
We've scoured the negative customer reviews and ratings of both models of Bridgestone Ecopia tires to learn what customers dislike the most about these tires.
Our findings are also based on driver and car-related forums with firsthand accounts of problems with the products, such as the following:
Road Noise
Bad Tread Longevity
Tires Spinning
Rough Riding
Bad Handling 
Tracking Issues 
Below, we'll share some possible solutions, where applicable, for these common tire problems. And we'll note when the best solution is tire replacement. 
Road Noise
A noticeable problem with Ecopia tires is that they create a significant amount of road noise when driving.
Some customers have described it as "completely unbearable" or "distracting."
Although this problem is more of an inconvenience than a hazard, difficulty hearing while driving can pose risks to hard-of-hearing drivers.
People have reported experiencing:
Difficulty hearing vehicle audio system except at loud volumes
Difficulty using vehicle voice recognition systems due to loud road noise
Road noises get worse at higher speeds
Road noises get worse when turning corners too quickly
Loud road noise, even on the smooth pavement at moderate speeds
Since the noise problem is coming from the tires, any time you drive, you're going to deal with it.
What Do About the Road Noise?
The number one thing to do when your tires are too loud is to ensure they are properly inflated. With a tire pressure gauge, you can check if your tires have the correct air pressure.
JACO ElitePro Digital Tire Pressure Gauge – Professional Accuracy – 100 PSI
✔ Pro Accuracy
✔ Strong & Rugged
✔ Advanced Engineering
✔ Smart Display
Check Price
The lower the air pressure, the more the tire's surface area comes into contact with the hot top. You want to reduce that with proper air pressure.
Otherwise, you will need a compressor if the air pressure is insufficient.
AstroAI Tire Inflator Portable Air Compressor Air Pump for Car Tires
✔ Toughultra Technology, Enhanced Durability
✔ Programmable Inflation
✔ Compact Size & Easy to Store
✔ Smart Preset & Auto Off
✔ Easy Nighttime Use
Check Price
The only other thing you can do is soundproof your vehicle's interior. Installing these kinds of tires means dealing with the noise that they create.
KILMAT 80 mil 36 sqft Car Sound Deadening Mat,
Experience the superior adhesion of self-adhesive automotive butyl and foil sound deadening material, boasting an 80 mil thickness. KILMAT is a user-friendly and DIY-friendly solution, providing efficiency and ease of installation for optimal soundproofing results.
Check Price
Soundproofing your vehicle's interior is not cheap, but you can accomplish it by filling the doors, trunk, and/or wheel arches & installing vibration dampers on the car floor with sound-proofing material.
Kilmat makes suitable materials to shop for if you need a quick fix to soundproof your vehicle. 
Otherwise, the only other way to fix this problem is to simply not drive, avoid windy/loud driving conditions, drive slowly, or get different tires.
Bad Tread Longevity 
Bad tires are typically labeled as such because of bad tread, traction, and/or grip performance.
Unfortunately, Bridgestone Ecopia tires are known for this flaw, with customers noting that the tread wears out too quickly. 
Although the product warranties claim that they should last up to 70k miles, they often don't last for more than half of that mileage (35k) before wearing smooth.
One negative customer review stated that their Bridgestone Ecopia tire tread dropped to 7/32 after only 40k miles of driving.
And some customers noted that their tread started wearing down after only one year of regular use.
To slow down this issue with tread wearing out, you should be getting your tires rotated regularly – about every 5k-6k miles. 
Tires Spinning
Some customers have noted issues with their tires spinning or losing grip on both wet and dry road conditions.
Although this isn't a super common problem with the Ecopia tires, you may notice that if you accelerate too hard from a stop or even while moving, your tires could spin and lose their grip. 
The solution to this problem? It's simple – avoid hard accelerations or hard breaks.
Drive carefully, especially in wet conditions, so that you minimize your risk of spinning or hydroplaning. 
Rough Riding
Rough riding is a top complaint among Ecopia tire users.
People have noticed that these tires are fairly firm/hard when compared to competitor products, which means that you'll feel most of what you drive over on the road. 
So if you're driving on gravel roads, over potholes, or on top of cracked or bumpy surfaces, you're not going to have a very comfortable experience. 
You can improve your riding/driving comfort by taking care to avoid rough roads, driving at lower speeds, and adding a cushion or pad to your seat. 
Bad Handling 
Handling is an important part of driving because it determines how easy it is to navigate turns and use your steering wheel smoothly.
Unfortunately, Bridgestone Ecopia tires are not known for great handling, with customers reporting instances of "squirrely" handling and tires pulling to different sides. 
Another complaint related to handling is that these tires don't handle well on wet, slick roads or in windy conditions. 
To counteract this issue, it's important to drive defensively, with both hands on the steering wheel at all times.
You can also manage control of your vehicle better once you get a feel for how the tires handle and prepare for it when you make turns, etc.
Tracking Issues 
Finally, we want to point out what some customers have noticed: tracking or "tramlining" issues.
This is when you're driving over grooves or cracks in the road and your tires get pulled into those divots or spaces. 
This is inconvenient and even hazardous when driving at higher speeds because it inhibits your ability to drive the vehicle in a straight line. 
If your car tramlines with Ecopia tires, make sure that your wheels are properly aligned, your suspension is still good, and your tires are at the right air pressure before you replace them.
Tenhulzen Automotive 2-Wheel Alignment Tool – All-in-one (Camber/Caster/Toe Plates) – Made in USA
Check Price
FAQs
Are Bridgestone Ecopia Tires Any Good?
Bridgestone Ecopia tires are not very highly rated among Bridgestone customers.
The Ecopia H/L 422 Plus tires have an average rating of 2.5/5.0 stars (about 100 ratings), and the Ecopia EP422 Plus tires have an average rating of 3.0/5.0 stars (about 100 ratings). 
Although they're designed for fuel efficiency, good handling, longevity, and all-season performance, customers have noted numerous problems with them. 
Are Bridgestone Ecopia Tires Noisy?
Yes, Bridgestone Ecopia tires (specifically the EP422 Plus models) have negative reviews pointing out their loud noise and overwhelming background road noises.
They are notably loud even when driving on smooth and even pavement and when driving at low or medium speeds. 
How Long Do Bridgestone Ecopia Tires Last?
Bridgestone's Ecopia tires are CR tested and supposed to have up to 70,000 miles of tread life on them.
However, all Bridgestone tires are supposed to be removed and replaced after 10 years, regardless of what the tread looks like. 
Is Bridgestone Ecopia Good in Snow?
Although Bridgestone Ecopia tires are considered "all-season" tires, customer reviews note that the H/L 422 Plus tires don't have good traction on layers of snow, ice, and light dustings of snow.
And the EP422 tires also have negative reviews pointing to their bad tread on snowy and icy road conditions.
Of course, if your tires lack the traction needed to drive on wintry roads, you can always add chains to them.
Double check you're getting the correct fit for your tire size.
Final Thoughts
Bridgestone Ecopia tire problems range from issues with handling to tracking problems, bad road noise, and rough riding. 
You can prevent and manage some of these issues with proper, regular vehicle maintenance, but in the case of quickly worn tread, you may need to replace your tires.
Study up on these common Bridgestone Ecopia tire problems before you decide to purchase them.
Sources
https://www.bridgestonetire.com/our-tires/tire-brand/ecopia/
https://www.bridgestonetire.com/tire/ecopia-ep422-plus/175-65R15/#section-reviews
https://www.reddit.com/r/mazda3/comments/8iakt3/how_bad_are_the_bridgestone_ecopia_ep422_plus/
https://www.reddit.com/r/prius/comments/oc8ym1/bridgestone_ecopia_422_plus_anyone_use/
https://www.reddit.com/r/prius/comments/bfbnyv/bridgestone_ecopia_ep422_plus_very_squirrely/