Most cars have solid windows; however, some brands now design their vehicles to have frameless windows, mainly to give them a unique outlook or function for convertibles.
Some autos with frameless windows have a "short drop" feature that triggers the window to roll down a little while you open the door and roll up automatically when you close it. 
Automobiles with frameless windows offer convenience while getting in and out of the vehicle.
Here is a list of the top 8 cars with frameless windows.
Top 8 Cars With Frameless Windows
Frameless windows give the cars that have it a unique look and outstanding convenience. Do you want to get a car with frameless windows too? Below is a list for you;
Audi Q8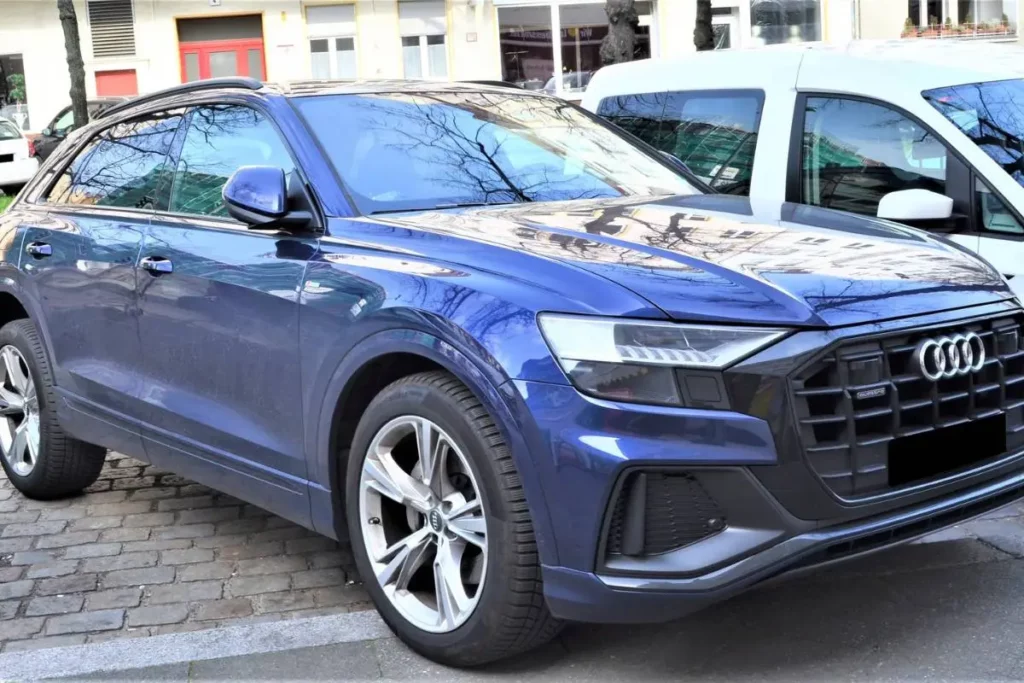 Audi Q8 is one of the automotives with posh frameless windows. It is a coupe that looks good in the hatchback. Audi Q8 has a light bar radiating around the rear end and is available in several colors.
The new Audi Q8 has a starting price of $71,800 and comes with a 3.0-liter TFSI engine that produces 335hp. 
The Audi Q8 is available in a wheel drive system and all-wheel steering. It has adaptive air suspension, MMI® navigation plus, MMI® touch response, and Audi Virtual cockpit plus.
This frameless window SUV has a front and rear acoustic sensor and a quality Bang & Olufsen® 3D Premium sound system. 
Toyota Celica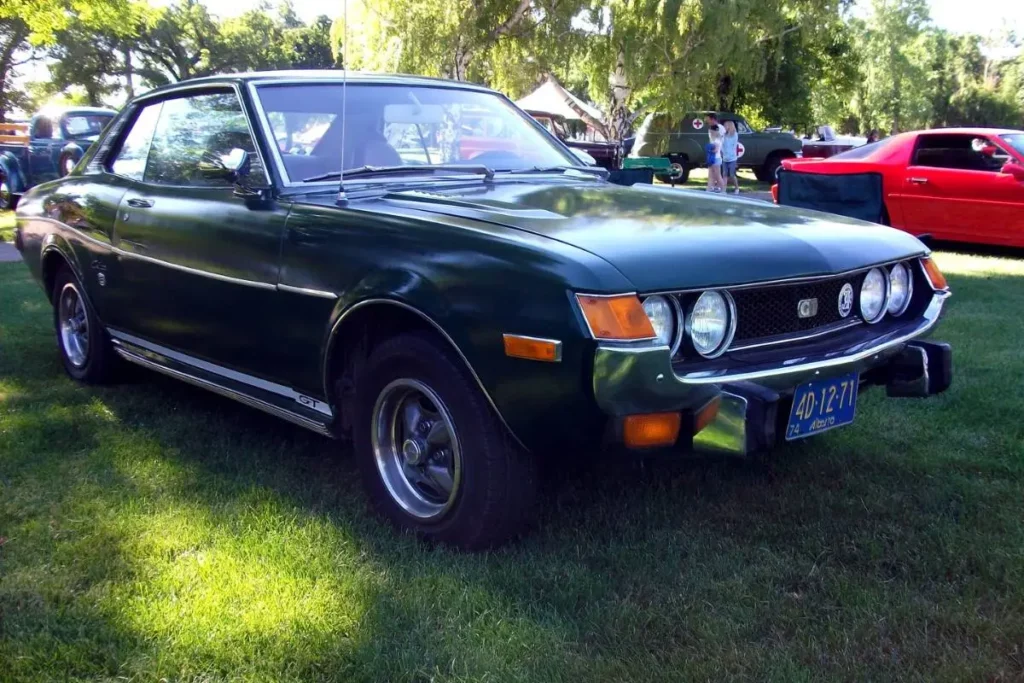 Toyota Celica is another car with frameless windows. It has comfortable seats that offer the utmost convenience for passengers.
Many users have commanded its exterior, and the running cost is impressive. The Toyota Celica features;
Anti-lock brakes
Front-impact airbags
Anti-Whiplash
Daytime running lights
Child seat anchor
Seatbelt pretensioners
Ventilated front disc/rear drum brakes
In addition, the Celica got 4 stars rating for the driver front and passenger front, while it got 3 stars rating for the front side from NHTSA. 
Another great feature of the Toyota Celica is its excellent fuel economy; with a 33mpg on the highway, 25mpg in the city, and a combined 28mpg, it helps its users save money.
You will enjoy using the frameless window and won't encounter any issues. 
Audi TT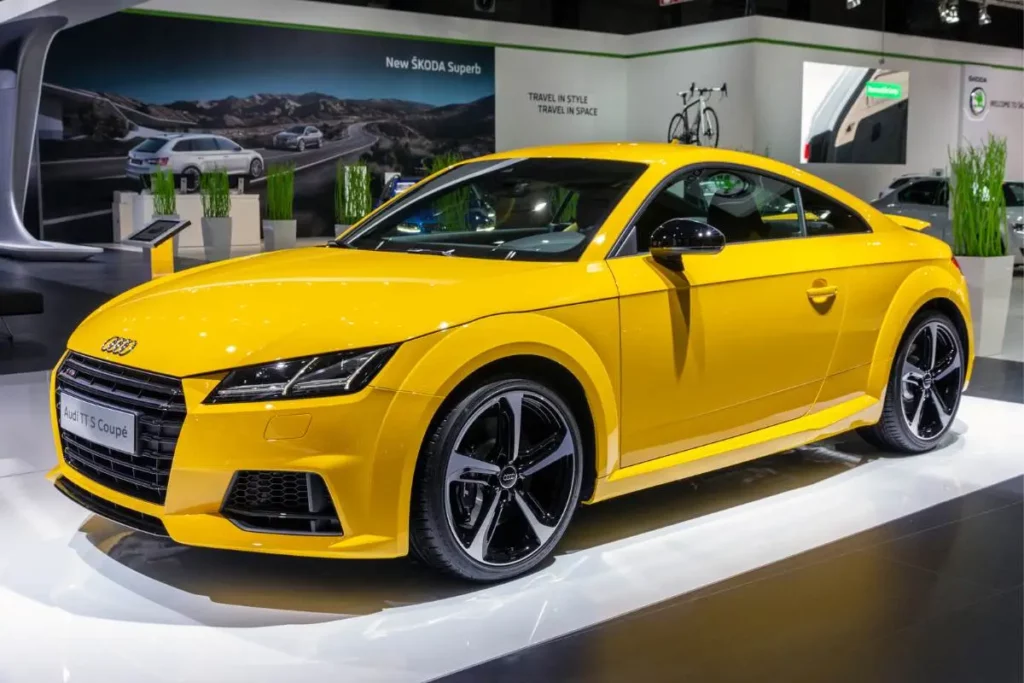 The Audi TT has two versions: the convertible and hardtop versions. We are more concerned with the Hardtop Version that comes with frameless windows.
The Audi TT is a sporty car with a modern style launched in 1998. It is designed for users that like to turn their heads while driving. 
Features, performance, and tech vary from year to year, but all trim levels of TT are reliable and fun to drive.
The basic trim of the Audi TT comes with two engines; a 2-liter gas engine that produces 220 horsepower and another 2-liter gas engine that produces 228 horsepower. 
The Audi TT comes with several tech features such as Android Auto, USB ports for the front passenger, keyless entry, cruise control, Bluetooth, a rearview camera, a navigation system, and so on.
It has tech features such as Apple CarPlay, rear sensors, hill start assist, power door locks, etc. 
The frameless windows will make you feel close to the open road while you enjoy comfort. 
2020 Mercedes-Benz CLA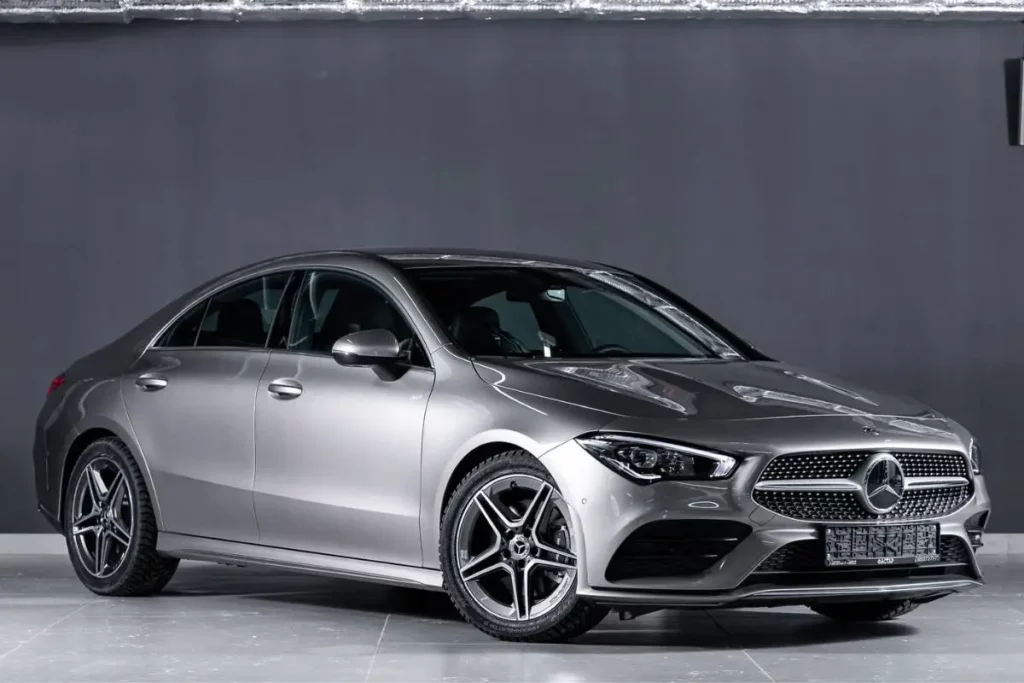 The new CLA has several features like that of the previous year. It has frameless windows and a sloping rear end.
It has a new headlight and grille, and it is bigger and has more interior space than the first-generation models.
The 2020 Mercedes-Benz CLA has an MBUX infotainment system that features in the Mercedes Benz A-class. 
The CLA comes with a 10.25 inches screen which replaces the conventional instrument cluster, while the other function as an infotainment interface. Overall, the interior outlook is sleek and high-tech.
The CLA has a unique feature called the Interior Assistant functions as a gesture control system that allows the owner to use different systems with a stress-less hand motion. 
The frameless windows offer convenience while you open the door and give the car a unique outlook. 
Volkswagen CC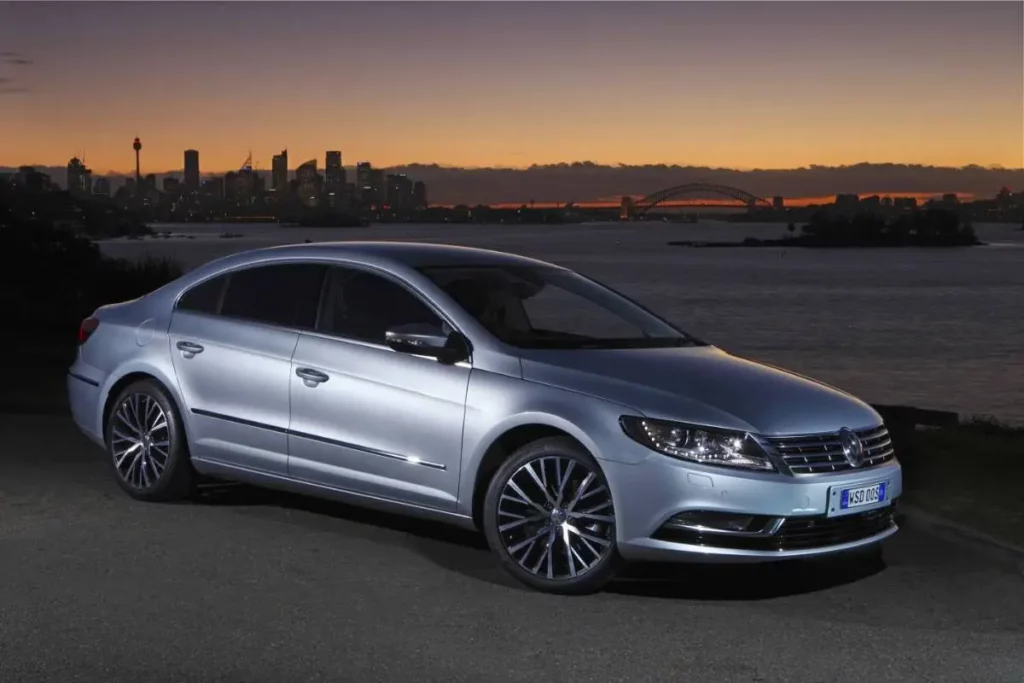 The Volkswagen CC is a luxury car that offers a smooth and quiet ride. It also features a frameless window and an up-to-date infotainment system—getting a 9 out of 10 for styling, 8 for performance and features, and 7 for quality, safety, and fuel economy. 
The CC comes with a 2.0-liter turbocharged engine with 200 horsepower and a 3.6 V6 engine with 280 horsepower.
However, the turbocharged engine is lighter than the V6 engine, the V6 engine is useful during wet washers because of its traction, and it requires more fuel. 
The V6 engine in Volkswagen CC function well when paired with a traditional 6-speed automatic transmission. The CC has back seats that accommodate three passengers and upgraded materials in the cabin.
The frameless window on the CC looks like the ones on a true coupe, though not a coupe, but it is stylish. 
The CC offers comfortable handling, great steering, and strong and reliable brakes. 
Tesla Model 3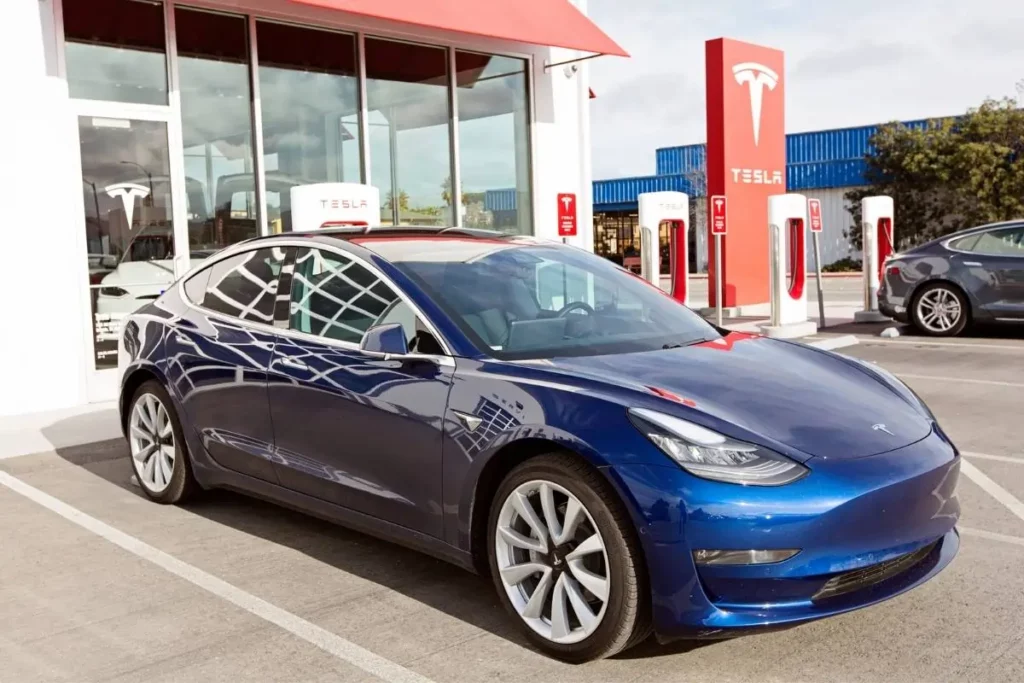 Tesla Model 3 is an electric vehicle that combines performance, driving range, and affordability. The performance trim is very fast and agile a driving range of 358 miles per charge.
The Tesla Model 3 features frameless windows and has now launched an app that can unlatch the door in case of glass freezing. 
The window rolls down a little to get past the trim so you can open the door comfortably. The starting price of the Tesla Model 3 is $48,440, it provides smooth and silent speed, and it offers incredible power from a stop.
The Tesla Model 3 performance will cruise to 60 mph in 3.5 seconds, while the Model 3 Long Range manages this fit in 4.0 seconds. 
This electronic vehicle carries its battery under the floor, making it easy to stay stable in corners and maintain excellent gravity. 
Mini Cooper
Mini Cooper is another car that features frameless windows. It is a hatchback 5-seater vehicle that comes with an automatic petrol engine. The petrol engine has a displacement of 1598 cc and is paired with an Automatic Transmission.
The Mini Cooper has a mileage of about 15.6 km, but this number is based on the fuel type and variant. 
Its engine produces about 120 horsepower, and it has several cool features such as:
Air conditioner
Automatic climate control 
Alloy wheels 
Frameless window front 
Anti-lock braking system 
Driver airbag
Subaru WRX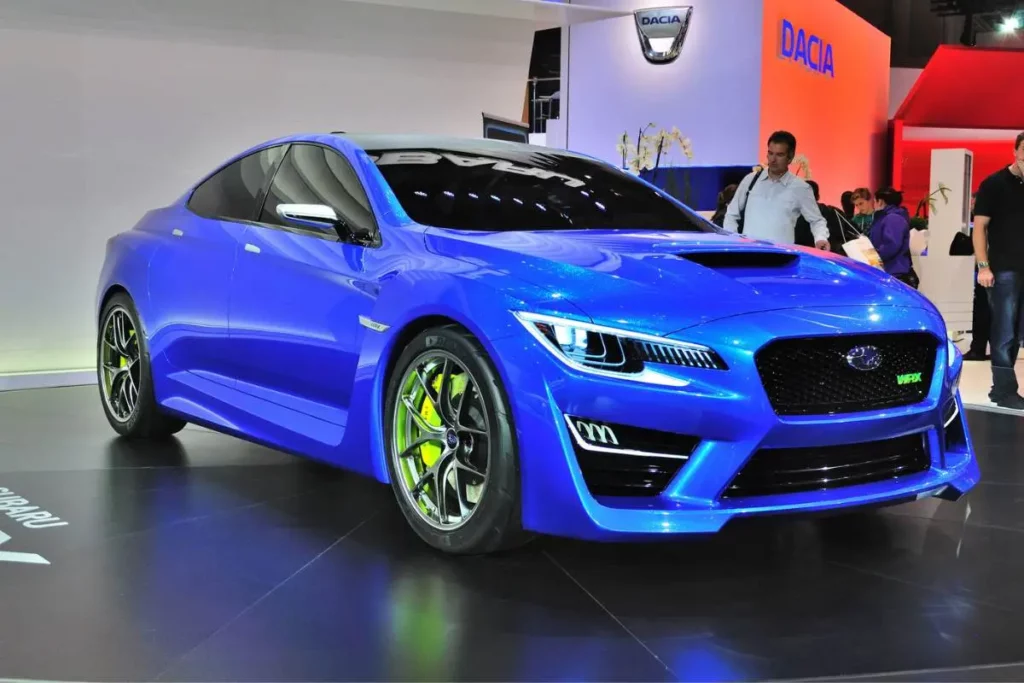 Some Subaru cars, such as the WRX, also feature frameless windows, with several users complaining that the window rattles and breaks under high pressure.
The new Subaru WRX features a 2.4 liter direct-injection turbocharged Subaru Boxer engine that produces 271 horsepower. 
The engine produces high performance when paired with a 6-speed manual transmission controlled by a powerful shifter.
The new Subaru WRX has 60/40 split flat-folding rear setbacks and a trunk size of 12.5 cubic foot trunk. The Subaru WRX features EyeSight Driver Assist Technology that monitors car movement. 
At the same time, you drive, take care of cruise control, and it notifies you any time you drive outside your lane. This frameless window car also features Starlink Multimedia with Apple CarPlay and Android Auto. 
It also comes with a high-resolution 11.6-inch touchscreen that makes it comfortable to select apps and other features in your car. 
You might also like: 8 Cars with Eco Mode (with Pictures)
Pros And Cons Of Frameless Windows In Cars 
Brands that design frameless windows on their cars have their reasons. However, as there are advantages to using frameless windows, there are also downsides. 
Pros
For cosmetic purpose
To give the car a unique look
To function for convertibles
Cons
They allow too much road noise while driving at high speed
They cause electrical problems such as window motor shorts
The glass is mostly not secured in the frame
Door slamming can easily get the window off-track
Conclusion
Cars with frameless windows have beautiful outlooks, and getting in and out of them is easy since the window rolls down much easier.
If you want this kind of car, the list above contains the necessary information.
Sources