Do you have a hard time deciding between Safelite and Glass America when it comes to replacing your car's windshield?
Both companies are popular in the United States and have good reviews, but how do they differ in terms of service offerings?
The main differences between Glass America and Safelite are that these companies have different nationwide coverage, mobile service terms, warranty terms, and prices overall.
Keep reading if you want to learn more about what distinguishes these two windshield repair businesses from one another.
We're outlining their main differences and how they compare in terms of advantages and disadvantages for customers.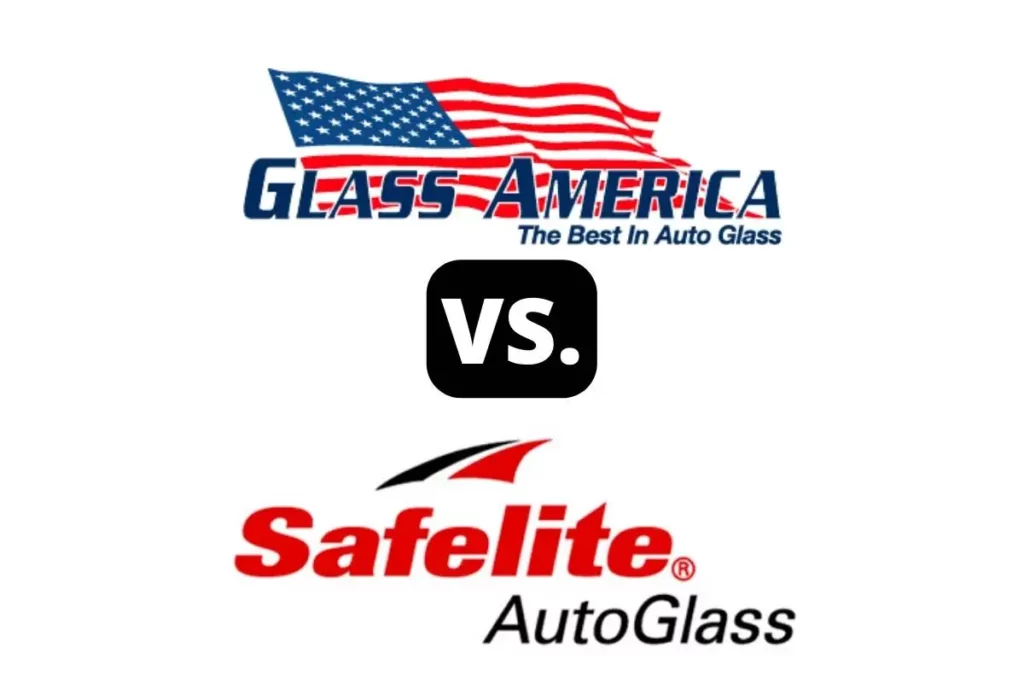 Glass America vs. Safelite Windshield Brand Comparison Table
| | | |
| --- | --- | --- |
| | Glass America | Safelite |
| Locations  | Locations in 30+ states | Locations in all 50 states (and 7,100 mobile glass shops) |
| Glass Quality | Uses both Original Equipment Manufacturer and Original Equipment Equivalent glass quality  | Uses both Original Equipment Manufacturer and Original Equipment Equivalent glass quality  |
| Warranty Criteria | All of their products are backed by Nationwide Lifetime Warranties | They offer national warranties on their products, which are guaranteed for as long as you own or lease the vehicle |
| Mobile Services  | Free mobile service where technicians come to your home, place of business, or other remote location, with same-day scheduling | Mobile glass repair, but depends on insurance coverage |
| Pricing Terms  | Competitive pricing (around $250 out of pocket on average) and full-partial coverage with comprehensive insurance, with or without a deductible)  | Can pay with insurance coverage or out of pocket, and minor chips can get repaired at little to no extra cost |
Safelite is more comprehensive when it comes to locations around the country, with stores in every single state.
In fact, Safelite makes their services available to around 96% of nationwide drivers, with the majority of their locations on the east coast and in the midwest. 
On the other hand, Glass America customers are limited to stores in 37 states nationwide, excluding Hawaii, Alaska, and several other states from their coverage list. 
Glass Quality  
Glass America and Safelite both use OEM and OEE (original equipment equivalent) quality glass, and you have to specify which kind you want. 
Warranty Criteria
The warranties are actually fairly similar when we compare Glass America and Safelite. Notably, they're both nationwide warranties and have long terms. 
But it's important to note that Safelite's warranty is limited to the length of time that you own the vehicle or lease it.
And you also have to bring any defects or problems with your windshield to Safelite's attention within 30 days of discovering them in order to make use of the warranty. 
On the other hand, Glass America's warranty is a lifetime warranty.
Mobile Services 
Here is a key distinction between Glass America and Safelite.
At Glass America, all customers can get mobile window repairs and replacements at no extra charge, whereas Safelite may charge you varying prices for mobile service depending on your coverage. 
Furthermore, Glass America advertises same-day scheduling for mobile repairs, whereas Safelite does not. 
Safelite technicians will use mobile technology for these services for paperless repairs. And Glass America does not note whether or not they use paperless technology for mobile services. 
Pricing Terms 
Glass America Prices
At Glass America, customers who have comprehensive insurance can get coverage and only have to pay their deductible.
The company even takes care of billing the customer's insurance company for the remaining balance. 
Out of pocket, Glass America customers typically pay between $100-$1,500 depending on the make and model of their vehicle, location, add-ons, and other factors. 
Safelite Prices
At Safelite, minor windshield chip repairs are done at little to no extra cost. Windshield jobs are usually covered fully for insured customers, and Safelite works with most major insurance companies. 
For Safelite out-of-pocket services, customers pay varying prices based on location, vehicle type, size of the damage, etc. on average, out-of-pocket repairs are roughly $200-$500, but it will be much more expensive if you have a luxury car, for example.
Advantages and Disadvantages – Glass America vs. Safelite
There are pros and cons to using both companies for windshield repairs and replacements. 
Advantages of Glass America
Some of the advantages of getting windshield services from Glass America include:
Having every one of their technicians certified by the AGSC (Auto Glass Safety Council)
Offering free and speedy mobile services to the customer's desired location (with same-day scheduling as well)
Competitive prices in the industry for uninsured individuals
Glass America accepts cash, checks, and major credit cards 
Speedy repair jobs 
Partial-full windshield repair or replacement coverage with comprehensive insurance (with or without a deductible)
Insured technicians
They file the insurance claims for you
They adhere to safe drive-away time (SDAT) for all repair and replacement jobs 
Disadvantages of Glass America
Watch out for the following when doing business with Glass America:
Relative lack of national locations
Customer reviews have reported experiencing bad installation jobs 
Technicians are not always proficient at their jobs 
Advantages of Safelite
Safelite is an advantageous service provider due to their:
Thousands of mobile glass shop locations
Locations in all 50 states
A 4.67/5.0-star average rating among hundreds of thousands of customers online
Speedy and efficient repairs and installations
Excellent customer service 
Convenient
Professional
A+ rating with the BBB
Disadvantages of Safelite
However, Safelite doesn't come without a few downsides, including:
Pricier services when compared to other companies
Don't always use OEM quality glass
Varying opinions come from the customer reviews 
Frequenly Asked Questions – FAQs
Is Glass America Owned by Safelite?
In 2020, Safelite Group acquired the assets of AutoGlass of America.
AutoGlass of America is not the same company as "Glass America", which is actually owned by The Boyd Group Services, Inc. Glass America is among several businesses, including Gerber Collision; Glass and Assured Automotive, that the Boyd Group owns.
Does Glass America Use OEM Glass?
Glass America uses both OEM and OEE glass quality.
They use OEM and OEE glass and high-quality glass adhesive to ensure the safest possible windshield installation/replacement jobs.
It also ensures a perfect fit every time, which you don't get with many other windshield service providers. 
Does Safelite Use OEM Glass?
Safelite allows customers to choose between OEM (original equipment manufacturer) glass or OEE (original equipment equivalent) glass for windshield replacements.
If you choose OEE, you get glass made by the same standards but through a different manufacturer. 
Does Safelite Use Chinese Glass?
According to Safelite's official FAQs page online, they acquire and purchase their windshield glass supplies from large companies and manufacturers worldwide.
There isn't an official statement regarding their glass coming specifically from China.
However, they note that they do have domestic glass production plants that they use.
What Is Safelite's Replacement Windshield Quality?
Although the replacement glass windshields from Safelite are generally of very reasonable quality overall, it's always a good idea to conduct your own due diligence before changing your windshield.
That being said, Safelite has an A+ rating from the Better Business Bureau. However, just like any popular manufacturer, you can still probably find mixed Safeline reviews from users on various social media websites, groups, and forums around the web.
What Is the Difference Between OEM and OEE Glass?
The source of the glass is one of the main differences between OEM and OEE glass. OEE glass is manufactured by a different company compared to OEM, which is made by the original manufacturer of the vehicle, hence the name – Original Equipment Manufacturer.
The result of this is that while OEM glass may end up costing more than OEE glass, the latter is also expected to be of superior quality and will fit the car better.
The warranty coverage is another significant difference between OEM vs. OEE windshield glass. While OEE glass might include a warranty from the windshield producer, OEM glass generally comes with a warranty from the vehicle's original equipment manufacturer.
Final Thoughts
When analyzing Glass America vs. Safelite, we found that the main differences between these windshield services come from the prices, customer reviews, and location coverage. 
Before deciding on a service provider, be aware of locations near you and how your insurance coverage may or may not line up with Safelite or Glass America. 
Sources
https://www.safelite.com/about-safelite/press-releases/safelite-group-acquires-auto-glass-america
https://en.wikipedia.org/wiki/Safelite
https://glassusa.com/about-us/
https://www.boydgroup.com/our-businesses/glass-america#:~:text=Boyd%20Group%20Services%20Inc.,-Copyright%20%C2%A92022
https://www.safelite.com/windshield-replacement
https://www.glassdoor.com/Reviews/Glass-America-Reviews-E419568.htm
https://glassusa.com/faq/what-is-the-cost-for-replacing-a-windshield-without-insurance/
https://www.safelite.com/auto-glass-repair-replacement-cost?cl_aid=safelite&cl_vend=google&cl_ch=sem&cl_camp=794299089&cl_adg=46909226848&cl_crtv=467374227828&cl_kw=safelite%20prices&cl_pub=google.com&cl_place=sitelink&cl_dvt=c&cl_pos=&cl_mt=e&cl_gtid=aud-1077183221170:kwd-304448252801&gclid=Cj0KCQjwlK-WBhDjARIsAO2sErSjU7_5l2KiXzG-f4hn5S3NbyBcfWqlUjoh2MFYXXPbcPJrffZEE8IaAvH2EALw_wcB&gclsrc=aw.d