Drivers who have used Goodyear's Assurance (WeatherReady or "All-Weather") tires have noted inconvenient and unsafe problems with the product over the years.
To keep you aware of the potential issues you could face if you buy these tires, we've researched customer reviews and forums to highlight the main Goodyear Assurance tires problems to know about. 
Some complaints from Goodyear customers include reports of poor tread, uncomfortable driving, and bad air pressure. While some of these problems are manageable or covered in the tire warranty, most people find they're better off exchanging Assurance tires for a different make. 
Keep reading to learn more about the issues that Assurance tire customers face frequently.
We'll highlight issues to look out for with this product and share some troubleshooting suggestions that may help you to manage the problems.
Stick around to the end to get answers to frequently asked questions!
Before you continue reading, we hope that you find the links on our website useful. If you click a link on this page and make a purchase, we may earn a commission at no extra cost to you, so thank you!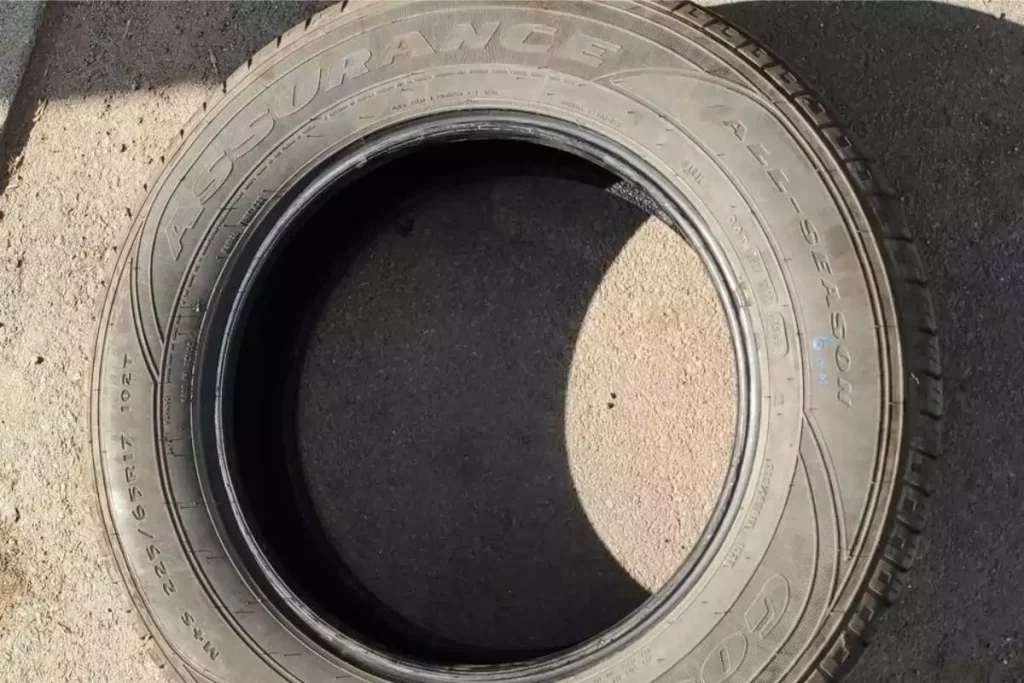 Goodyear Assurance Tires Problems – Overview 
In this guide, we'll detail some of the main issues you'll run into when driving with Goodyear Assurance tires, including the following:
Assurance Tires Wear Too Fast
Assurance Tires Hurt Fuel Economy
Assurance WeatherReady Tires Are Noisy
Assurance Tires Drive Rough
Assurance Tires Slide in Snow
Assurance Tires Lose Air Frequently 
Assurance Tires Drive Poorly in Rain
Assurance Tires Wear Too Fast
Negative customer reviews of the Goodyear Assurance WeatherReady tires commonly complain that the tires have poor tread life.
Here you can look at the different types of Assurance tires available, their review rating at Discount Tire, and the maximum warranty Goodyear will provide you.
| | | |
| --- | --- | --- |
| Goodyear | Review Rating | Warranty |
| Assurance ComforTred | 4.6 / 5.0 | 80,000 miles |
| Assurance A/S | 4.4 / 5.0 | 65,000 miles |
| Assurance WeatherReady | 4.7 / 5.0 | 60,000 miles |
| Assurance MaxLife | 4.6 / 5.0 | 85,000 miles |
| Assurance ComfortDrive | N/A | 60,000 miles |
| Assurance Finesse | 3.0 / 5.0 | Replacement Limited Warranty |
| Assurance ComforTred Touring | 4.5 / 5.0 | 70,000 – 80,000 miles |
| Assurance FuelMax | 4.6 / 5.0 | 65,000 miles |
| Assurance CS FuelMax | 4.6 / 5.0 | 65,000 miles |
Source: Discount Tire
Drivers have reported instances of the tread not lasting more than 15,000-30,000 miles (these tires are designed to last up to 50,000 miles). 
One of the most common complaints is that the tread wears out too fast, leading to bad traction and uncomfortable driving issues. 
And for a tire whose main selling point is its improved tread (Weather Reactive Technology™, Evolving Traction® Grooves, Tredlock® Technology, etc.), this is a problem that leads many to just switch out for a new set of tires from another brand.
Possible Solutions
But there are some ways that you can prevent the loss of tread and hopefully improve traction, including regular tire rotations, maintaining tire pressure at all times, and driving defensively on wet or snowy roads. 
Assurance Tires Hurt Fuel Economy
Goodyear customer reviews of the Assurance All-Weather tires note that vehicle fuel economy sometimes gets worse after installing the tires.
Some reviews even note an mpg loss significant enough to cause their fuel-efficient vehicles to essentially lose that feature. 
The main downside of this is that you end up spending more money on fuel to travel the same distance as you did before. 
Possible Solutions
Luckily, there are some ways that you can improve your vehicle's fuel economy to compensate for the change caused by Assurance tires, in the case that you can't replace the tires.
Ensure that you're performing regular maintenance on your vehicle
Don't let your car idle too often
Try to limit extreme accelerations and braking 
Use the cruise control feature when you're able to
Make sure that your tire air pressure is in the correct range at all times
Keep your vehicle's interior clear of clutter and heavy items 
Assurance WeatherReady Tires Are Noisy
Another problem nearly every Assurance tire driver notices is how noisy the tires are when driving, especially at higher speeds. 
Some of the notable complaints from customer reviews include the following:
"Horrible road noise"
"Sounds like a factory inside the car"
Vehicle emits a road noise at higher speeds
The vehicle becomes extremely noisy when the speed exceeds 55 mph
Some drivers even notice that their car starts producing road noise with these tires, regardless of the driving speed. 
Possible Solutions
Possible fixes to road noise can be costly, but there are options, including:
Soundproofing car doors, trunk, or wheel arches & installing vibration dampers on the car floor
Making sure the tires are properly inflated
Assurance Tires Drive Rough
One common complaint about the Assurance WeatherReady tires is that they make the ride less comfortable and quite rough.
Drivers note experiencing bumpy rides and feeling like they can feel the imperfections in the road as the tires drive over them.
Other complaints related to rough driving with Assurance tires include:
Unsteady street driving
Poor grip on roads
Harsh, "bouncy" ride
Note that on the Goodyear customer review web page, these tires are rated particularly low for their "Ride Comfort" level (around 1-2 out of 5 stars on average). 
Assurance Tires Slide in Snow
Given that Assurance tires are designed to have excellent traction in all seasons and weather conditions, this is a disappointing occurrence.
Customers notice that these tires don't hold up well in snow and ice, sliding on the road and reducing safety. 
Possible Solutions
Of course, if your tires lack the traction needed to drive on wintry roads, you can always add chains/snow socks to them.
If you have a rear-wheel-drive vehicle, you can add chains to your rear axle; if you have a front-wheel-drive car, you can add chains to your front tires. 
This is obviously inconvenient and can take a toll on your tire quality over time, so the better solution would be to buy better tires that can handle the snow.
Assurance Tires Lose Air Frequently 
Additionally, many Assurance tire drivers notice that it's hard to maintain consistent tire pressure.
Some reviews note issues such as tires going flat as soon as 48 hours following installation, then frequently dropping in psi after re-inflating them.
Some customers also note that Assurance tires are inconsistent in terms of when they hold air properly. Sometimes, only some of the tires hold air, while others need frequent refilling. 
This is an obvious inconvenience and time waster – not to mention the hazard of driving with poor air pressure in your tires. 
Assurance Tires Drive Poorly in Rain
Finally, we want to note the possibility that your Assurance tires may not drive well on slick, rainy roads.
Even though they're "WeatherReady," customers don't seem to think that they work as they should in rainy weather. 
This really comes down to an issue of tread wearing out too soon, and there's not much you can do about it without spending more money.
Final Thoughts
Some of the most prominent Goodyear Assurance tires problems involve poor tread, bad traction, faulty tire pressure, rough driving, and compromised fuel economy.
You can compensate for some of these issues, but for the most part, Assurance tire customers end up having to replace with tires from a different maker. 
Be aware of the above problems with Assurance WeatherReady tires before you buy them. 
Frequently Asked Questions – FAQs
Are Goodyear Assurance Tires Noisy? 
Goodyear Assurance tires are notably noisy, producing road noises when vehicles exceed certain speed limits. 
Are Goodyear Assurance Tires Good in The Snow? 
If you go with the WeatherReady Assurance tires, they should hold up in winter weather with their all-weather traction and Severe Snow Certification.
These tires are designed to drive on snow with their asymmetrical tread pattern and soybean oil rubber that grips the coldest of roads.
However, many customer reviews note a swift downfall in tread quality over time.
How Long Do Goodyear Assurance Tires Last?
Generally, Goodyear Assurance tires last about 50,000 miles. Remember that this number may vary depending on the roughness of the terrain you typically drive on, your breaking patterns, tire maintenance, and other factors. 
Are Goodyear Assurance Tires Directional?
Goodyear Assurance tires have a tread pattern that is "asymmetrical" and "sweeping traction grooves." 
Sources
https://www.goodyear.com/en-US/tires/assurance-weatherready
https://www.tiredeets.com/goodyear-assurance-weatherready-review/
https://www.goodyear.com/en-US/tires/assurance-weatherready/reviews?sort=Most%20Helpful&p=1
https://www.reddit.com/r/cars/comments/7ugbws/warning_about_goodyear_tires/