Goodyear Wrangler DuraTrac tires are designed for truck-towing, hauling, and going on off-road adventures.
But just how effective are these tires when it comes to rugged roads, and what are the most common Goodyear Wrangler DuraTrac problems?
Some of the common complaints regarding Goodyear DuraTrac tires include issues with road noise, tread longevity, low durability, vibration, bad snow performance, and poor handling.  
Keep reading to learn more about the main problems you may experience when driving with Goodyear Wrangler DuraTrac tires.
We're highlighting customer complaints from firsthand ratings and reviews, and we'll also touch on some possible solutions when available.
Let's get into it!
Before you continue reading, we hope that you find the links on our website useful. If you click a link on this page and make a purchase, we may earn a commission at no extra cost to you, so thank you!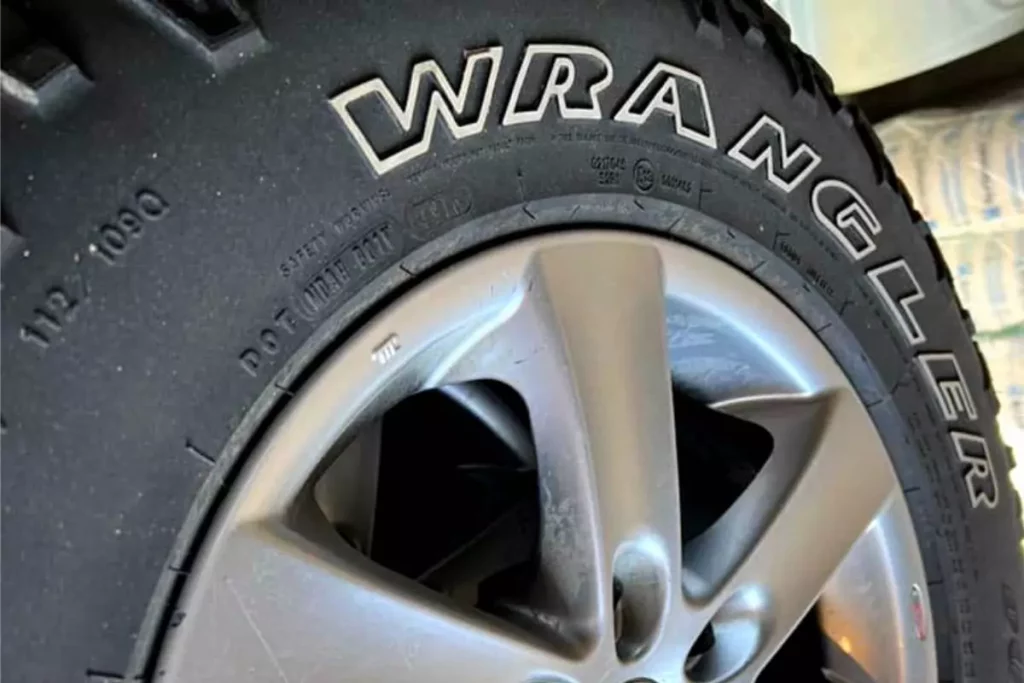 Most Common Problems with Goodyear Wrangler DuraTrac Tires
Goodyear Wrangler DuraTrac tires are mainly known for their issues with tread wearing out before it should, as well as issues with annoying road noise.
Below, we're outlining the following issues and noting some customer ratings in the process. 
Road Noise
Short Tread Life
Low Durability
Vibration 
Bad Snow/Rain Traction 
Bad Handling 
Note that some of these problems are more common than others, and some of the issues are easily fixed.
Road Noise
Road noise is one of the number one complaints with DuraTrac tires.
Product reviews have mentioned experiencing excessive noise (overpowering the radio), even with good maintenance, tire rotations, and other upkeep. 
While some customers only experienced the road noise when making turns or driving over 40 mph, other customers called the tires "the loudest tire on the face of the Earth". 
You may also experience road noise worsening as you put more mileage on the tires. 
How to Fix the Obnoxious Noise?
The number one thing to do when your tires are too loud is to ensure they are properly inflated. With a tire pressure gauge, you can check if your tires have the correct air pressure.
The lower the air pressure, the more the tire's surface area comes into contact with the hot top. You want to reduce that with proper air pressure.
Otherwise, you will need a compressor if the air pressure is insufficient.
The only other thing you can do is soundproof your vehicle's interior. Installing these kinds of tires means dealing with the noise that they create.
Soundproofing your vehicle's interior is not cheap, but you can accomplish it by filling the doors with sound-proofing material.
Kilmat makes suitable materials to shop for if you need a quick fix to soundproof your vehicle. 
Short Tread Life
Another issue with DuraTrac tires is that they are known for wearing out quickly.
Although these tires should have long-lasting tread, as they're off-roaders, many customers have had to replace them much sooner than they're advertised to last. 
Some of the complaints include:
Lasting fewer than 30,000 before the tread wore smooth
Tread lasting fewer than 5,000 miles
Tread lasting only 20,000 miles
Tread wearing out quickly even with regular tire alignment and rotation
Tread wearing out within the first year of use 
Possible troubleshooting options for quick-wearing tread include driving on smoother roads, getting regular tire rotations, and ensuring that air pressure is always where it should be. 
Low Durability
Along with having short-lasting tread, these tires are also known sometimes to fall apart.
Low durability is another common complaint with Goodyear DuraTrac tires.
Customers have noticed that the sidewalls of the tires, particularly, are fairly weak. 
Additionally, customers have occasionally experienced chunks of tread falling off the tires, creating a huge safety hazard.
Unfortunately, these issues typically come down to design flaws or manufacturing defects. Often, the only solution is to replace the tires entirely.
Vibration
Along with obnoxious road noise, bad tires sometimes also come with the problem of vibration.
This can be pretty annoying when driving, as you can feel it through the steering wheel and your seat as you travel down the road. 
What's more, is that vibration issues often get worse the faster you drive. For example, customers note that DuraTrac tires cause the steering wheel to shake at highway speeds. 
Some customers also noticed that Goodyear's DuraTrac tires started humming and vibrating once they reached about 28,000 miles. 
One great way to fix this issue is to have your wheels and tires balanced by a professional mechanic. 
Bad Snow/Rain Traction
Although this isn't the main complaint with DuraTracs, some drivers experienced poor traction in rainy and snowy driving conditions.
For a tire that's marketed for its enhanced traction, winter performance, and off-road traction, this makes the tire fall short of its design.
It creates a safety hazard, as customers have reported sliding on rainy and snowy roads, as well as instances of spinning on gravel. 
To improve traction in the snow, drivers can make use of chains.
But when it comes to wet traction, the best solution is sometimes to drive slower. 
Bad Handling
Last but not least, note that you might experience sub-par handling with these tires.
Maintaining proper tire air pressure, wheel alignment, and regular tire rotations are good ways to have better handling. 
Final Thoughts
Hopefully, our guide has given you a decent insight into the main Goodyear Wrangler DuraTrac problems that you may experience.
These tires are designed for rugged driving and hauling, but they are commonly reported as having poor traction, short-lasting tread, low durability, and bad handling. 
Many of the issues with these tires can be minimized or solved by taking good care of your tires with rotations and proper air pressure.
However, you can't make tread last longer than it naturally does, so that problem calls for tire replacement.
Make sure that you take these various problems into account before you decide to buy DuraTrac tires for your vehicle. 
FAQs
Are Goodyear Wrangler DuraTrac Tires Any Good?
Goodyear Wrangler DuraTrac tires have garnered an average customer rating of 4.7/5.0 stars from nearly 1,000 firsthand reviews.
However, many negative reviews point out the excessive road noise, poor durability, and bad tread life of these tires. 
Are Goodyear Wrangler DuraTrac Tires Noisy?
Yes, firsthand reviews of Goodyear Wrangler DuraTrac tires overwhelmingly note that the tires create road noise.
They create road noise at higher speeds once they've reached higher mileages. Customers still struggle with this issue, even with regular tire rotations and maintenance.
How Long Do Goodyear Wrangler DuraTrac Tires Last?
Goodyear Wrangler DuraTrac tires are designed to last up to 50,000 miles (as covered by the warranty).
However, most customers don't get more than 25,000-30,000 miles out of them. 
Are DuraTracs Good in Rain?
DuraTrac tires are advertised for their high performance in the traction department – for both wet and dry road conditions.
However, customer reviews frequently note that these tires don't perform well on wet roads or in the rain.
Customers experience dangerous sliding and hydroplaning rather than effective grip.
Sources
https://www.familyhandyman.com/article/tires-car-vibrate/#:~:text=Wheel%20Balancing,-Out%2Dof%2Dbalance&text=Having%20your%20tires%20and%20wheels,wheel%20to%20eliminate%20tire%20vibrations.