The Yokohoma Geolandar A/T G015 may be a mouthful, but, in reality, it's an excellent all-terrain tire with a few hiccups noteworthy enough to mention.
It comes with a 60,000-mile tread wear warranty, which is generous enough.
However, what are the biggest Yokohoma Geolandar G015 problems, and is it worth your hard-earned money?
The Geolandar A/T G015 packs a ton of excellent features but does suffer a bit when it comes to deep mud or overly sized rocks. The other aspect of the tire, which turns off some consumers, is that it is exceptionally high-priced. 
Yokohama is a Japanese manufacturer and is well known for putting out some excellent tires.
The G015 is no exception and is a popular all-terrain tire that is capable of handling almost anything you throw at it.
When it comes to tires like these, we often have to get really picky to highlight their faults. 
Before you continue reading, we hope that you find the links on our website useful. If you click a link on this page and make a purchase, we may earn a commission at no extra cost to you, so thank you!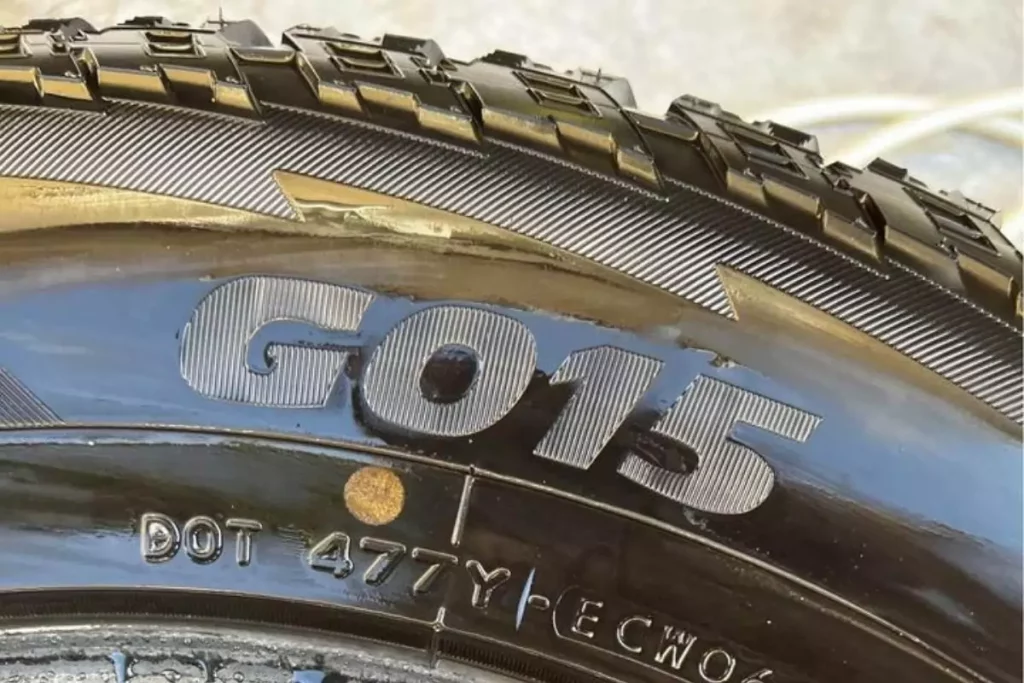 The Yokohoma Geolandar A/T G015 Overview
The G015 is an improvement over Yokohoma's previous iteration in almost every respect, including a 25% increase in handling capabilities, improved traction in all weather, and more comfort on the highway or off-road. 
The G015 is a loud tire when you are traveling at speed down the highway. However, that's almost always the case regarding all-terrain tires.
You can use some soundproofing dampener to mitigate some of the obnoxious sound coming from your tires.
KILMAT 80 mil 36 sqft Car Sound Deadening Mat,
Experience the superior adhesion of self-adhesive automotive butyl and foil sound deadening material, boasting an 80 mil thickness. KILMAT is a user-friendly and DIY-friendly solution, providing efficiency and ease of installation for optimal soundproofing results.
Check Price
So, it's not as if loudness is a surprise to anyone who chooses these types of tires. 
The G015 also comes with a lot of new features. Like most tire manufacturers, most of these features are working, but the marketing on them is a bit overblown.
While you can expect to get all of the below-listed features with this model, don't be surprised if the tires don't sprout wings and fly.
A new set of G015 tires comes with a proprietary technology exclusive to Yokohoma called the Enduro Tread Compound.
This technology involves the infusion of some off-the-wall polymers combined with orange oil. You heard that right. Orange oil. 
It doesn't smell like oranges but what it does do, is seriously improve the traction capabilities of the tire.
The Triple 3D Sipes are designed to alter their shape as they wear down, helping the above polymers and orange oil to retain their traction despite tread wear over time. 
The G015 also has Wide Circumferential (yes, that's a word) Grooves that do an outstanding job of diverting wire from the tire, even if heavy rain conditions and light mud.
Last but not least, the G015 features Sidewall Protectors that basically shield the tire from damage. 
Problems with the Yokohama Geolandar G015
There are not a lot of problems with this tire, and it sits in a very high price range for a reason.
It's an excellent all-terrain tire and well worth the money.
However, a few things are worth mentioning here, especially if you are torn between this tire and a few others. 
Struggles with Heavy Mud and Large Rocks
Sure, it's an all-terrain tire but not every all-terrain tire is perfect.
The Yokohama Geolandar A/T G015 was designed with the above-mentioned Wide Circumferential Grooves, and that same design is the tire's undoing if you're ever caught up in some heavy mud. 
They allow too much of the mud to cake up in the grooves, defeating the tire's primary capability of diverting mud and water out and away.
The fact that the polymers and orange oil make the tire even more sticky doesn't improve things very much. 
It's also worth considering—especially if you are looking for a tire that was made for off-roading—that the G015 is not a tire that is designed to focus entirely on off-road driving, which is another reason that the heavy mud defeats these tires consistently. 
For that same reason, the Geolandar doesn't play nice with larger rocks and will often be unable to defeat them.
However, when it comes to snow, you probably won't find a better tire anywhere.
The Geolandar A/T G015 comes with the snow peak emblem (three snow peaks). 
This emblem indicates that the tire has been thoroughly tested and rates very highly in snowy conditions. Those who live in places that get heavy snow during the winter seasons will fall in love with these tires. 
The High Price Point of the Yokohama Geolandar A/T G015
This is really the only other point of contention when it comes to the G015. Placed side by side with all of the other competing, all-terrain tires, the G015 commands a very high price point.
Prepare your bank account for the blow if you need all four tires. 
The smallest Geolandar A/T G015 you can find will run you about $150, while the larger versions can easily eclipse $450 per tire.
If you need a set of four large Geolandar A/T G015 tires, you could easily reach a total of $1,800 before considering taxes and tire disposal fees. 
There are 8 load ranges to choose from so count yourself lucky if you only need the smaller versions of this tire.
Even then, you will end up paying around $800 or more once everything is accounted for.
Fortunately, if you have the money, it's an excellent tire in almost every aspect. Just don't purchase it if you want to do some serious mudding. 
Can You Fix the Problems with The Geolandar A/T G015?
The surest way to get the best out of your Geolandar tires is to properly maintain them, avoid what they are not meant for, and don't work them too hard when you can. That includes:
Have your tires properly inflated
AstroAI Tire Inflator Portable Air Compressor Air Pump for Car Tires
✔ Toughultra Technology, Enhanced Durability
✔ Programmable Inflation
✔ Compact Size & Easy to Store
✔ Smart Preset & Auto Off
✔ Easy Nighttime Use
Check Price
Check your tire air pressure monthly
JACO ElitePro Digital Tire Pressure Gauge – Professional Accuracy – 100 PSI
✔ Pro Accuracy
✔ Strong & Rugged
✔ Advanced Engineering
✔ Smart Display
Check Price
Rotate your tires regularly every 5,000-6,000 miles
Get a wheel alignment every year
Tenhulzen Automotive 2-Wheel Alignment Tool – All-in-one (Camber/Caster/Toe Plates) – Made in USA
Check Price
Assure that your tires are balanced correctly
The thing is, when considering what this tire is and what it is not, the above issues with the Geolandar A/T G015 are not technically "problems."
Sure, if you get stuck in a mudhole up to the exhaust pipe, you may want to argue the point. 
However, the Geolandar never claimed to be an extreme off-road tire.
It's like complaining that your snow chains don't work when your snow chains are sitting in the trunk while you're doing uncontrollable donuts in the middle of the road. 
One of the biggest complaints about the Yokohama Geolandar G015 is the fact that it doesn't handle big rocks and deep mud very well.
The fact is, it was never designed to handle either one of those things very well. 
So you could call it a problem in much the same way that you could call buttermilk a problem when it fails to make your Oreos taste better. 
As far as the price point of the G015 is concerned, well, there's not much that anybody but Yokohama will or can do about that.
The demand for these tires is high enough, while supply is still low enough to command a higher price tag. 
There is also the fact that a lot of material and craftsmanship goes into this particular tire and such things also affect the overall price.
Ultimately, problems with the Yokohama Geolandar G015 aren't so many problems as they are limitations.
Conclusion
Overall, the Yokohama Geolandar A/T G015 tire is among the best in its class.
Unfortunately, being on top means, you will have to pay for the luxury of installing them.
On the bright side, if you have the money to lay down on these tires, you will have a solid, dependable, and long-lasting all-terrain tire on your hands.
Sources
https://www.consumerreports.org/products/all-terrain-truck-tire/yokohama-geolandar-g015-a-t-388228/overview/#price-and-shop
https://www.consumerreports.org/products/all-terrain-truck-tire/yokohama-geolandar-g015-a-t-388228/overview/#price-and-shop