Both Michelin and Pirelli offer high-quality all-season tires to the auto market, but these tires don't square up on every level.
That's why we've researched how Michelin Crossclimate 2 tires and Pirelli Scorpion All Season Plus 3 tires compare to one another. 
The main difference between Michelin Crossclimate 2 tires and Pirelli Scorpion AS Plus 3 tires is that Crossclimates come in a larger variety of sizes, Scorpions have more mileage, and Crossclimates are older. 
Keep reading if you would like to learn more about the differences between these two tire models, as well as the advantages and disadvantages of each.
We'll discuss factors such as price, reviews, mileage, and more.
In the end, we'll also answer some frequently asked questions.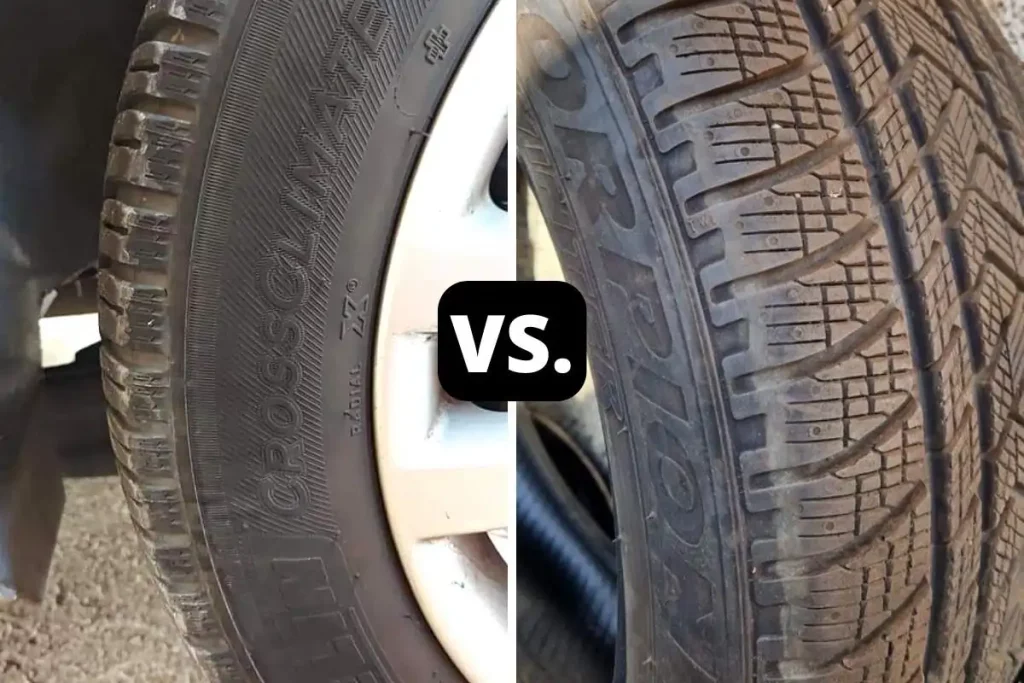 Michelin Crossclimate 2 vs. Pirelli Scorpion All Season Plus 3 – Comparison
Crossclimate 2 and Scorpion AS Plus 3 tires share a lot of similarities since they're both all-seasons.
However, Crossclimate 2s have been around since 2020, whereas Scorpion AS Plus 3s have been around since 2021. 
Furthermore, there are many more options when it comes to the Michelin tires, as they come in nearly 90 different sizes (roughly 40 sizes for the Scorpions). 
The following table compares the above two tire models based on other criteria so that you can understand the full scope of their similarities and differences. 
Price 
Price is going to vary depending on the size of the tire you need and the specifications.
Given that the Pirelli tires are a model that is newer to the market, their design is a bit more costly. 
Reviews
Both of these tire models have strikingly positive reviews online, but there are some nuances when it comes to some of the criteria.
They vary in terms of specifics:
Handling – most Crossclimate customers note good handling (except in winter conditions), but Scorpion customers overwhelmingly note good handling
Winter traction – there are mixed reviews regarding Crossclimate performance in the snow, but Scorpion snow performance is generally good
Braking – both the Scorpion and Crossclimate tires are highly rated for their braking performance
Mileage Warranty
Both of these tires are rated for long tread lives in their warranties – 60,000 miles for the Crossclimate 2 tires and 70,000 for the Pirelli Scorpion AS Plus 3 tires.
Keep in mind, however, that the tires aren't guaranteed to last as long as their warranties describe. 
Depending on how well you maintain your tires, their tread could wear out and need replacement much sooner. 
Seasonal Specs
The Crossclimate 2 tires and the Pirelli Scorpion AS Plus 3 tires are technically all-season tires and are meant to withstand snow, rain, dry roads, and other weather. 
The Crossclimates are certified with a 3 Peaks Mountain Snowflake marking for winter driving.
Note that Michelin recommends that you look into their snow tires if you do more than just the occasional driving in the snow. 
On the other hand, Pirelli Scorpion tires are known to have excellent corner handling and good braking regardless of the season. These Pirelli tires are also proficient in wet, dry, or cold conditions. 
Tread Design 
These two tires vary somewhat in terms of their tread design. The Michelin Crossclimate 2 tires have a directional tread design.
The Pirelli Scorpion AS Plus 3 tires have a full-depth tread design with 3-dimensional sipes. This design is meant to improve your handling, road traction, and braking capabilities. 
Vehicle Compatibility
Regarding the types of cars these tires are compatible with, it's safe to say that you have more options overall with the Michelin tires due to the large variety of sizes. 
Otherwise, keep in mind that the Michelin tires are suitable for passenger cars and SUV crossovers.
And the Pirelli tires are suited to use on pick-up trucks, SUVs, and CUVs. 
Pros and Cons
Advantages of Michelin Crossclimate 2 Tires
Some of the pros of Crossclimate 2 tires include:
More tire sizes to choose from
Slightly higher customer satisfaction/ratings
All-season performance 
Good rating for snow traction 
Disadvantages of Michelin Crossclimate 2 Tires
On the other hand, there are some problems customers note with these tires, including:
Negative effect on vehicle gas mileage
They lose air easily
Slightly lower mileage warranty compared to Pirelli tires
Known to be a loud tire 
Related: Michelin CrossClimate 2 Problems (Explained)
Advantages of Pirelli Scorpion AS Plus 3 Tires
Pirelli Scorpion AS Plus 3 tires are beneficial for drivers due to their:
High mileage warranty
All-season performance
High comfort rating (10/10)
Versatility in different types of vehicles
High braking performance and good handling 
Relatively newer tire model
Disadvantages of Pirelli Scorpion AS Plus 3 Tires
Keep in mind some of the cons of the Scorpion AS Plus 3 tires:
Customers have bad experiences with the tire rubber quality (splitting, cracks, etc.)
Tread is known to wear faster than what is promised
FAQs – Frequently Asked Questions
Is Michelin Crossclimate 2 all weather or all season?
Technically, the Michelin Crossclimate 2 tire is an "all-season" tire. It's designed to maintain good traction all year round, whether you're driving on snow (winter certified – 3 Peaks Mountain Snowflake (3PMSF) marking), wet pavement, or dry pavement. However, Michelin also states that the tires are safe in all weather. 
Are Michelin Crossclimate 2 tires noisy?
Michelin Crossclimate 2 tires are designed to create minimal road noise and provide a smooth, quiet ride. Customer reviews vouch for the quiet ride, noting that they're quieter than their Bridgestone tire competitors. The tread is ideal for a quiet ride. 
Are Pirelli Scorpions Plus 3 good in snow?
These tires are rated 9/10 for winter performance and have a tread designed for enhanced snow performance. Drivers can count on the Scorpion tires to perform well in light snow, on icy roads, and in wet and dry conditions. 
Are Pirelli Scorpion Plus 3 tires noisy?
These tires have a tread that is designed to minimize road noise with a soft ride. According to Pirelli, they are a quieter improvement on their previous generation, due to their tread designed with advanced computer modeling. They're often compared to Goodyear tires as being the quieter tire option.
Final Thoughts
Our research comparing Michelin Crossclimate 2 vs. Pirelli Scorpion AS Plus 3 tires showed that the tires mainly differ in terms of price, mileage warranty, and size selection.
Both tire models are relatively new to the market, with positive reviews.
Both sets of tires have pros and cons, but with all-season designs, they are both solid choices to look into.
Sources
https://www.pirelli.com/tires/en-us/car/catalog/product/scorpion-all-season-plus-3
https://www.michelinman.com/auto/tires/michelin-crossclimate2