BBS is reputed for manufacturing excellent products in regard to aftermarket wheels. They use leading cutting-edge technology to forge their wheels.
So, what we want to know is – Are BBS wheels good?
Continue reading as we dive into the history of BBS wheels.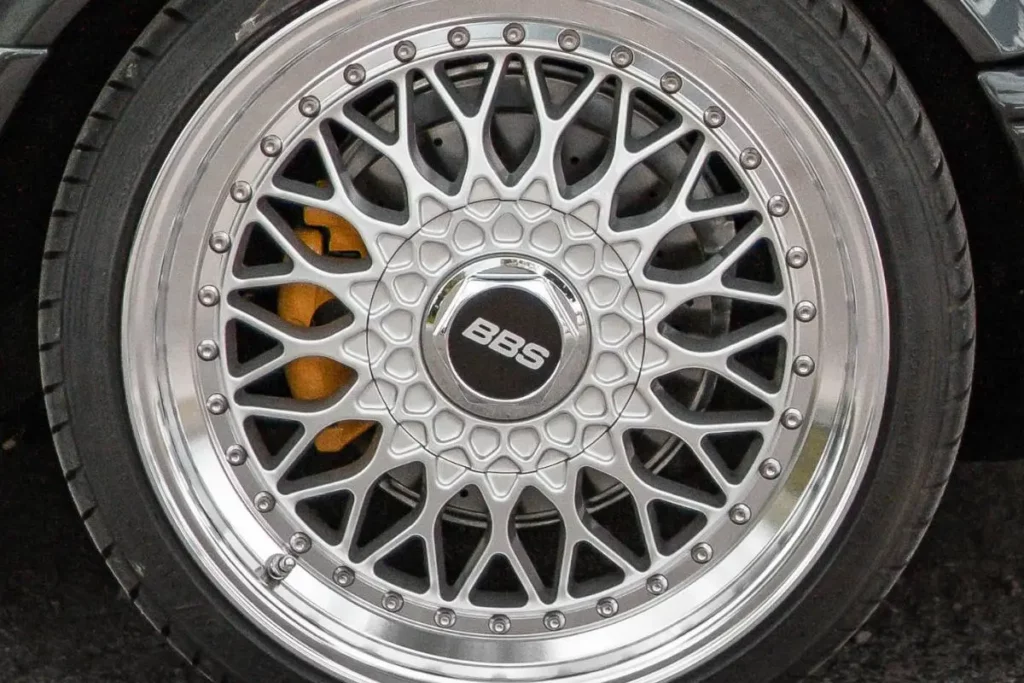 Here Is the Short Answer to Whether BBS Wheels Are Good:
BBS wheels are high-quality but at a higher cost than other competitor aftermarket wheel brands in their range. These wheels were initially manufactured for racing purposes. That is why they score high on durability and reliability.
What Is the Quality and Performance of BBS Wheels?
BBS manufactures one of the best aftermarket wheels in the racing sector because of its top-quality engineering technology. They are one of, if not the biggest, brands in the world of racing and automotive.
Their exceptional attention to detail sets them apart from the other competitors on the highest level.
This company has been producing top-notch rims for almost 4 decades now, and it is only fitting to say that they are the kings of the aftermarket arena.
Many people who have availed of the services of BBS wheels have backed their products with excellent reviews. This gives us an idea of how good this brand is regarding wheels.
With BBS rims, you're paying for quality and branding and design.

https://www.mycarforum.com/forums/topic/2638977-why-bbs-rims/
Their attention to all the tiny details helps in producing perfect rims.
These wheels are very lightweight and are simple to install in multiple vehicle types. The only downside might be the fact that BBS rims are a little on the expensive side.
That is because of the quality of their products and the work that goes into manufacturing them.
Their standing in the racing world and aftermarket rims sector is a testament to the fact that they are one of the top companies in the world.
It is not a simple task to earn such status if all they do is manufacture average rims. Even BMW uses the services of this brand.
Who Makes BBS Wheels?
Washibeam is the company that manufactures BBS wheels. They produce all types of racing wheels and many other aftermarket products. It is based in Japan.
BBS is a subsidiary of Washibeam Co. Ltd. Washibeam manufactures every road and racing product thanks to the forging method.
They will not stop making wheels, as BBS supplies original rims to multiple racing companies.
Where Are BBS Wheels Made?
BBS wheels are manufactured in Japan.
Their forged wheels are exclusively manufactured in Japan by using state-of-the-art cutting-edge technology.
There are also plants in the USA and Germany that manufacture non-forged wheels and other parts.
About The Manufacturer of BBS Wheels
BBS is a leader in the automotive industry and is one of the world's best manufacturers of OEM, racing, and aftermarket wheels. It supplies the highest quality forged wheels to giant automotive companies like BMW.
Heinrich Baumgartner and Klaus Brand founded this company in 1970 as they were desperate to find a way to increase the performance of their cars on the racetrack.
Their development of the three-piece racing wheel grabbed the racing world's attention and started going up the ladder from that period.
The warehouse in Georgia was established in 1983 and has been selling and supplying aftermarket wheels and other products.
BBS provides services to almost every major racing event too.
The three other facilities are located in Germany and Japan.
One of the warehouses in Germany takes care of the original equipment products and aftermarket wheels, whereas the other one is responsible for all racing and top-quality forged wheels. They all have their work cut out.
The facility in Japan is where the infamous RS wheel was manufactured. This wheel's design propelled them into having such a huge success.
In March 2021, BBS was acquired by KW automotive GmbH.
How Much Do BBS Wheels Cost on Average?
BBS wheels will cost you a lot more than other aftermarket wheels competitors. Their average price is usually between $300 and $1800 per wheel, depending on your choice of rims. This brand is a top player in the racing sector, so the prices can be expected to be a little higher than other mediocre companies.
A BBS TL-A 20×9, Satin Black may cost you around 340 dollars, and a BBS TL-A Bloss Bronze might set you back by about 380 dollars.
Other models can cost you around 1800 dollars, such as the BBS Super RS20 Silver or the BBS Super RS20 Gold.
The prices reflect the superior technology they use for the craftsmanship of their products.
Where Can You Buy BBS Rims?
BBS wheels can be found online if you visit their official website. There are varieties of BBS wheels you can buy on their website ranging from low to high prices.
Amazon also sells BBS products on its website. You can also check the internet for dealers near your area that sell BBS rims.
Some Of BBS Rims Alternatives & Competitors
If you are unsure about the quality or price of BBS wheels, then you can opt for other brands like Enkei, Rayswheels, Borbet, Momo, Eibach, AEZ wheels, etc.
Enkei is a leader in the automobile department and has produced aftermarket rims for almost three decades.
They deliver innovative and high-quality wheels for all vehicle types. Eibach and AEZ products are also great alternatives.
Frequently Asked Questions – FAQs
What does BBS mean in wheels?
BBS stands for Baumgartner, Brand, Schiltach. It is formed from the last names of the 2 founders (Baumgartner and Brand) and the town it originated from (Schiltach, Germany).
Are BBS German?
BBS was founded in Schiltach, Germany. The two founders (Heinrich Baumgartner and Klaus Brand) are also German.
Are BBS rims expensive?
BBS rims are a premium aftermarket wheel brand; as such, their rims sell at a higher price than the average aftermarket wheel brand.
Are BBS wheels heavy?
Generally, BBS wheels are heavier by a few pounds, but they have light wheels, too. You may want to refer to the seller's product description for more details about the particular wheel's weight.
Does BBS make wheels for BMW?
BBS makes OEM wheels for BMW vehicles and other manufacturers such as Audi, Mercedes-Benz, Volkswagen, Toyota, and more.
Conclusion
Overall, BBS wheels are an excellent choice for people who love enhancing their rides with top-quality rims. The wheels are lightweight, durable, and forged from the best materials.
The pricing might be more expensive, but the superb quality and safety measures make up for it.
So, are BBS wheels any good? Their wheels have a superior rating in terms of design, style, safety, sturdiness, etc.
These are multiple reasons to give you the impression that this brand is highly reliable and trustworthy.
Sources