Enkei is one of the most popular manufacturers and distributors of OEM and aftermarket wheels.
But the real question is, are Enkei wheels good?
Keep reading to learn everything about the Enkei brand and some of their finest rims ever made! 
Before you continue reading, we hope that you find the links on our website useful. If you click a link on this page and make a purchase, we may earn a commission at no extra cost to you, so thank you!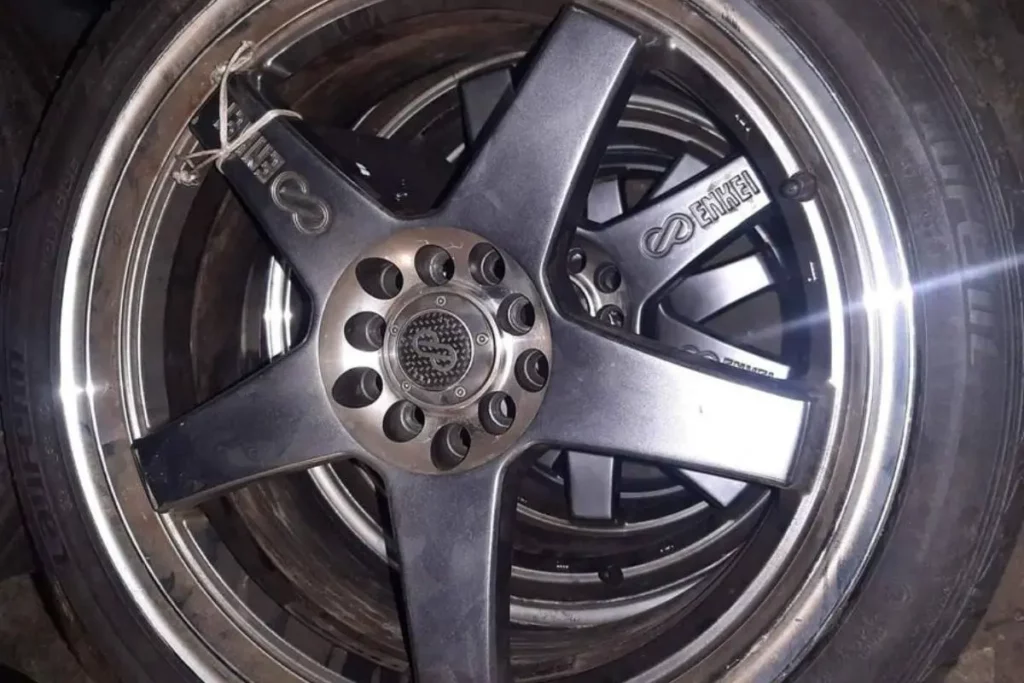 Here Is the Short Answer to Whether Enkei Wheels Are Good
Enkei wheels are high-quality wheels at affordable prices. They are strong, durable, and lightweight. Enkei's testament to their quality and durability is supported by the fact that they provide a lifetime structural warranty and a limited warranty against defects in material and workmanship for one year.
Enkei wheels have a massive following in regard to quality and design. These wheels come in various designs that are perfect for every vehicle on the market.
These high-performance wheels come in different finishes, including green, red, g metal, black, gold, and silver.
Furthermore, due to their excellent craftsmanship, Enkei wheels are loved by automobile enthusiasts who require outstanding performance, looks, and quality.
"yeah, enkei makes high quality wheels. some F1 teams use them. legit. buy with confidence."

Source: reddit
These wheels are easy to install and fit perfectly with a huge variety of cars.
Between Enkei classic, turning series, racing series, and performance series, there are more than 100 different designs and color combinations.
Generally speaking, most rims offered by Enkei are made for Japanese cars. That being said, you can also buy their products for German and American vehicles.
Top 3 Enkei Wheels
Enkei offers numerous wheel variations with a variety of features and specifications. Selecting only three tires among all these options is quite difficult.
Nevertheless, here are our top 3 Enkei wheels that won't break your bank:
Enkei RPF1 Silver Wheels
The Enkei RPF1 series is at the top of our list.
One of the best features of these wheels is that they are incredibly light, averaging only roughly 16 pounds.
Key Features:
Sizes 14, 15, 16, 17, 18-inch sizes
MAT Technology
Lightweight
Available in Various Colors –  Silver, Gold, Black, SBC (special order)
Enkei FD-05 Black
Enkei's FD-05 wheels are another model that earns a spot on our list.
For increased speed, strength, and longevity, these wheels are made with black machined plating.
A lifetime structural and a one-year finish warranty is also included with the FD-05 wheels.
Furthermore, these wheels come in all sorts of sizes to accommodate a variety of vehicles, including SUVs, jeeps, trucks, and cars, with a diameter ranging from 15 to 18 inches.
Key Features:
Silver and Black blend
Remarkable and Elegant Design
One-year Finish Warranty
Spec-E Inspected
Enkei J10 Matte Black Wheels
Last but not least, we have Enkei J10 silver wheels.
Many adore these wheels because of their elegant design. They are also a perfect fit for various car models.
Enkei J10 wheels come in 4 different sizes: 15, 16, 17, & 18-inch, making them great for small vehicles, including pickups, jeeps, SUVs, and cars.
Key Features:
Unique Spoke Design
Elegant Look
Spec-E Inspected
Who Makes Enkei Wheels? 
Enkei wheels are made by Enkei Corporation – a Japanese wheel manufacturer for both motorcycles and passenger cars.
This company is also an OEM manufacturer of rims for production vehicles, mainly for sporty models.  
Where Are Enkei Wheels Made?
Enkei has more than 19 factories all around the globe. Enkei wheels are made in the USA, Japan, Vietnam, India, Indonesia, Philippines, China, Malaysia, and Thailand.
No matter what country wheels you pick, all Enkei products are of the same quality.
About The Manufacturer of Enkei Wheels
Enkei Corporation is a Japanese passenger car and motorcycle wheel manufacturer and distributor. This company was formed in 1950 under the name Ensyu Keigoukin, abbreviated as Enkei. Along with aftermarket wheels, Enkei also offers OEM-style wheels for assembly vehicles.
Since 1995, Enkei has been manufacturing products for sporty vehicles, including F1, providing wheels for the Super GT series and McLaren F1 Team.
During its initial stages, Enkei manufactured anything that involved aluminum alloy.
The company didn't manufacture its first wheel until 1967, developing its 1st OEM wheels for Japanese cars.
Soon after, they started to create wheels in different sizes for all types of vehicles, including Japanese, American, and German.
In the 1980s, Enkei got involved in racing cars by manufacturing wheels for McLaren F1 with magnesium wheels.
As of today, Enkei is considered a leading wheel manufacturer all around the globe, with more than 19 factories in different countries.    
How Much Do Enkei Wheels Cost On Average?
Like all other wheel manufacturers, Enkei also offers plenty of wheel variations. Each of their models has exact specifications and price tags. Still, they are quite affordable compared to most other popular brands.
Remember, the last thing you want is to get a set of wheels that will leave you broke.
These rims might offer fewer features, but they still will be high-performance and durable. 
Where To Buy Them?
The most convenient approach to buying Enkei wheels is through their official website.
You can visit their website to purchase original wheels at the most affordable price.
Alternatively, you can also buy Enkei wheels through Amazon if you prefer.
Remember that if you want to buy Enkei wheels through Amazon, you should purchase your selected rims through a verified store.
What Are Some of the Alternatives?
Enkei might be one of the leading wheel manufacturers in the market, but you can definitely find more competitors with similar features and durability.
Many wheel manufacturers out there offer high-performance and budget-friendly aftermarket wheels.
Some of the best alternatives to Enkei are Asanti, Avid, Konig, Work, and Volk.
Each of the companies mentioned above has something distinctive to offer.
For instance, if Asanti has one-piece aluminum wheels with compact designs, Avid offers a unique color scheme.
Others, like Pro Comp are known for making quality wheels for offroad vehicles.
Therefore, you have to research and find a set of wheels that suits your personality and budget perfectly!
Related: Are Ferrada Wheels Good? (Some interesting facts)
Frequently Asked Questions – FAQs
Do Enkei Wheels Come with Lug Nuts?
Most Enkei wheels do not come with lug nuts. So, you might have to buy lug nuts separately. 
Do Enkei Wheels Come with Center Caps?
Enkei also offers durable and strong center caps. They are made from a sturdy plastic finish with a metal retaining clip.
Do Enkei Wheels Come with Valve Stems?
If you are just buying Enkei wheels, your selected product might not come with valve stems. However, Enkei does offer valve stems separately. You can also get pre-mounted Enkei wheels that come with valve stems. 
Related: Are Motegi Wheels Good? (You might be surprised)
Conclusion
We have tried to answer the main question in this article – Are Enkei wheels good? Not only that, but now you should know more about Enkei as a brand.
Enkei is Japan's most popular wheel manufacturer out there. Their wheels are durable, long-lasting, and elegant.
These wheels come in different variations and are available in multiple color schemes.
Along with Japanese cars, Enkei also creates hundreds of different wheels for American and German vehicles!
Sources
https://www.reddit.com/r/Wheels/comments/9y5un6/are_enkei_wheels_high_quality_and_worth_the/