When we look for new brake pads for our automobiles, we always try to find the perfect reliability, stability, and performance.
However, finding a suitable brake pad is not easy as the overwhelming options will make the job more challenging.
Thankfully, Carquest has provided high-quality brake solutions to suit every driving need. But the question remains – are Carquest Brake Pads good or not?
Tune in to learn more.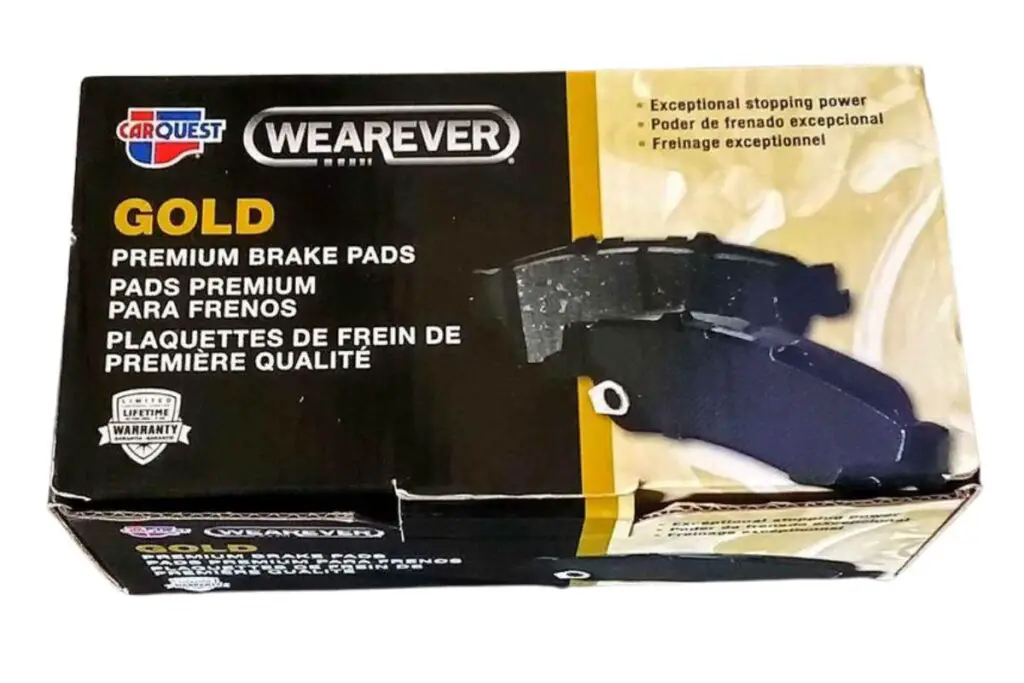 Are Carquest Brake Pads Good?
Carquest produces various brake pad models to suit different driving needs. The company conducts multiple lab and road tests to keep its products reliable and safe, meaning Carquest brake pads will provide optimal performance in any driving condition.
Carquest produces brake pads in different variants, including professional and performance models.
The company's professional lineup features superior formulations to provide better stopping power and lifespan.
Carquest's patented shim technology features a 4-layered shim, making their brake pads friction-free and quiet.
The powder-coated backplates reduce rust damage, increasing their longevity.
You can buy Carquest brake pads in ceramic/semi-metallic formulations, meeting Original Equipment standards.
These materials improve the overall brake pad's durability and performance.
Carquest employs various state-of-the-art machinery and technologies to enhance its brake pad's quality. For instance, computer-generated programs test brake pads across multiple driving conditions for efficiency and performance.
Likewise, the company also tests friction capabilities, dust-proofing, rust resistance, and other quality tests.
In short, Carquest brake pads are among the best aftermarket alternatives for car owners.
Who Makes Carquest Brake Pads?
Advance Auto Parts manufactures Carquest brake systems and distributes them throughout the USA.
You can also find Carquest's stores in various other locations, including Mexico.
Advance Auto Parts also partners with other companies to allocate its products to other regions to ensure worldwide coverage.
Where Are Carquest Brake Pads Made?
Advance Auto Parts manufactures Carquest brake pads in Raleigh, North Carolina.
The company's manufacturing plant employs state-of-the-art technology to design and test brake pads' efficiency for any driving condition.
After evaluating market trends and the latest braking requirements, the company designs these brake pads to develop a reliable solution.
About The Manufacturer of Carquest Brake Pads
Advance Auto Parts Inc. is the parent company of Carquest and has been one of the leading aftermarket manufacturers of automobile parts.
The company started operations in 1932 to provide high-quality solutions to its customers.
Carquest has rooted its business in many countries worldwide, with branches in Canada, US Virgin Islands, Puerto Rico, and the US. You can also find stores in the Caribbean Islands and Mexico.
Carquest's parent company, Advance Auto Parts Inc., acquired other brands and companies to expand its portfolio. These companies include Worldpac, DieHard, Autopart International, and Carquest Auto Parts.
The parent company ensured its services had a worldwide reach, opening many branded stores globally.
Initially, Carquest was a joint venture between three companies – Bobro Products, Indiana Parts Warehouse, and General Parts.
General Parts had a more significant share in the company and acquired Indian Parts Warehouse in 1991.
However, Advance Auto Parts acquired Carquest in 2014 with a whopping $2.4 billion. This acquisition propelled Carquest to new heights as Advance Auto Parts expanded its portfolio to reach more automobile enthusiasts.
How Long Do Carquest Brake Pads Last?
The average lifespan of Carquest brake pads is 40,000-60,000 miles.
Carquest brake pad models feature high-quality construction with premium materials.
However, brake pads' lifespan depends on various factors, including road conditions, driving preferences, and automobile type.
How Much Do Carquest Brake Pads Cost On Average?
Carquest offers brake pads in different variants, including premium and affordable options. So the average price of a Carquest brake pad is around $50 to $100.
Although Carquest offers brake pads with affordable price tags, their quality has always been impressive, and many drivers prefer to use Carquest brake pads.
You can visit their official site and check out the prices.
Besides authorized distributors and retailers, Carquest brake pads are available at online stores to add convenience. You can check these online retailers to get better discounts.
Where Can You Buy Them?
Carquest has many physical stores worldwide that offer excellent prices.
However, you can also visit its official website to order brake pad models online from the comfort of your home.
Likewise, Carquest brake pads are also available on other online giants like Amazon, where you can get better discounts, especially during sales.
Top 3 Carquest Brake Pads
Carquest GNAD785 Ceramic
The GNAD785 brake pad features a ceramic construction, providing both durability and longevity.
These premium brake pads provide consistent braking performance.
Its multi-layer shim helps reduce noise, ensuring a peaceful driving experience in any road condition.
GNAD785 features:
Ceramic construction
Multi-layer shim
Extended lifespan
Original Equipment design
Excellent chamfers and slots
The GNAD785 is a brake pad model that enhances brake efficiency without compromising the driving experience.
Its noiseless application helps with comfort, while the ceramic construction keeps it running for miles.
Carquest PXD1363H Ceramic
The PXD1363H is an impressive brake pad that improves performance and reliability for SUVs and trucks.
Since SUVs and trucks require greater stoppage power, you must utilize the best to achieve it.
Carquest simulates several tests to determine brake pads' efficiency, and this brake pad is among the best examples.
PXD1363H features:
HEX shim technology reduces noise
Ceramic construction
Unique formulation for superior lifespan
Burnishing compound allows superior brake efficiency
PTFE-coated caliper pin
Overall, the PXD1363 is a reliable brake system for heavy-duty purposes and will provide optimal braking power for SUVs and trucks.
Carquest GNAD1393 Ceramic
The GNAD1393 is among the most popular brake pad models offering reliable and consistent braking performance.
It employs a ceramic construction to improve durability and longevity and features a multi-layer shim to offer noise-free operations.
The Original Equipment design implemented on the chamfers and slots ensures consistent performance, and drivers will love the overall build quality and silent braking offered by the GNAD1393.
GNAD1393 features:
Ceramic construction
Multi-layer shim design for noise reduction
Original Equipment designed
Unique formulation for superior lifespan
Consistent performance
The GNAD1393 is a value-for-money brake pad as it offers more features without breaking the bank.
What Are Some Of The Alternatives?
Bendix or Hawk Performance offers similar performance and durability to Carquest brake pads. So you can consider them if you are looking for an alternative.
You can see our posts about Textar and Eicher brake pads, too.
Additionally, you can evaluate your car's technical requirements to determine which brake pad will provide the most reliable and consistent braking efficiency.
Final Thoughts
So are Carquest Brake Pads good?
Carquest products offer immense braking power and are reliable for any vehicle type. These brake pads provide consistent braking performance to aid your driving experience.
Carquest engineers test their products multiple times to look for caveats. These tests ensure that your car will have the most reliable braking partner for any driving condition.
However, evaluating your vehicle's requirements would be best before choosing the right brake pads.
Sources