When you hear about Textar, the obvious question you might be thinking of is whether their brake pads are any good or not.
We will try to answer this question while giving you more information about Textar as a brand.
Before you continue reading, we hope that you find the links on our website useful. If you click a link on this page and make a purchase, we may earn a commission at no extra cost to you, so thank you!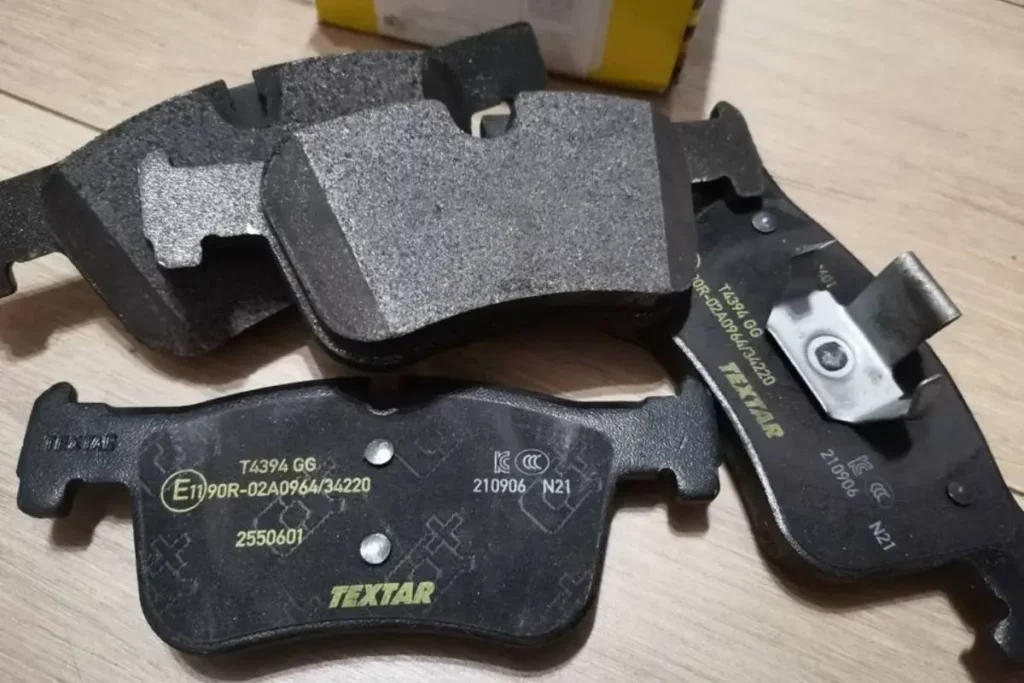 Here Is What You Need to Know About Textar Brake Pads Quality
Textar brake pads are high-quality, and they deliver solid performance at reasonable prices. They can last up to 65,000 miles and more with proper care and maintenance. The only significant downside is that Textar brake pads are known for producing brake dust.
PROS
Availability
Affordable price
Good stopping power
Good bite
Silent
CONS
Can be slightly mushy
Brake dust
Textar has produced exemplary results in the AMS braking test, an achievement to be proud of. They scored better than all of their competitors in hot and cold braking, which is a testament to the quality that Textar delivers.
Furthermore, Textar brake pads are fitted into high-end luxury cars such as Tesla, BMW, Mercedes, etc. 
Textar brakes are designed to complement the level of speed that we come across in high-end cars. On the one hand, you have sophistication and high speed; on the other, you have a unique braking system. 
The brand found immense success in the 50's motor racing splendor and still upholds its name. They are built to provide quick, impactful, and safe stoppage even during speeds up to 155 miles per hour.
No matter the speed, you can stop whenever you want. 
Textar brakes keep you safe and secure without limiting your car's true potential. After all, who doesn't want to unleash their inner daredevil?
Who Makes Textar Brake Pads?
Textar Brake Pads are made by the TMD friction group, one of the esteemed market leaders in brake friction technology. 
Textar is the perfect example of futuristic technology with a touch of traditional quality.
Textar doesn't focus on providing cheap alternatives despite coming at affordable prices.
Their designs are uncompromised and built only to be the best in the market.
Where Are Textar Brake Pads Made?
Textar brake pads were originally created in Germany. Today, Textar products are made in factories all across Europe. 
About The Manufacturer Of Textar Brake Pads
TMD friction is an asset of the Nisshinbo group company with 135 years of experience in brake technology. It is the go-to brand for the most exclusive names in the automobile market. 
What makes TMD friction unique is its out-of-the-box thinking when it comes to brake technology. Unlike other brands, they don't focus on the actual stoppage but rather on the friction involved in the brakes. 
The primary application for brakes might be to stop the vehicle, but what about everything in between? Don't we often use the brakes to slow down or maintain our current speed rather than stop? 
TMD friction understands that it's not only about the ability to stop your car but about using friction in general. We all depend on brake friction to control and maintain a smooth and efficient drive. 
It's exactly this kind of extraordinary philosophy that makes TMD friction ahead of its time. The group has partnered up with the most lucrative names in the automobile industry.
What's more, TMD friction uses custom-created materials for all its products. 
With collected knowledge over 100 years, TMD friction continues developing the latest market innovations. That's what we can expect from global leaders of their caliber. 
How Long Do Textar Brake Pads Last?
Textar brake pads use ceramic disks instead of metal, which lasts longer than other brands.
We know that the average brake lifespan is around 40,000 miles.
However, with Textar brake pads, you can confidently drive for about 65,000 miles without any hiccups. 
How Much Do Textar Brake Pads Cost On Average?
The cost of Textar brake pads is less than many other brands in the market. You can find Textar pads at very affordable prices.
Benefits like these are what make Textar one of the best aftermarket choices. 
Good quality noiseless ceramic brakes with a long lifespan are hard to come by at these prices.
Textar comes selling; they always make an offer you can't refuse.
Where Can You Buy Them?
There are 1451 Textar outlets across the USA, Europe, and Asia. You can find out the nearest outlet based on your location.  
Alternatively, you can get them online via popular websites like Amazon and Go mechanic. Depending on your country, there will be more local options available. 
Top 3 Textar Brake Pads
Textar produces so many brake pads that it is impossible to pinpoint the best. We have tried to narrow down the list a bit with our top 3 picks below.
Textar Brake Pads for Passenger Cars
There are 1,600 brake pad models to choose from for passenger cars.
Each make and model gets unique customization of brake pads. 
Each Textar brake pad model brings original engine-level performance while costing 1/4th of the competition.
Simply put, every Textar brake pad model is the best you can get. We can say that the Textar name itself is their best product in this scenario.
Textar E-Pad
The Textar E-pad is a new-age product that delivers a pure and effortless braking experience.
The E-pad employs advanced friction technology with a clever blend of materials.
This ensures that any car fitted with Textar E-pads has seamless and noiseless braking. 
What's more, Textar E-pads greatly enhance the visual quality of your car. You'll be surprised to see how long the materials stay clean and shiny. 
The Textar E-pad is one of the most innovative creations to enter the market. It is the best brake pad to go for if you want a refined and relaxed braking experience. 
Textar Brake Pads for Commercial Vehicles
Textar offers more than 135 models of disc brake pads compatible with almost every European commercial vehicle.
We can rely on Texar because 70 % of European cars are fitted with Textar brakes. 
The new wave of powerful and lightweight Textar brake discs ensures security and comfort. On top of that, each product is created using custom-developed materials.
This is just one of the reasons why Textar has the edge over other brands. 
Every commercial brake pad model is equally as good as the other. That's why we say that the brand is the product when it comes to Textar. 
Textar Brake Pads Alternatives
If you're looking for an alternative to Textar pads, we recommend Bosch. 
Bosch brake pads provide a great balance between comfort and stability. It's our number one choice when it comes to Textar alternatives.
Bosch does not match the quality of Textar; however, it is available in the same price range. 
Another great alternative can be Brembo brake pads. We have a detailed comparison between Textar and Brembo that you can read all about.
Other alternatives can be Hawk, Eicher, Carquest, Bendix, etc. Check out our posts about these brands!
Conclusion
Are Textar brake pads any good? Anyone who has come across the name Textar for the first time asks this question. 
Textar brakes provide unique and state-of-the-art innovations when it comes to brake technology. They are one of the highest producers of brake pads in the market, with over 1,600 models.
Each product is created using custom-made materials.
Textar brakes are the future. When it comes to Textar, you know it's a brand you can blindly trust. What's more, they come at surprisingly economical prices. 
Sources
https://textar.com/en/ams-test/