When it comes to high-performance braking components, no list can be complete without Duralast.
Therefore it's reasonable to ask, are Duralast rotors any good?
Duralast is considered one of the leaders in the automobile world.
Additionally, we will try to cover other important questions about Duralast brake rotors in the post below.
Let's dive into it!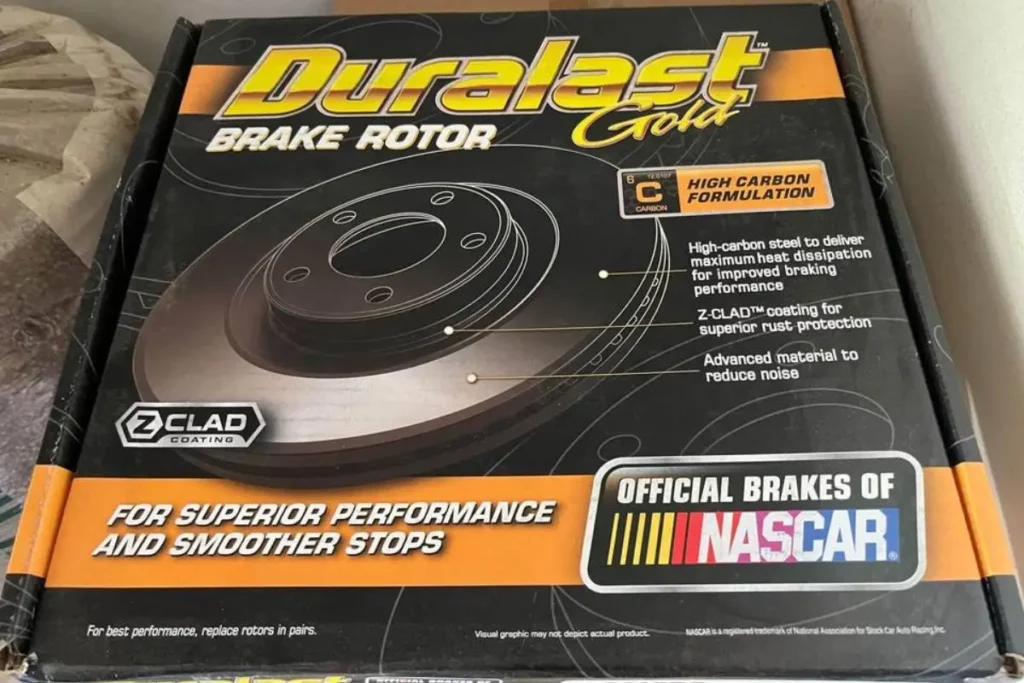 Here Is the Short Answer to Whether Duralast Rotors Are Good
Duralast brake rotors are of good quality, provide solid performance, and are reasonably priced. They come with AutoZone's limited lifetime warranty, meaning you can either replace the defective part or ask for a full refund. Furthermore, these brake rotors have a unique heat dissipation system that spreads heat evenly throughout the brake pads.
Duralast rotors are also versatile. They come with two diverse coating options: black and silver.
The black coating also acts as a thermal barrier to protect the rotors from heat damage along with the shiny finish. 
Additionally, Duralast products are made with high carbon material, providing OE or better results.
The carbon content in these rotors helps dissipate heat and absorb noise, making these rotors quieter and more efficient. 
Furthermore, Duralast rotors have edge coating and hats, preventing rust and corrosion.
Key Features:
Well balanced
Smooth stopping
Lessen brake noise
Certified facilities
Improved resistance for bending
Who Makes Duralast Rotors? 
Duralast rotors are made by AutoZone, Inc. – an American distributor of aftermarket automotive accessories and parts.
This company was founded in 1979 and is considered the largest aftermarket company in the United States.
Where Are Duralast Rotors Made? 
Duralast manufactures its rotors in China.
In 2010, Duralast rotors were made in Mexico.
These brake rotors are no longer made in the UK or US. Duralast is no exception, and like most domestic brands, they source their rotors from either China or Taiwan.
However, these rotors are of exceptional quality. 
About The Manufacturer of Duralast Brake Rotors
Duralast is a line of AutoZone, Inc. – an American-based retailer/distributor of aftermarket vehicle accessories and parts. This company was founded in 1979. However, they released the "Duralast Tool" line in 2003. 
Today, AutoZone, Inc. has become one of the largest companies in the United States. It's located in Memphis, Tennessee.
However, it has more than 6,400 stores around the United States, Brazil, Puerto Rico, Mexico, and the Virgin Islands. 
Along with Duralast batteries, Duralast Gold, Duralast, and Valucraft are private label companies owned by AutoZone.
This company offers numerous brake pad variations with various price tags, which we will discuss later in this article.  
How Long Will Duralast Rotors Last?
On average, Duralast brake rotors can last between 25,000 to 85,000 miles. However, if you offer proper maintenance and care, these rotors are sustainable to cross the 100,000 miles.
The actual life span of Duralast discs depends upon numerous factors, such as rotors variation, brake fluids, pads, maintenance, and many more.
It's noteworthy to mention that AutoZone also offers Valucraft rotors. Compared to Valucraft, Duralast is a better pick. 
How Much Do Duralast Brake Rotors Cost on Average?
The cost of Duralast rotors depends upon the model you select. AutoZone, Inc. offers more than five variations of rotors, which can cost anywhere between $50-$500. As a rotor is probably the most durable and important part of a brake system, we suggest going for a more expensive item.
AutoZone offers the following brake pads (ranging from the most inexpensive to the most expensive):
Duralast – Organic, semi-metallic, and OEM performance
Duralast Gold – Ceramic, semi-metallic, and ORM performance
Duralast Max – Ceramic and superior to OEM performance and design
Duralast Elite – Copper-free, ceramic, and superior to OEM performance
Duralast GT Street – Only for certain applications 
Where Can I Buy Them?
AutoZone offers both front and rear brake rotors. You can buy these components from their official website with free next-day delivery. If you want, you can also visit the Duralast stores to pick them up.
AutoZone has more than 6,000 stores available all around the United States. You can use google map or their official website to find a store near you.
What Are the Best Duralast Brake Rotors?
In our opinion, Duralast GT Street brake rotors are the best brake rotors available from Duralast. They offer smooth performance and long life. However, these ones are certainly not that budget-friendly compared to other rotors. Fortunately, Duralast offers hundreds of brake discs for dozens of different vehicles. 
If you are on a tight budget, you can get one of the cheaper Duralast rotors. The minimum requirements of these rotors are OEM-level performance.
So, you can rest assured that you'll get a reliable rotor from this company.
On their official online store, AutoZone offers different brands of rotors, including Brembo, Duralast, Duralast Gold, Duralast Severe Duty, and Genuine.
Keep in mind that all these have unique features. So, you should research and get a product that will suit your automobile. 
One of the best things about Duralast discs is that they can replace your OE components without changing the safety and performance.
Furthermore, if you are going with the Duralast GT Street model, you can ask for modifications according to your preferences. 
Things we like about Duralast rotors:
Manufactured in a certified facility
Designed to reduce noise when braking
Offers smooth slopping
High-strength alloy for long life
Affordable 
What Are Some of The Alternatives To Duralast Brake Discs?
Duralast rotors offer everything you need in a brake rotor. They are durable, affordable, sustainable, quieter, and so on. However, not everyone has the same taste. If you prefer the smoothness of the Duralast, others might be looking for something completely different.
Fortunately, hundreds of brands are available out there that offer brake rotors. If you want something other than Duralast, another reliable company available in the market is Brembo.
Unlike Duralast, Brembo is a manufacturer as well as a distributor.
In simple words, Brembo owns factories that produce the material of their product.
As a result, they control everything from production systems to distribution. This company is also a manufacturer and distributor.
Besides Brembo, you won't make a mistake if you choose DBA rotors.
Here are some of the most popular brake rotors available out there:
DuraGo Vented brake rotor
ACDelco non-coated rotor
Bosch QuietCast rotor
Wagner premium brake rotor
Related: Are Raybestos Rotors Good? (Answered)
Conclusion
Are Duralast rotors any good? Well, Duralast rotors are certainly on the top of the list when it comes to brake discs.
They offer performance and won't make a dent in your bank account. You can even buy them for under $100.
That being said, we suggest going for a more expensive set of brake rotors. This is because rotors are the most crucial part of a braking system.
So, if you try to save some bucks, you might end up with a lower-quality product that doesn't meet your standard!
Sources
https://firstquarterfinance.com/autozone-brake-pad-warranty/
https://en.wikipedia.org/wiki/AutoZone