Disc Brakes Australia is one of the most reputed brands when it comes to brake rotors.
If you want to know whether DBA rotors are good and worth buying, keep reading till the end!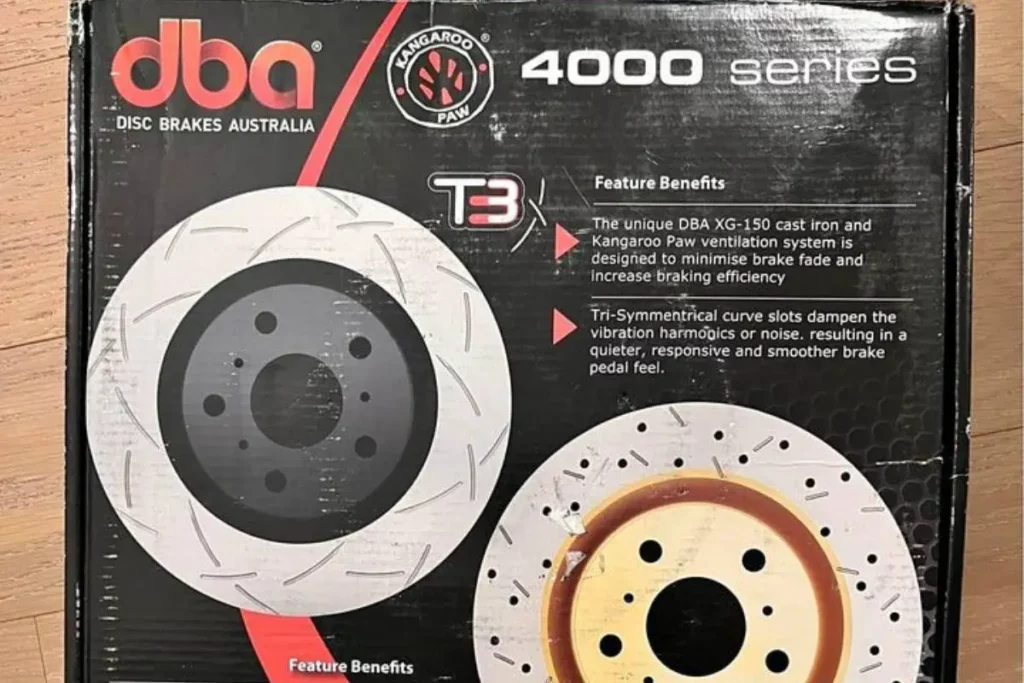 How Good Are DBA Rotors?
DBA rotors are high-quality brake rotors that are durable and heavy. They last between 30,000 to 70,000 miles which is standard for most brake rotors. Furthermore, these rotors feature an anti-rust finish that protects them from rust and corrosion.
One of the notable things about DBA brake rotors is that they use a Kangaroo Paw ventilation system.
This cooling technique is considered the best approach to keep the brakes cool, even for the heaviest vehicles.
These discs use 144 diamonds & teardrop patterns. They are approximately 20% more efficient compared to other ventilation systems. 
To back up their products, DBA also offers a 12-month warranty. Plus, according to their official website, they won't decline a warranty even if you use their rotors on tracks.
The main focus of DBA is on quality and performance.
So, if, for some reason, you don't like their product before 12,000 miles, you can contact them and ask for a repair or replacement. 
Who Makes DBA Rotors? 
DBA rotors are made by Disc Brakes Australia – an Australian-based designer and manufacturer.
This company offers OE and aftermarket brake rotors, nuts, hats, rings, drums, and brake pads. Their products are TUV certified: ISO 9001:2015.
Where Are DBA Rotors Made? 
All DBA rotors are made in Sydney, Australia, and then exported all around the globe. DBA is an Australian-owned manufacturer of aftermarket and OE brake parts.
Besides Australia, DBA also has a US division and a Europe division. However, these divisions also offer Australian-design, high-performance discs.
About The Manufacturer of DBA Brake Rotors
DBA, or Disc Brakes Australia, has been offering high-quality braking systems for more than four decades. This company is an all-rounder. It is a manufacturer, designer, and global marketer. Furthermore, DBA also researches braking systems to offer the safest and most reliable parts.
DBA has become Australia's most awarded manufacturer when it comes to rotor development. This company is not limited to old technology.
They are innovative and continually working to create better braking systems while reducing their per-unit cost. 
DBA repeatedly ensures that their discs are superior to others by setting the bar in premium metals, tolerance, and quality.
DBA has grown from a small Australian workshop to a global distributor in just a few years. 
Today, DBA offers quality brake parts throughout the world, including Asia, Russia, the Middle East, the USA, Europe, and everywhere in between. That are offering numerous products, including:
Brake pads
Brake rotors
Brake fluids
Replacement disc
Drums, rings, and nuts
How Long Will DBA Rotors Last?
The actual lifespan of a DBA rotor depends upon numerous factors, such as usage, maintenance, vehicle, and many more. However, according to an estimate, a DBA disc can last anywhere from 30,000 to 70,000 miles. They can even last for 100,000 miles if you provide proper maintenance.
To back up DBA brake rotors, the company also offers 12 month or 12,000 miles warranty, whichever occurs earlier.
Due to their high-quality material and manufacturing procedure, DBA even provides a warranty if you use these rotors on a track. 
How Much Do DBA Brake Rotors Cost on Average?
DBA offers plenty of brake rotors with different price tags and features. The actual cost of DBA discs depends on your car and the variation of the rotors. On average, the cost of a rotor can fall anywhere between $100-$400.
Getting DBA's complete braking system is recommended to save some extra bucks. A braking system will come with brake pads, caliper, fluids, nuts, drums, and many more.
Where Can I Buy Them?
Finding the best quality DBA rotors is not as hard as you think. DBA offers their products from their official local and online stores. You can also buy DBA discs from popular online platforms, including Amazon. However, it is recommended to buy a rotor from their official Amazon store to avoid fraud. 
Don't forget to check your car's model before ordering a DBA rotor.
Additionally, it would be best if you do a little research and look for the best variation of DBA rotors that suits your vehicle as well as your budget.
What Are The Best DBA Brake Rotors?
DBA offers three main disc series: street series, 4000 series, and 5000 series. According to many consumers, the 5000 series DBA brake rotors are the best. They might be a little expensive compared to other variations, but they are worth it.
All rotor series offered by DBA have unique features and specifications, such as:
Street Series – These rotors are for those seeking OE-level braking performance. They have numerous other features, including a T2 bi-directional slot, EnShield–slotted and cross-drilled.
4000 Series – These discs feature single-piece discs and are excellent for drivers seeking improved braking systems. They have several upgrades, including T3 slots, Thermo-Graphic paint marking, thermal stability profiling, and a Kangaroo Paw cooling system.
5000 Series – DBA's 5000s are certainly the best rotors available in the market. They are two-piece discs, combining aerospace-grade aluminum hats and high-carbon cast-iron rings. With all the additional features of the 4000 series, this one also features improved heat management and weight reduction.
The minimum requirement of DBA is above OEM standards. So, no matter which series you select, you can rest assured that you are getting high-performance rotors.
If you have a limited budget, you can get the Street Series. However, the best DBA rotors are certainly in the 5000 series.
Related: Are Raybestos Rotors Good? (Answered)
What Are Some of The Alternatives?
DBA is not the only manufacturer that offers a high-performance braking system. If, for some reason, you cannot get your hands on DBA brake rotors, you can buy your brake's components from Brembo, ACDelco, Bosch, DuraGo, Wagner, and more.
Before selecting an alternative, make sure to consider some things. First of all, look for the customer's feedback.
The best alternative to DBA is certainly Brembo when it comes to positive reviews. However, Brembo discs are not that budget-friendly.
Remember that a reasonably priced brake rotor does not necessarily mean it's bad. Some companies, such as ACDelco, offer budget-friendly rotors without compromising quality.
Related: Are Duralast Rotors Good? (Answered)
Frequently Asked Questions – FAQs
Where are DBA rotors manufactured?
All DBA rotors are manufactured in their manufacturing plant in Sydney, Australia.
Are DBA rotors made in Australia?
DBA rotors are 100% Australian-made rotors. They are available in 3 series – Street, 4,000, and 5,000.
Are DBA rotors directional?
All DBA rotors are bi-directional, meaning that the rotors are not side-specific. They can be slotted and/or drilled for universal left/right use.
Can you turn DBA rotors?
DBA rotors can be turned using a proper machinic job, but it is impossible for every bent, worn, or ruined brake rotor.
Conclusion
There are numerous brands available out there that offer discs. So, if you are buying a product from DBA, it's rational to ask, are DBA rotors any good?
Luckily, DBA is one of the most reliable manufacturers available out there when it comes to brake rotors.
DBA discs feature a Kangaroo Paw ventilation system and can last for decades.
Furthermore, even though these products are high-performance, they are still quite budget-friendly, making them a perfect pick for many! 
Resources
https://www.carid.com/dba/info/technology.html
https://dba.com.au/products/rotors/overview/
https://dba.com.au/products/pads/pads-overview/
https://dba.com.au/about/warranty-statement/