Raybestos has a reputation in the aftermarket brake world that few companies can match.
Therefore, in this article, we will address the questions – are Raybestos rotors good, and is this brand reliable?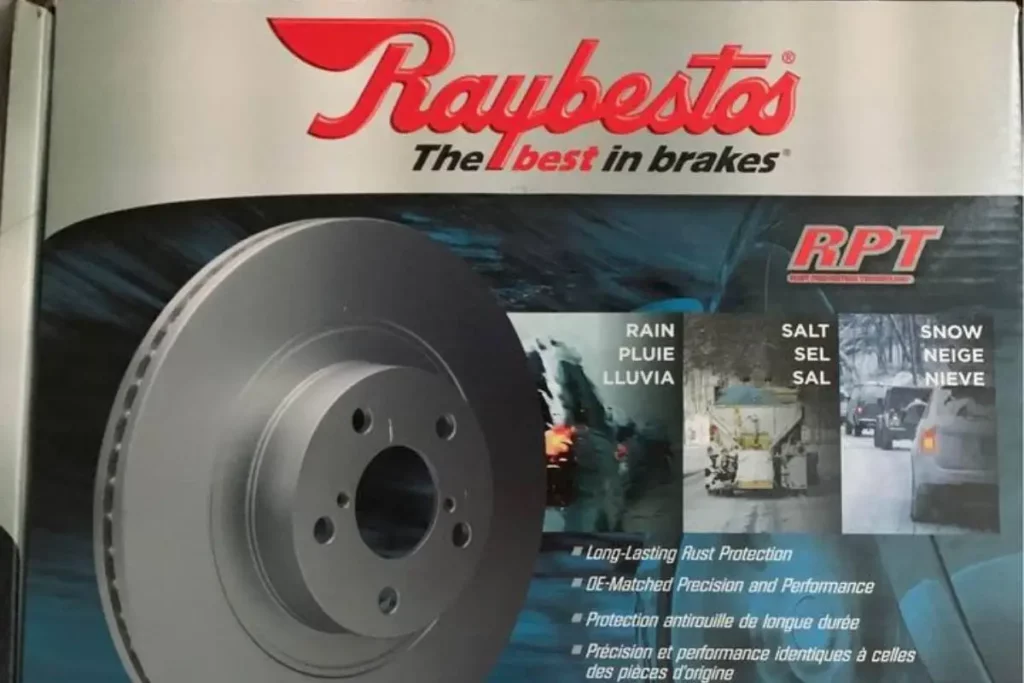 Are Raybestos Rotors Good? 
According to many consumers, Raybestos has the best rotors at the best price! These rotors come with a stellar ventilation system that protects your brakes from heat damage. Plus, all Raybestos products sustain SAE standards for strength and durability.
When you press on the brake pedal, the calipers lockdown on the rotors or brake discs, so the primary function of brake rotors is to prevent your wheels from spinning without any zig-zag motion.
If you have an old pair of brake rotors, it will make sounds and cause vibrations when you press on the brake. 
If you hear squeaking and encounter wobbling, it might be time to replace your old brake discs.
The rotors from Raybestos offer smooth performance and reduce noise and vibrations.
Their ventilation system keeps your brakes cool and protects them against heat and pressure. 
The best thing about Raybestos rotors is that they feature an advanced technology that exceeds OE expectations, making them ideal for high-performance, severe duty, enthusiasts and fleet vehicles. 
Key Features:
Easy to install
100% validated
SAE-standard for strength
Salt spray testing
Fusion coating
Who Makes Raybestos Rotors? 
Raybestos brake rotors are offered by Brake Parts, Inc. – an American-based brand founded in 1902.
Raybestos is a leading brand when it comes to brakes. Along with rotors, this company offers several other products, including calipers, drums, brake shoes, pants, hats, and many more.
Where Are Raybestos Rotors Made? 
Unfortunately, Raybestos brake rotors are no longer made in the United States. You will notice a "Made in China" sticker for these rotors.
Many famous American companies, such as Raybestos, Delco, Motorcraft, and Wagner, manufacture brake rotors in Taiwan/China.
About The Manufacturer of Raybestos Brake Rotors
Raybestos is an American brand for aftermarket automotive parts and accessories. It was founded by Raymond and Law and was considered an important step in automotive brakes. 
Raymark Industries, Inc. manufactured the Raybestos brand from 1919 till 1989. Nowadays, the brand is distributing brake parts and is acquired by First Brands Groups.
The main focus of this brand is on dependability, durability, safety, and innovation. 
Their well-educated engineers test, measure, and analyze each product, including hydraulics, hub assemblies, calipers, friction, drums, and brake rotors.
This company provides industry-leading coverage and the latest part numbers when it comes to brake rotors.
All their products have one thing in common: durability. Their rotors and other car parts are resistant to rust and corrosion and can last for years.
How Long Will Raybestos Rotors Last?
The main focus of Raybestos is, once again – the durability of its products. They use high-quality material and an effective ventilation system. Generally, a Raybestos rotor can last for around 35,000-85,000 miles.
Furthermore, if you take good care of your vehicle and use these rotors effectively, you can easily use Raybestos rotors for up to 100,000 miles without any problems.
How Much Do Raybestos Brake Rotors Cost on Average?
The actual cost of Raybestos rotors will depend on several factors, such as model, type, quality, and many more.
It's noteworthy to mention this one more time. Brake rotors are a crucial part of a braking system.
Therefore, you should not skip out on good rotors because the last thing you want is discs that produce vibrations and annoying noises.  
Where Can I Buy Them?
You can buy Raybestos rotors from their official website or a local store, whichever is more convenient. Additionally, Raybestos also offer their rotors through Amazon.
If you buy Raybestos rotors from a third-party online store, ensure you are getting a genuine product.
To guarantee that your rotor is original, you can check customer reviews and email Raybestos for the inquiry!
What Are the Best Raybestos Brake Rotors?
Today, Raybestos offers three main series of rotors: Element3 Rotors, R-Line Rotors, and Specialty Rotors. All these variations have unique features and price tags. Therefore, before selecting a product as your best, you should do a little research.
Raybestos Element3 rotors are made with an advanced finishing technique to coat the entire surface of the rotor, including the cooling vanes.
The rotors are resistant to corrosion and reduce rust-induced performance issues.
Raybestos describe their Element3 rotors as "Judge this rotor by its cover." 
Next, we have R-Line rotors offered by Raybestos.
Raybestos R-Line rotors are made from G3000-qualified material and developed from OE samples, ensuring function, fit, and form of dependable braking.
These rotors compare well with other companies regarding performance, safety, and dependability.
Last but not least, we have Raybestos specialty rotors. Within this category, the company offers three different types of rotors, including:
Police
Specialty
Performance
As the name suggests, police rotors are ideal for police vehicles. In comparison, the specialty rotors are for medium-duty automobiles, school buses, and trucks.
To cover the street demand, Raybestos also offers performance rotors. These rotors are designed with enhanced iron and may come with an S-Groove slot.
What Are Some of The Alternatives?
Finding a better alternative to Raybestos is not an easy task. As these rotors are ideal in every way, including budget, performance, and durability, they are certainly on top of the list. However, if you still want an alternative, you can check out Brembo rotors, DBA rotors, and Duralast rotors.
Before selecting an alternative to Raybestos, you should consider some things, such as the rotor availability, per-unit cost, and average lifespan.
If you are looking for performance, Brembo rotors are certainly an excellent option for you.
Alternatively, if you want to save some bucks, you should go with Duralast rotors. While Duralast is only a distributor, the DBA is an Australian-based manufacturer and retailer.
So, if you want quality at an affordable price tag, DBA rotors are also a great pick. 
Related: Are Stoptech Rotors Good? (Know These Facts First!)
Conclusion
Before investing your money and time, it's reasonable to ask yourself, are Raybestos rotors good?
Raybestos rotors are an excellent choice if you are looking for overall performance, durability, and quality.
Their discs are made with high-quality material and have a reasonable price tag, making them a perfect pick for everyone!
Resources
https://www.brakepartsinc.com/raybestos/
https://www.brakepartsinc.com/raybestos/products/rotors-drums.html