There are many OEM replacement brake pads on the market, but rarely can any match in quality and affordability any of the AutoZone store brand offerings.
Because they are the most popular and both promise equal or better than OEM performance, let's compare Duralast Gold and Duralast brake pads.
The main difference between Duralast Gold and Duralast brake pads is that Duralast Gold pads are designed to replace OEM products in both design and quality. In comparison, Duralast brake pads are designed to be an affordable replacement for OEM parts.
But what really sets them apart? Is there any benefit in choosing one over the other?
Are the price and quality differences something you should care about?
Let's try to answer these questions by comparing these two brake pad lines of products from AutoZone.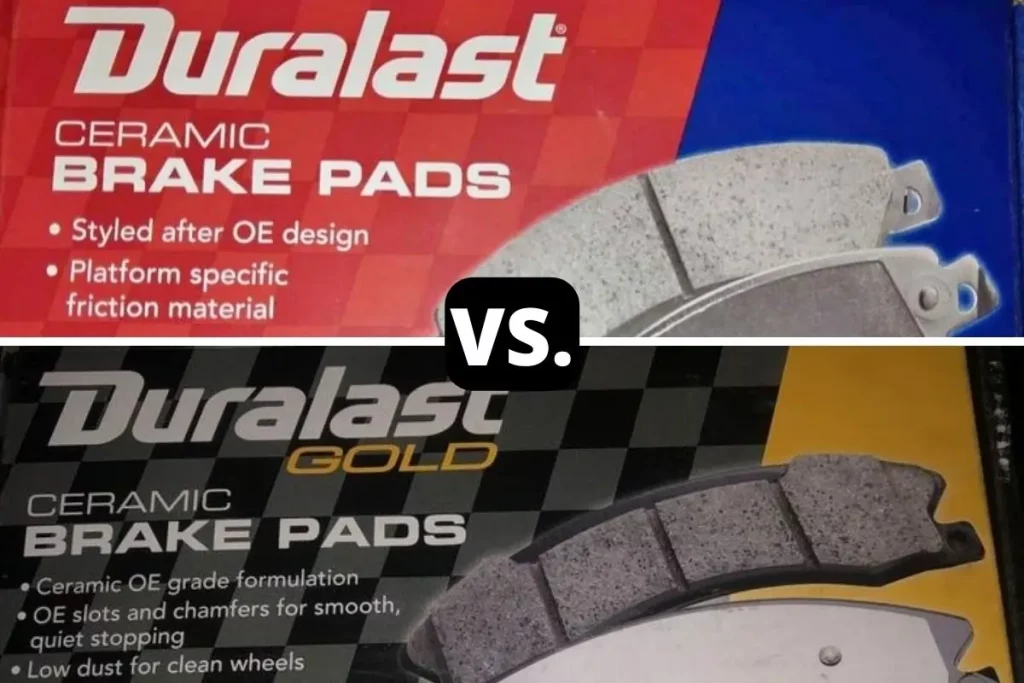 Duralast Gold vs. Duralast Brake Pads Comparison Table
Before we get into the details of this comparison, let's do a quick review of the results, especially if you are in a hurry.
We will be comparing them in several categories, and in this table, you can see how both of these brake pad lines compare to the rest of the market.
This is an excellent snapshot of the information you will find in the rest of this article.
| | | |
| --- | --- | --- |
|   | Duralast | Duralast Gold |
| Origin | China | China/Mexico |
| Price | Low | Below average |
| Performance | Average | Above average |
| Durability | Average | Above average |
| Variety | Above average | Above average |
| Warranty | Limited lifetime | Limited lifetime |
Duralast Gold vs. Duralast Brake Pads Detailed Comparison
When comparing different lines of products from some brands, there is always a question: Do they deliver on their promises?
And that is what we are here to discover by comparing them in the most important categories, exactly those that every potential buyer cares about the most.
We will try to provide you with the utmost available details about these two brake pad product lines so that you can decide which are the better ones for you.
Origin
AutoZone is the largest aftermarket auto parts retailer in the United States, with almost 6,500 stores around the country.
AutoZone has many different lines of products sold under Duralast and Duralast Gold labels, not only brake pads.
And has its own in-house brands that they offer as affordable alternatives to other bigger brands.
Duralast brake pads are produced in China by several different manufacturers. But this doesn't mean that they are cheap knock-offs. They are quality products.
At the same time, Duralast Gold pads are made by none other than Bosch in their factories in China and Mexico.
Price
Both of these lines of brake pads are affordable products, as you would expect from a store brand. Duralast pads cost between $16 and $110, with a median price being $34.
In other words, half of their SKUs cost less than $34, and half cost more than that.
Duralast Gold brake pads are roughly 50% more expensive but still affordable and range between $24 and $160, with a median price of $50.
Performance
Duralast brake pads are designed to replace the OEM parts to provide the perfect fit directly.
But their performance is usually just below the OEM level or thereabout.
On the other hand, Duralast Gold is designed to replace OEM parts perfectly.
They have practically the same design and composition.
But, they are produced in Bosch's factories, and very often, because of the higher quality control and more refined advanced production process, they exceed the performance of the OEM parts.
Durability
Regarding durability, depending on the exact SKU, you can expect Duralast brake pads to last similarly to the OEM parts they replace, though in most cases slightly shorter.
On the other hand, the Duralast Gold pads should last approximately five years or more, depending on your driving style and mileage.
But whichever pad you select will give you the most miles compared to other OEM replacement pads.
Brake Pad Variety
Both of these lines of brake pads have a decent number of different products for various makes and models of vehicles.
And models cover practically all of the more popular passenger vehicles, but also many models that are popular among car enthusiasts.
In numbers, there are 1330 brake pad Duralast SKUs currently available in AutoZone stores and online, while for Duralast Gold, that number is 1089.
Warranty
Brake pads are consumable, meaning they can last you only a limited amount of time before they lose their ability to perform their intended function.
This is why their warranty is almost always extremely short or covered for just a specific mileage.
But not for AutoZone's products. Both of these lines of brake pads are covered by a limited lifetime warranty under the same conditions.
If by any chance you require a replacement, its warranty is 90 days or the rest of the original warranty period, whichever is longer.
Advantages and Disadvantages of Duralast Gold Brake Pads
Duralast Gold is a brake pad designed to be a 1-to-1 replacement of the OEM parts. Their shape, performance, and their chemical composition. But at a lower price.
But they are produced by Bosch and are often better than OEM parts. They brake better, have less heat fade, and are more silent.
They are practically in every regard a level above the non-Gold variants, and their disadvantage over the regular Duralast brake pads is that they cost 50% more.
Advantages and Disadvantages of Duralast Brake Pads
The Duralast brake pads are replacements for the OEM parts and can cost several times less than their original brands' counterparts.
Their price is also their advantage over Duralast Gold.
But it's not just their price that is lower than the Duralast Gold pads. They are a level below the Gold line in everything.
You might also like our other recent posts comparing different brake pads brands:
Conclusion
As you can see from the above, the better choice is apparent when comparing Duralast Gold vs. Duralast brake pads to purchase an affordable replacement for the OEM parts.
Duralast Gold is a better product overall, and though it may cost much more, it is still very affordable. In other words, it just gives you a much bigger bang for your buck.
Sources
https://rustyautos.com/are-autozone-brake-pads-good/
https://www.autozone.com/diy/brakes/duralast-gold
https://www.duralastparts.com/brakes.html