When you want to slow down or bring your vehicle to a stop, the brake pads do practically all the work.
So, choosing the best pads and comparing various brands, such as Textar brake pads vs. Brembo, is very important.
The main difference between Textar and Brembo brake pads is that Textar has a reputation as the OEM brake pads maker. At the same time, Brembo is generally seen as both an aftermarket company and a maker of the upgrade option on sports cars.
But how do these two brands compare to each other per the quality of their products?
Are there any advantages of one over the other brake pads maker?
Or is the difference just the availability of specialized products in their portfolio?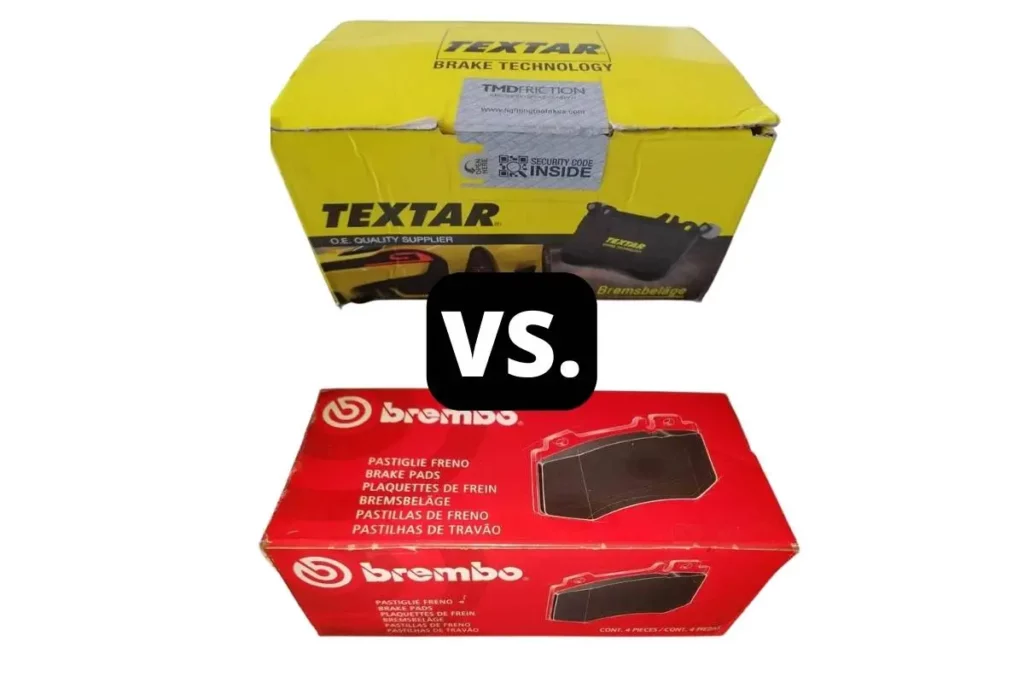 Textar vs. Brembo Brake Pads Comparison Table
Before we get on with a detailed comparison of these brake pad brands, let's check the summary of how they compare in general to the rest of the aftermarket brake pad manufacturers.
It's a good starting point before diving into a more detailed analysis.
Textar
Brembo
Origin
Germany
Italy
Price
Average
High
Performance
Above Average
Above Average
Durability
Above Average
Above Average
Variety
Top
Average
Pros

✔

Availability


✔

Lower price


✔

Good stopping power


✔

Good bite


✔

Very silent

✔

High Performance


✔

Established brand in the industry


✔

Excellent stopping power


✔

Excellent bite
Cons
❌ Cab be slightly mushy
❌ Produce a lot of brake dust
Textar Brake Pads vs. Brembo Detailed Comparison
When it comes to the time to change the brake pads, a choice between various brands can be very tough to make.
Simply put, there is a large number of brands, and these days people are spoiled for choice.
But brake pads are one of those products where the quality of brands and products is not widespread knowledge among consumers.
People usually know about various brands from ads for cars and motorcycles.
But let's compare in detail one brand you probably do not know much about and one that seems to be present everywhere you look.
Origin
A good place to start comparing these two brands is where they are coming from, as it can give you a quick scratch about these companies.
Textar is a brand wholly owned by German friction materials manufacturer TMD Friction. It started as a distribution company for brakes and parts in 1913 but soon started production under the Textar brand.
They are the largest OEM manufacturer for brands ranging from Dacia to Bugatti and Tesla. Its sister brands are: 
Mintex 
Don 
Pagid 
Cobreq 
Bendix
Brembo is an Italian company founded in the mid-20th century in Bergamo. From the get-go, they were concentrating on the racing brakes technology.
They are best known as brake suppliers for various FIA-sanctioned competitions and OEM manufacturers for many luxury car brands.
For many people, their name is a synonym for high-performance brakes.
Price
The average price of brake pads, either replacement OEM or aftermarket, depends on the make and model of the vehicle.
Textar brakes have a slightly wider price range, but it can be said that their prices are in the average range.
Brembo pads have a relatively low starting price point, but some products can be in the premium category.
Generally, Brembo brake pads are considerably more expensive than competitors.
If you are a motorcycle fan, you might also like: SBS vs. EBC Brake Pads (In-Depth Comparison)
Performance
Textar brake pads are the industry standard for performance in any vehicle category. They are above average by any characteristic. 
good bite 
good stopping power 
very silent 
Everything about them is good.
But Brembo pads, when compared to specific car models, offer practically the same performance.
But with one subjective difference. Brembo brake pads bite quicker, and brakes with Textar pads can feel slightly spongy before they bite the discs.
Durability
The durability of brake pads depends on many different factors:
driving style 
speed 
quality of the other components of the brake system 
and even the weather can have a considerable impact on their lifespan
Both brands have a very similar lifespan. You can expect an average-quality brake pad to last around 35 thousand miles.
But, depending on the model, excluding performance parts for supercars, both of these brands you can expect to last you between 40 and 45 thousand miles.
Related: Brembo Brake Pads vs. OEM (In-Depth Comparison)
Brake Pad Variety
There isn't much comparison between these two brands regarding the variety of brake pads.
Textar is, after all, the largest producer of OEM brake pads, having products for practically any vehicle currently on the market.
We are talking about thousands of different car makes and models, from dingy Lada Niva and Fiat 500 to Buggaty Veyron, Tesla S, or Shelby GT500.
On the other hand, Brembo is mostly available for luxury and performance vehicles.
Advantages and Disadvantages of Textar Brake Pads
The main advantage of both Textar OEM replacement and aftermarket brake pads is the availability of their products.
It is very hard to find a make and model of the car they do not have a product for.
But also, they come at a considerably lower price than Brembo while offering practically the same performance.
A disadvantage of these brake pads is their performance. Most of their pads feel slightly mushy when you start braking before they bite.
Though when they bite, they do bite.
Advantages and Disadvantages of Brembo Brake Pads
Brembo means a great brake pad in Italian. Just joking. Brembo braking pads are an excellent product, especially their lineup of aftermarket performance pads when combined with fitting brake discs.
Their performance is practically unparalleled.
But that is the disadvantage when paired with different manufacturers' discs. They often produce huge amounts of brake dust.
And their price often puts them out of reach for many consumers.
Also, if you are looking for quality pads for some more reasonable vehicles, the chances are that Brembo doesn't make them.
Related: Duralast Gold vs. Duralast Brake Pads (In-Depth Comparison)
Conclusion
Textar brake pads vs. Brembo compares the OEM industry giant and motorsport performance giant.
When it comes down to the quality of their products, there isn't much that separates them.
But the difference is that when buying Brembo pads, you are also paying for the coveted logo on the brake calipers of supercars.
Though many of them, under those calipers, hide Textar brake pads.
If you are a diehard fan of Brembo, that's what you must buy. But if you are buying performance, Textar offers the same, but at a lower price.
Sources
https://www.buybrakes.com/help/brembo-brake-pads-vs-oem-brake-pads/
https://www.motorverso.com/testing-premium-brake-brand-textar/
https://www.clubtouareg.com/threads/has-anybody-tried-textar-brake-pads.275681/
https://textar.com/usa/textar-oe_oes-releases/