In this article, we'll explore the top tire brands that start with M and what sets them apart from the competition.
From Michelin to Maxxis, these brands have a reputation for quality and durability.
So buckle up and get ready to discover your next set of reliable tires!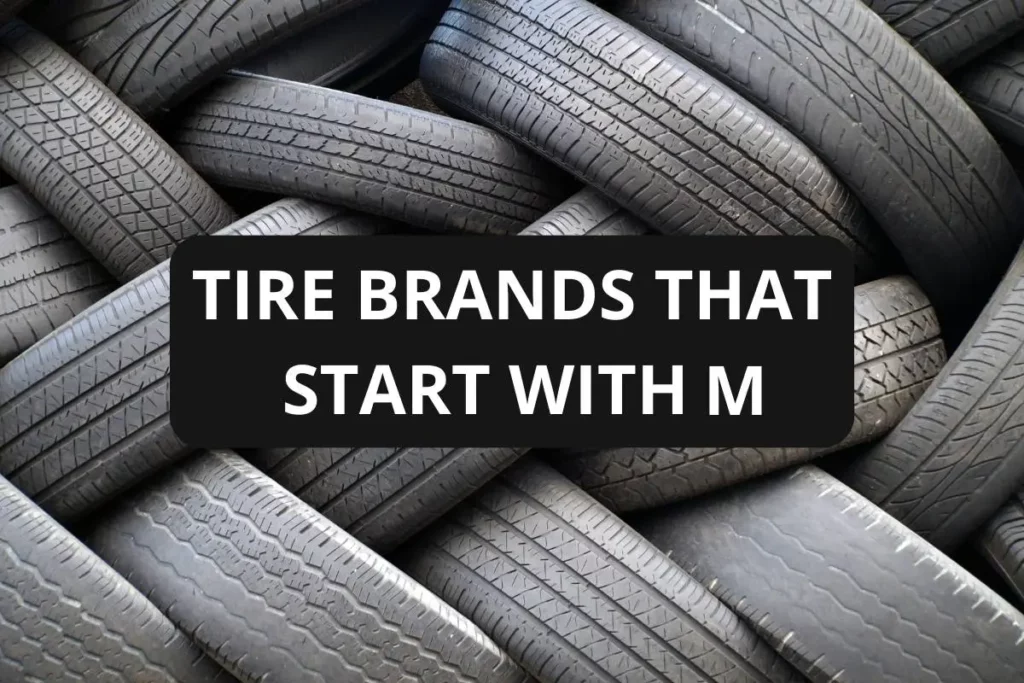 List Of Tire Companies That Begin with M
In this section, we will cover the various tire brands that start with the letter M, discussing each brand's origin, the types of vehicles they cater to, and any notable facts.
Use this information to enlighten your understanding of these brands and help you make well-informed decisions when choosing tires for your vehicle.
Magna
Magna, a tire brand from Hardenberg, Netherlands, is focused on manufacturing high-quality tires for construction, industrial, and port equipment.
Manufacturing is done in Thailand, while the tires are distributed to over 130 countries worldwide.
As a customer, you can trust Magna to deliver reliable tires for your heavy equipment under demanding conditions.
Mark Ma
Mark Ma originates from China and specializes in developing tires for various vehicle types, including passenger cars, light trucks, and commercial vehicles.
With their commitment to research and development, Mark Ma ensures you receive effective tires for your needs.
Marshal
Established in South Korea, Marshal is a well-known tire brand catering to passenger cars, light trucks, and SUVs.
As a subsidiary of Kumho Tire Company, Marshal provides consumers with quality tires at a competitive price.
Master
Master is a tire brand recognized for producing dependable tires for private label partners. Their manufacturing capabilities include ATV, UTV, and Commercial tires vehicles.
Mastercraft
Mastercraft, a subsidiary of Cooper Tires, is an American brand known for producing high-quality tires for passenger cars and trucks.
Mastercraft tires are designed to offer long-lasting performance and durability, making them a reliable choice for your vehicle.
Mastertrack
Based in the United States, Mastertrack focuses on manufacturing high-quality trailer tires.
Unicorn Tire Corporation owns Mastertrack.
Trusted by customers, Mastertrack ensures the reliability and safety of your trailer load during transport.
Maxam
Maxam, a global tire company, produces tires for off-the-road, industrial, and agricultural applications.
Their headquarters are located in Birmingham, UK.
Maxam is a subsidiary of the Sailun Group. They have various manufacturing plants in China and Vietnam.
Maxdura
Maxdura is an Indian-based tire brand that is a sub-brand of ATF Tires.
They are known for manufacturing tires for a wide range of vehicles, including tractor and industrial application tires.
Maxtrek
China-based Maxtrek manufactures a wide range of tire types, including passenger cars, SUVs, and light trucks.
Offering affordable prices, Maxtrek can be a practical choice for customers on a budget.
Maxxis
Maxxis, originally known as Cheng Shin Rubber Company, is a Taiwanese tire brand that produces tires for various vehicles like cars, motorcycles, ATVs, and bicycles.
Maxxis is the biggest manufacturer of bicycle tires.
Mazzini
Mazzini is a Chinese tire brand that manufactures tires for passenger cars, SUVs, and light trucks.
They are a sub-brand of Best Choice International Trade Co. Ltd.
Their product range emphasizes performance and safety, making them a suitable choice for your vehicle.
Mesa
Cooper Tires and Rubber Company make Mesa tires.
Big O Tires own them. Mesa is known for producing tires for passenger cars, light trucks, SUVs, and CUVs.
Michelin
Michelin is a French tire manufacturer with its main headquarters located in Clermont-Ferrand, France.
It is a household name for high-quality, long-lasting tires.
Founded in 1889, they produce tires for various vehicle types, including cars, motorcycles, trucks, and airplanes.
Mickey Thompson
Mickey Thompson is an American tire company known for its high-performance racing and off-road tires.
Mickey Thompson is a subsidiary of Goodyear.
If you're seeking premium tires for your track or off-road adventures, Mickey Thompson offers a range of suitable options.
Mile Pro
Mile Pro has been manufacturing tires for many years, focusing on off-the-road (OTR) tires.
Mile Pro has developed a reputation for engineering their tires with robust sidewalls that are both durable and tough to ensure that their tires can handle the demanding task of hauling heavy loads.
Mile Pro's tires are a top choice for those requiring high-performance tires for their heavy-duty vehicles, emphasizing strength and reliability.
Mileking
Mileking is owned by Shandong Acmex Rubber Group Co.,Ltd.
They produce a variety of tires for different vehicles, such as passenger cars, trucks, and vans.
Milestar
Originating in the United States, Milestar manufactures tires for passenger cars, light trucks, SUVs, trailers, and ATVs & UTVs.
Tireco, Inc owns Milestar.
Since its establishment in 1972, Tireco, Inc. has emerged as a front-runner in the tire industry, catering to a wide range of needs from consumer to commercial and specialty tires, as well as custom and towable wheel products. 
Offering a range of tire types, including all-season and performance options, Milestar ensures you find the right tires for your vehicle.
Miletrip
Miletrip is a tire brand owned by Run Tire. Their all-series tires are manufactured in Thailand.
Miletrip has made a name for itself by focusing on the design and production of high-quality off-road tires.
Their tires are known for their aggressive tread patterns, which are specifically engineered to provide superior performance on even the most challenging mud terrains.
Mitas
Mitas, a Czech brand, produces tires for agricultural, construction, motorcycle applications, and aircraft.
Trust Mitas for high-quality tires, reliability, and innovation in these specific vehicle segments.
Momo
Momo Italia is a well-known manufacturer of high-performance tires as well as car accessories.
Momo tires focus on providing optimal performance and safety for your sports or luxury car.
Montreal
Montreal Brand is a tire brand that produces a wide range of tires, including LT, PCR, SUV, and CUV tires.
These tires are designed to provide exceptional performance and durability, making them a top choice for drivers who demand the best from their tires.
One of the unique features of Montrea tires is that they are made in Turkey, which is known for its high-quality tire manufacturing. 
MRF
MRF (Madras Rubber Factory) is an Indian-based tire manufacturer that produces tires for vehicles such as two-wheelers, passenger cars, SUVs, CUVs, tractors, light commercial vehicles, light trucks, off-the-road vehicles, trucks, buses, trailers, and even airplane tires.
Given MRF's reputation for quality and innovation, you can trust its tires for your daily commute or long journeys.
MRL
MRL is an Indian tire brand specializing in off-the-road, agricultural, and industrial tire segments.
If you have specific needs in these areas, Mrl could be a suitable choice.
Mud Claw
The Mud Claw tire is designed for off-road applications and is a popular option among off-road enthusiasts.
Manufactured by TBC Corp., you can expect durability and performance when choosing Mud Claw for your off-road adventures.
Multi-Mile
Multi-Mile is an American tire manufacturer that produces tires for various vehicles, including passenger cars, light trucks, agricultural and commercial applications.
Multi-Mile is yet another brand that the TBC family owns.
With cost-effectiveness and various options, Multi-Mile can be a practical choice for your tire needs.
Muscle Power
Muscle Power is a commercial truck tire supplier that has earned a reputation for excellence over the past decade in the USA.
With a focus on cutting-edge technology, Muscle Power manufactures and distributes a wide range of tires for use on commercial trucks, including steer, drive, trailer, and all position tires. 
Final Thoughts
In conclusion, plenty of tire brands start with the letter M, each with its unique features and benefits.
From Michelin to Milestar, these brands offer a range of options for drivers needing new tires.
Whether you're looking for high-performance tires for your sports car or durable tires for your heavy-duty truck, there is a high chance that you'll find the perfect set of tires for your vehicle.