Are you looking for a new set of tires for your vehicle? Or are you simply curious about tire brands that start with the letter N?
Either way, you've come to the right place!
In this article, we'll explore some of the most popular tire brands that begin with the letter N, their unique features, and what sets them apart from the rest.
So buckle up and get ready to discover the perfect tire brand for your ride!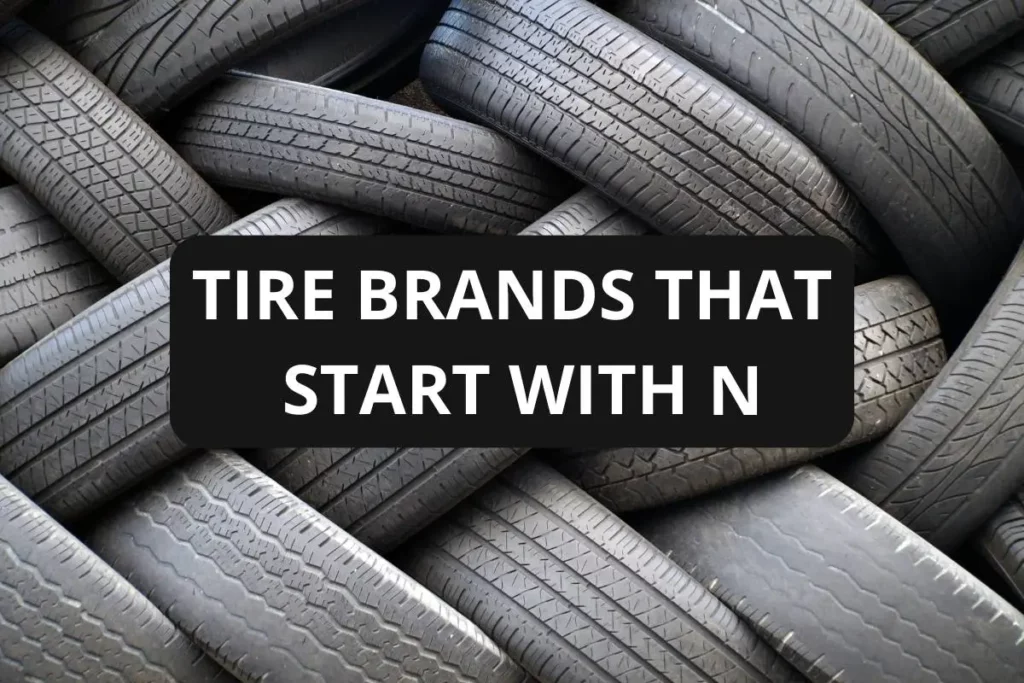 List of Tire Brands that Begin with The Letter N
Nama
Nama Tires is a Southeast Asian tire manufacturer that produces a variety of tires for different types of vehicles, including passenger cars, light trucks, and off-road vehicles.
They're known for their affordable pricing and good quality.
Nanco
Nanco is a tire brand with its main manufacturing plants in Asia. They are part of Tireco Inc. and offer economical tires for various types of vehicles, such as agricultural, golf cart, and lawn and garden tires.
They cater to budget-conscious customers while maintaining quality performance.
Nankang
Founded in Taiwan in 1940, Nankang has earned a reputation for producing high-quality tires for various applications, including passenger cars, SUVs, and trucks.
Their commitment to research and development has led to innovative products that meet safety and performance standards.
National
National Tires are based in England and, in 2021, got acquired by Halfords. They specialize in tires for passenger cars, SUVs, light trucks, and commercial vehicles.
National Tire provides reliable tires with innovative designs, solid performance, and reasonable pricing.
Neoterra
Neoterra is a tire brand that manufactures tires for commercial vehicles, including long-haul trucks and specialty off-road applications.
They are based in China, while distribution in America is handled by Keter Tire USA.
All the tires sold in the USA are made in their manufacturing plant in Thailand.
The brand ensures high-quality performance with good fuel efficiency and reduced rolling resistance.
Nereus
Nereus is a Chinese tire brand focusing on affordability without sacrificing performance or safety.
Nereus is owned by Qingdao Ditrip Tyre Co., Ltd, offering service to 500+ tire distributors from over 100 countries.
They offer a variety of tires for passenger cars, buses, trucks, off-road vehicles, industrial vehicles, and agricultural machineries.
Neuton
Neuton Tire is a Singapore-based YHI International Limited sub-brand that specializes in producing high-quality tires.
They're known for their environmentally-friendly manufacturing processes and innovative tire designs, catering primarily to passenger cars and small SUVs.
Nexen
Nexen is a South Korean tire manufacturer that provides various tire options for passenger cars, SUVs, and light trucks.
Founded in 1942, the brand is known for its cutting-edge technology, excellent performance, and commitment to environmental stewardship.
Nika
Nika, a tire brand, operates as a subsidiary of the prominent tire manufacturer Vee Rubber, with its headquarters situated in Bangkok, Thailand.
They are mostly known for producing tires for passenger cars, commercial vehicles, and off-road applications.
With their high-quality engineering and innovative designs, Nika provides dependable tires for a variety of driving conditions.
Nitto
Formed in Japan in 1949, Nitto has since expanded to the United States and is known for producing high-performance tires for racing, off-road, and everyday driving.
They manufacture tires for passenger cars, light trucks, SUVs and ATVs/UTVs, prioritizing performance, comfort, and safety.
Nokian
Nokian Tyres is a Finnish tire brand that specializes in winter tires for various vehicle types, including passenger cars, trucks, SUVs.
Established in 1988, Nokian has a strong reputation for producing safe and high-quality winter tires built for the most challenging weather conditions.
Nutech
Nutech is a tire brand that manufactures tires for a diverse range of vehicles, from passenger cars to large commercial truck applications.
With a mission to provide high-quality, reliable tires at competitive prices, Nutech uses advanced technology to ensure optimal performance and safety.
Frequently Asked Questions
What Are the Top Tire Brands that Begin with N?
Among the top tire brands that start with the letter 'N' are Nitto and Nokian tires.
Nitto, a Japanese tire manufacturer, produces high-performance tires for various vehicles such as cars, trucks, and SUVs. Founded in 1949, Nitto is well-regarded for its innovative designs and advanced technology in tire production.
Nokian Tires, on the other hand, hails from Finland and specializes in producing winter tires.
Established in 1988, they are recognized as one of the leading winter tire manufacturers worldwide, dedicated to making safe and sustainable products for a variety of vehicle types.
Which N-Starting Tire Brands Are Affordable?
When searching for affordable tire brands that start with 'N', you can consider Nexen tires. Originally from South Korea, Nexen is a tire brand that balances quality and affordability.
They produce tires for various types of vehicles, including passenger, light truck, and SUVs. Whether you're looking for all-season or performance tires, you may find Nexen to be a cost-effective option.
What Makes Nokian Tires Stand Out?
Nokian tires are particularly renowned for their winter tire expertise. The company's location in Finland, a country known for its challenging winter conditions, has contributed to their deep understanding of what makes a top-quality winter tire.
Nokian invests heavily in research and development to create tires that provide excellent grip, stability, and handling in snowy, icy, and slushy conditions.
Their commitment to safety and sustainability has also earned them a reputation as an environmentally-friendly tire manufacturer.
What Are the Primary Differences Between Various N-Initialed Tire Brands?
The main differences between N-initialed tire brands like Nitto, Nokian, and Nexen lie in their specialization, target market, and geographic origin.
Nitto, from Japan, primarily focuses on producing high-performance, innovative tires for various types of vehicles.
Based in Finland, Nokian excels in manufacturing winter tires known for their safety and sustainability.
Lastly, Nexen from South Korea offers a wide range of tire options at more affordable prices.