In this article, we'll explore some of the top tire brands that start with the letter V.
From high-performance tires to all-season tires, we'll take a closer look at the unique features that make each brand stand out.
Continue reading to find out more about these tire brands!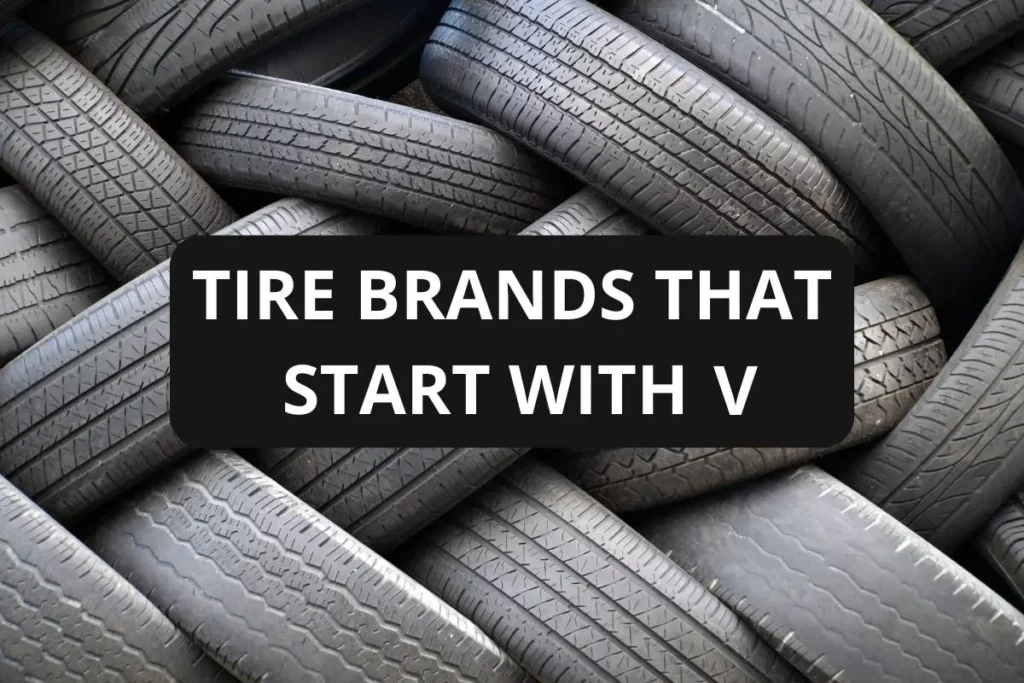 List of Tire Brands That Begin With V
In this section, you'll find information on tire brands starting with the letter V. We'll cover their origin, parent company (if any), and types of vehicles for which they manufacture tires.
V-Netik Tires
V-Netik, a sub-brand tire of S&H Tires, is renowned for its exclusive label offerings.
Customers can explore a comprehensive selection, encompassing tires for passenger vehicles, SUVs, light trucks, commercial vehicles, and other off-the-road (OTR) vehicles.
Valino
Valino is a USA headquartered company that focuses on creating high-performance tires for motorsports.
They offer various types of tires for mostly passenger cars, SUVs/CUVs.
Known for their confident and clear grip on the road, Valino is a top choice for racing enthusiasts.
Vanderbilt
Vanderbilt is an American tire brand known for its rich history in the tire industry.
Founded in 1936, Vanderbilt offers a variety of tires suitable for passenger vehicles, light trucks, SUVs & commercial vehicles.
Vanguard
Vanguard is another American tire brand that provides reliable and durable tires, mainly for sedans, minivans, and crossovers.
The TBC family owns Vanguard tires. They are committed to enhancing safety and performance on the road.
Vee Rubber
Vee Rubber is a Thai tire brand established in 1977, specializing in manufacturing motorcycle, bicycle, and ATV/UTV tires.
They are also a prominent supplier of tires for light trucks, passenger cars, SUVs & other commercial vehicles, focusing on producing high-quality, affordable tires.
Veento
Veento is a tire brand known for offering a wide range of performance tires for bicycles, motorcycles, and automobiles.
The manufacturers of Veento have more than 35 years of experience.
They are focusing on tire design, development, and testing the limits of modern technology so they can deliver outstanding performance while ensuring the smoothest ride possible.
Velozza
Velozza is another tire brand specializing in providing a variety of performance, all-season, and touring tires for passenger cars, SUVs, CUVs, and light trucks.
Kelly Tires make the tires from Velozza, while the American TBC Wholesale Group handles distribution.
Their goal is to ensure their customers' smooth and secure driving experience.
Velocity
Velocity Tire, a distinguished tire manufacturing brand, falls under the ownership of Tiger Wheel & Tire.
Renowned for its commitment to excellence, the brand produces exceptionally durable tires, carefully crafted with innovative tread patterns to guarantee an extended lifespan.
Venezia
Based in Thailand, Venezia offers a diverse range of tires for a wide spectrum of vehicles, from passenger cars to light trucks.
Venezia tires are made in the China while distribution in the USA is handled by American Omni Trading Company.
Their cutting-edge technology focuses on improving fuel efficiency and lower road noise.
Venom Power
Venom Power, a brand owned by a prominent US-based company, sources its products from reputable manufacturers in Thailand and various Asian countries.
They are known for their exceptional performance, durability, and strength.
Their tires are designed for trucks and SUVs, providing excellent traction and stability even in challenging off-road conditions.
Vercelli
Vercelli, a China-based tire manufacturer, primarily offers passenger, SUVs and light truck tires.
They focus on providing high-quality, affordable options, ensuring a comfortable and safe driving experience.
Versatyre
Versatyre is a tire brand based in Texas, USA. They produce tires for various types of vehicles, including passenger cars, light trucks, and SUVs for on- and off-road use.
Their comprehensive lineup offers reliable, high-quality performance on the road.
Victorun
Victorun Tires is a sub-brand of Qingdao Victore Tire Co., Ltd, established in 2007.
With an extensive product range available for purchase, this brand specializes in catering to the needs of passenger vehicles, SUVs, light trucks, and commercial vans.
Notably, these good quality tires are offered at affordable prices, making them an attractive choice for budget-conscious consumers.
Vikrant
Vikrant, the subsidiary tire brand of JK Tyre, aligns with a company boasting 12 state-of-the-art plants established back in 1977.
From its modest beginnings with a capacity to produce "only" 0.5 million tires annually, JK Tyre has steadily expanded year by year, achieving an impressive milestone of producing 16.6 million tires yearly.
Specializing in high-quality tires, Vikrant serves as a dedicated branch catering to the needs of commercial trucks, ensuring optimal performance and reliability on the road.
Vitour
Vitour is a Chinese tire manufacturer established back in 2006.
They produce a wide range of tires for passenger cars, light trucks, and SUVs. They strive to deliver top-quality tires that meet international standards.
Vizzoni
Vizzoni is an American-based brand with its main headquarters located in Houston, Texas, USA.
They focus on producing tires for different types of vehicles, such as passenger cars, light trucks, SUVs, commercial vehicles, OTR, IND, and AGR.
They have a strong emphasis on improving driving safety and comfort.
Vogue
Established in 1914, Vogue is an iconic American tire brand.
Vogue is known for its signature "Gold Stripe" design and has maintained its position as a luxury tire brand providing high-quality tires for luxury cars, SUVs, and light trucks.
Vredestein
Founded in 1909, Vredestein is a Dutch tire manufacturer specializing in high-performance and all-season tires for bicycles, cars, vans, SUVs, light trucks, and agricultural vehicles.
They aim to create innovative, safe, stylish tires to enhance your driving experience.
Frequently Asked Questions
Which tire brands starting with the letter V are known for their performance?
Vogue is a tire brand that starts with the letter V and is known for its performance. Founded in the United States, Vogue Tyre offers a wide range of tire options for cars, SUVs, and light trucks. They are a popular choice for luxury vehicles and are recognized for their distinctive sidewall designs, which add a touch of elegance to your ride.
Yes, Vredestein is another premium tire brand that starts with the letter V. Hailing from the Netherlands, Vredestein is a subsidiary of Apollo Tyres – one of the leading tire manufacturing companies. They are renowned for their focus on safety, performance, and sustainability, coupled with unique designs created in collaboration with prominent Italian design house Giugiaro.
What tire brands beginning with the letter V have high ratings?
Vogue Tyre consistently receives high ratings for its performance, style, and white sidewall designs. They are appreciated for providing a comfortable ride, even on rough terrains. Additionally, Vogue Tyres have been known to have a long tread life, ensuring that you get good value for your money.