You might be wondering: who makes Tesco engine oil, and is it any good? Please continue reading to find out!
We have also reviewed the top 3 Tesco motor oils that will level up your automobile instantly.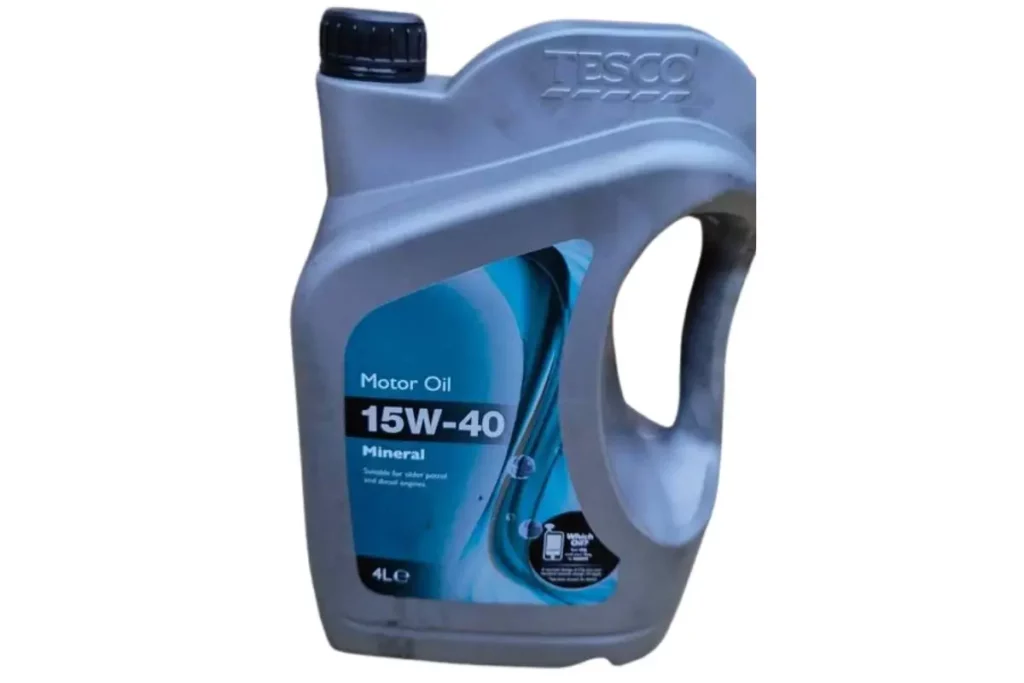 Who Makes Tesco Engine Oil? 
Tesco engine oil is made by Carlube, a part of the Tetrosyl group, including Carplan, Bluecol, and a few other oil brands.
So, we can conclude that Tesco oil is made by Tetrosyl – a well-known manufacturer of engine oil and other lubricants.
Is Tesco Engine Oil Any Good?
As Tetrosyl makes Tesco engine oil, you can rest assured you are getting a good quality product. These engine oils are high-spec lubricants designed to meet the increasing demand for good-quality motor oils.
However, Tesco oils are not famous for their outstanding quality. Instead, these products are known for their budget-friendly price tags.
Through Tesco, Tetrosyl still offers good quality engine oils with affordable price tags. These lubricants can beat most mainstream brands in regard to quality and price.
Furthermore, Tesco oils cover many automobiles, from modern high-performance vehicles to other higher mileage cars.
Tesco oils offer different viscosity levels–the flow rate at different temperatures.
This brand offers a unique composition of additives that protect against dirt, lubrication, rust, and several other harmful deposits. 
Besides engine oil, Tesco offers a lot of other products and services.
This brand is a popular supermarket chain that provides groceries, school uniforms, F&F clothing, Clubcard, mobile, insurance, etc.
Where Is Tesco Engine Oil Made?
As Carlube makes Tesco engine oils, these oils are also made in the United Kingdom.
Besides Tesco, Carlube also offers oils for several other supermarket chains, including Asda, Sainsbury's, Texaco, etc.
Moreover, they use only high-quality crude oil, so their products offer purity, which is quite hard to find in engine oils.
About The Manufacturer of Tesco Engine Oil
Tesco engine oil is manufactured by Carlube – a brand owned by Tetrosyl. Tetrosyl was founded in 1954 and is considered one of the first manufacturers to offer body shops with mobile paint mixing schemes.
They presented their first cutting oil in 1958 and are now considered one of the leading car lubricant manufacturers worldwide. 
Tetrosyl company was started as a small organization. However, they have grown into one of the largest British brands.
They operate under numerous household names, including TJ Filters, Quinton Hazell, Wonder Wheels, Bluecol, CarPlan, and Carlube.
When it comes to Tesco oils, they come under the Carlube brand. Tesco is a well-established multi-national grocery and general merchandise retailer in England.
They started their journey in 1919 and are now considered the third-largest retailer in the world regarding gross revenue.
In Europe, Tesco has multiple shops in more than five countries and is considered the market leader in groceries in the United Kingdom, with more than 28.4% market share.
Besides groceries, Tesco also offers insurance, mobile, clothing, and engine oil which is the main topic of this article.  
How Much Does Tesco Engine Oil Cost On Average?
Although Tesco engine oil is of good quality, they are still quite affordable. The main selling point of Tesco motor Oil is their budget-friendly prices.
That being said, as Tesco offers multiple variations of engine oil, we cannot highlight a single number. On average, these lubricants can cost anywhere between £15 to £25.
While selecting engine oil for your vehicle, always do your research. As engines require different lubricants, you should invest your money according to your car.
Where Can You Buy Tesco Engine Oil?
As Tesco is a retailer, the best approach for you is to buy Tesco engine oil from their official stores.
Tesco has retail stores in more than five countries all around Europe, making it easy for you to shop according to your budget and preferences.
Alternatively, you can also visit Tesco's official website to buy their engine oil from the comfort of your home.
Top 3 Tesco Motor Oils
Here are our top 3 picks when it comes to Tesco engine oils:
Tesco 5W-30 High Mileage Synthetic Oil 4L
On top of our list, we have Tesco 5W-20 High Mileage synthetic oil.
This engine oil is designed to meet the increasing demand for high-quality yet affordable motor oil.
It is compatible with diesel and petrol engines, making it a perfect pick for all vehicles.
Tesco 5W-30 engine oil comes with multiple specifications of ACEA A3 and API SN/CF.
Due to its high quality and performance, this engine oil offers excellent protection against corrosion and harmful deposits. 
Tesco 5W-40 Fully Synthetic Oil 4L
Another product that deserves a spot on our list is Tesco 5W-40 synthetic oil.
This engine oil is also suitable for both diesel and petrol engines.
It creates lower ash content to reduce particulate build-up, increasing your vehicle's lifespan and performance.
Tesco 5W-40 fully synthetic engine oil comes in a packaging of 4 liters at an exceptionally low price.
This oil also offers excellent protection against harmful deposits and high temperatures.
Tesco 10W-40 Part Synthetic Oil 4L
Last but not least, we have Tesco 10W-40 part synthetic engine oil.
This engine oil is catalytic converter compatible and can be used with mineral oils.
Although this one is part-synthetic, it is still of excellent quality and performance.
Tesco 10W-40 part synthetic engine oil is suitable for both diesel and petrol engines.
It is made from special high-quality base oils and advanced additive packages of the latest generation. 
Related: Is Triple Qx Engine Oil Good? (Answered)
Alternatives to Tesco Motor Oil
The right engine oil can level up your ride instantly. Although Tesco offers decent quality products, they are still not a dedicated motor oil manufacturer.
Therefore, it's reasonable to find alternatives to Tesco engine oils.
Fortunately, hundreds of brands offer engine oils, including Amsoil, Shell, Pennzoil, Castrol, Mobil 1, and Triple Qx.
Related: Who Makes Asda Engine Oil And Is It Good? (Answered)
Conclusion
Before investing money into engine oil, you should learn about the brand you want to purchase from.
In this article, we've dived into the history of Tesco. We've tried to cover topics such as who makes Tesco engine oil and what are their best lubricants. 
As Tesco is a groceries retailer, they don't make their own engine oils. These oils are made by Carlube – a brand that Tetrosyl Group owns.
The only difference between Tesco oils and Carlube oil is that these products are highly affordable.
Although Tesco oils are inexpensive, they are still high quality, ensuring engine performance! 
Sources
https://en.wikipedia.org/wiki/Tesco
https://www.tetrosyl.com/about/
https://www.tetrosyl.com/about/heritage/