You might be wondering, are Stoptech rotors any good?
Let's make it clear that you should never skimp on your vehicle's brake products. After all, they are the only thing that can stop your car. 
In this article, you will learn all about Stoptech brake discs and whether or not they are worth buying!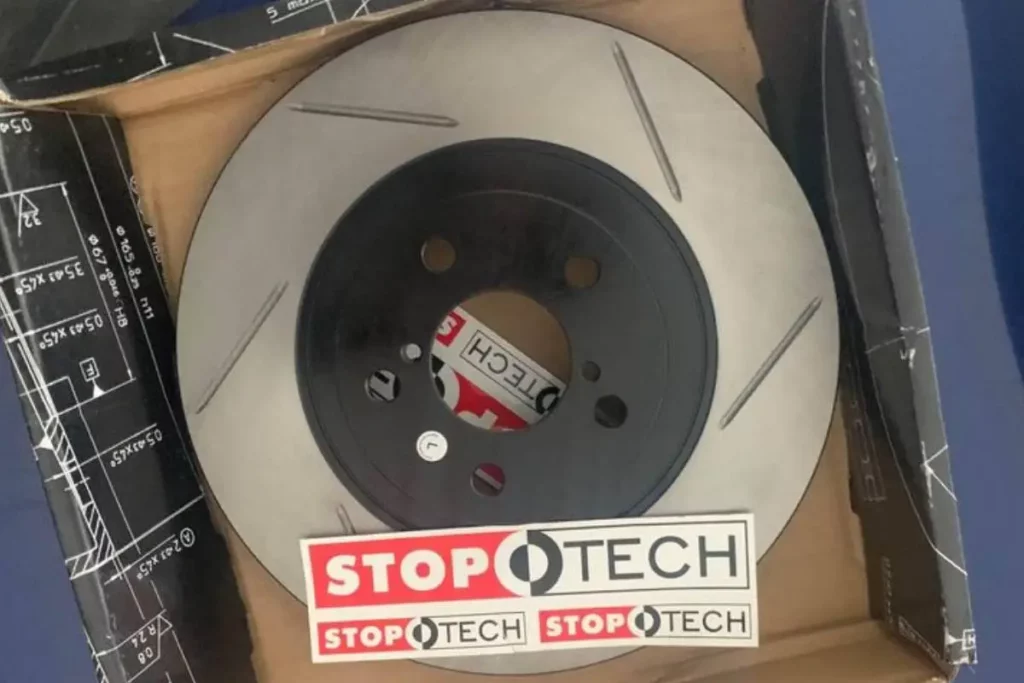 How Good Are Stoptech Rotors?
Stoptech rotors are average-quality brake rotors that are fairly affordable. They are not resistant to dust, which can certainly reduce their overall lifespan. Plus, these rotors are great for everyday use but not designed for tracks unless you get their sport variation. 
Stoptech rotors are popular because of their smoothness. These discs stop the vehicle in an instant.
In addition, some users favor their looks over performance:
"Not sure about performance but they are going to be more aesthetically pleasing. I personally would like to replace mine with Brembo rotors."

Source: e90post forums
Although Stoptech rotors have reasonable price tags, they feature a thin body, making them vulnerable to heat damage.
Furthermore, Stoptech rotors can create a lot of dust, which is certainly a tradeoff. On average, you may need to clean your wheels twice a week to get rid of the dust.
On top of that, several customers have complained about rust issues when using Stoptech rotors. Some buyers couldn't even get 20,000 miles before experiencing severe rusting:
"Friend of mine had Stoptech rotors on his WRX. In 2.5 years and about 20k commuter miles, they rusted completely through! The left half separated from the right half like a clamshell."

Source: e90post forums
For better performance, you can go for Stoptech ceramic rotors. They are more durable but might be a little too expensive. 
Who Makes Stoptech Rotors? 
The Stoptech rotors are made by Centric Parts – a leading company in braking parts and accessories.
Stoptech is a division of Centric Parts, which offers more than 650 products to improve braking performance. 
Where Are Stoptech Rotors Made? 
Stoptech AeroRotors are made in the USA, with both machining and casting done in Compton, California. Otherwise, most of their products are made in China.
Stoptech is considered one of the largest companies with at least one manufacturing plant in the United States.
As we know, most other big brands' rotors are no longer manufactured in the United States.
They make their rotors in either Taiwan or China.
About The Manufacturer of Stoptech Brake Rotors
Stoptech is a division of Centric Parts, which sets the standard for innovation and quality in braking technology. Stoptech is considered the first brand to offer balanced brake upgrades for aftermarket automobiles. 
Stoptech offers brake components to OEM vehicle assembly plants. Their products provide superior control and stop distance to the stock brake systems.
In 2013, this company earned the Quality Management System Certification with full ISO/TS: 16949:2009. 
Stoptech's sports rotors are perfect for street driving and track lapping sessions.
If you want to use Stoptech rotors for tracks, another alternative might be ceramic or better variations.
One of the best things about Stoptech is that they offer products for almost every vehicle, including trucks, production cars, and even production-based competition vehicles.
They provide more than 650 high-performance parts, including brake rotors, caliper mounting brackets, street performance pads, forged, squeeze-forged, or billet calipers, and various other products required for a complete braking installation.
How Long Will Stoptech Rotors Last?
Unfortunately, unlike other famous brands, such as Brembo, DBA, or Duralast, Stoptech rotors are not that durable. On average, these rotors can last for 35,000 miles. That being said, some users have reported over 66,000 mileage on their Stoptech rotors. However, on the other hand, some customers say these rotors need replacement even after 20,000 miles.
That being said, you can always increase the lifespan of your Stoptech rotors by offering proper care and maintenance.
How Much Do Stoptech Brake Rotors Cost on Average?
When it comes to price tags, Stoptech is a flexible brand. They offer their products for all consumers with different budgets. Therefore, depending on your selected model, the cost of a Stoptech rotor can fall anywhere between $50-$2000.
If you want more performance and lifespan, it would be best to invest more money.
For instance, Stoptech offers rotors exclusively for sports vehicles. These rotors are remarkably durable and can last for 100,000 miles on average.
Where Can I Buy Them?
Stoptech has online platforms and local stores where you can get your rotors. Luckily, Stoptech also offers its rotors through Amazon and other third-party online stores.
Keep in mind that if you buy your product from a third-party platform, ensure that your selected brake rotor is genuine and supports your vehicle.
What Are the Best Stoptech Brake Rotors?
Picking the best Stoptech rotor is not an easy task. As this company offers hundreds of variations with different quality levels and price tags, it is nearly impossible to pick a single product. If you want the best bang for your buck, you should probably look into their sports rotors and cross-drilled rotors.
We can suggest their Stoptech sports stop drilled rotors if you have the budget. These rotors have a one-piece, internal vane structure and include original calipers.
Thanks to its drilled design, you don't have to worry about unwanted debris between the disc and pad.
When it comes to looks, these rotors aren't that dull, either. They will offer an aesthetic look when matched with the big front brakes.
These rotors also avoid glazing of the brake pads, improving dry-wet braking performance. 
Furthermore, the newest models of Stoptech rotors include a black coating that offers resistance to unsightly corrosion.
Here are some of the key features of Stoptech sports rotors:
100% inspected and mill-balanced
1005 machined finish
Superior cooling fin design
OE detail on castings
Black coating to prevent corrosion
What Are Some of The Alternatives?
Centric Parts, the parent company of Stoptech, also offers braking components. They manufacture high-performance brake accessories and systems for street automobiles. Other than Centric Parts and Stoptech, several other brands offer decent rotors, such as Brembo, DBA, and Duralast.
When it comes to performance, Brembo rotors are superior. They can cost a little more than Stoptech, but they are a far better pick overall.
Alternatively, if you have the budget and don't want to compromise on quality, Duralast can also be a good choice.
DBA rotors are also quite good when it comes to durability, performance, and quality.
DBA owns all its facilities, allowing them to control everything: from the production department to distribution. As a result, you get legitimate discs with reasonable price tags. 
You might be interested in another big brake disc manufacturer – Zimmerman, known for offering ceramic rotors that produce up to 80% less dust.
Related: Are Raybestos Rotors Good? (Answered)
Frequently Asked Questions – FAQs
Are StopTech rotors made in China?
Stoptech rotors are mostly made in China. Stoptech Aerorotors are manufactured in Compton, California, U.S.A.
Who owns StopTech?
Stoptech is owned by Centric Parts – a manufacturer and supplier of aftermarket brake parts for the automobile sector.
Conclusion
Are Stoptech rotors good?
Well, the answer to this question depends upon your selected model. Stoptech offers hundreds of rotors with different specifications and features.
If you buy their sports variation, you can rest assured that you are getting above-average discs for their price tag.
However, keep in mind that Stoptech rotors can create a lot of dust, and some users have noticed rusting prematurely.
Although the black coating is supposed to protect them against corrosion, you may need to clean your wheels twice a week!
Sources
https://www.e90post.com/forums/showthread.php?t=447998
https://www.e90post.com/forums/showthread.php?t=471887
https://www.appautomotive.com/brands/stoptech/
https://centricparts.com/brands/centric-parts/stoptech
https://centricparts.com/product/centric-parts-products/high-performance-racing-brake-systems/rotors