There are tire brands with a reputation for having excellent and affordable performance tires, which people desire to extend to more down-to-earth products.
So, we are putting against each other two such brands in Nexen vs. Falken tires comparison.
The main difference between Nexen and Falken tires is that Falken is a much more recognizable brand, particularly to any JDM car fan. Simply put, they are a synonym for Japanese performance cars and tires.
But, it's not everything in the reputation of the ultra-high performance products. There is something also in the consumer-grade tires.
And that is a more likely class of products to be of interest to you.
So, let's see which of these tire brands is a better choice for your vehicle's next set of tires.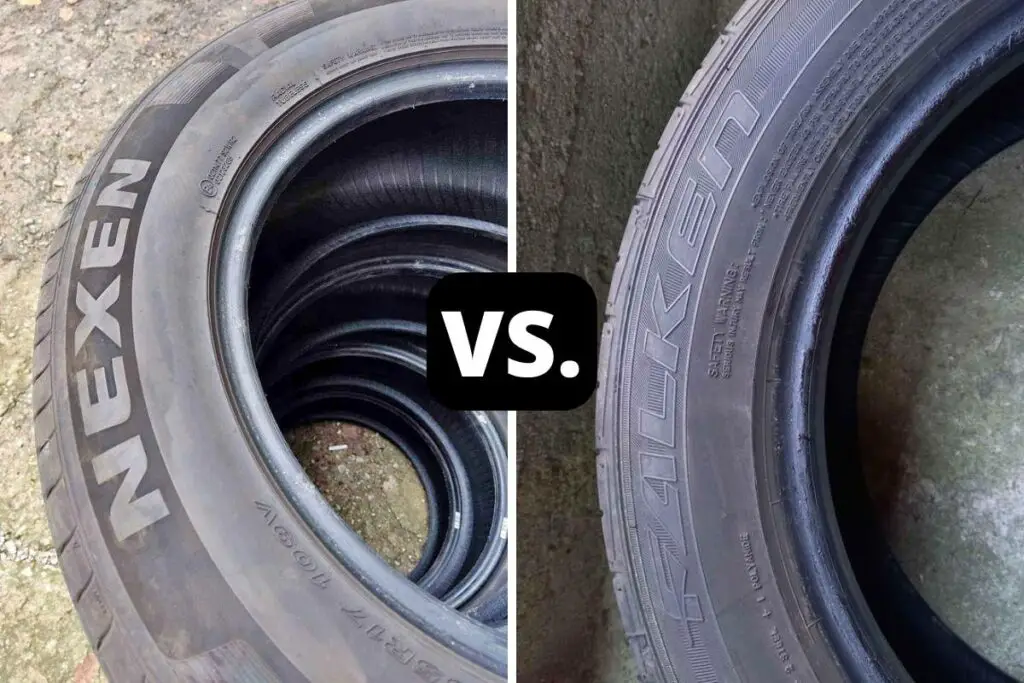 Nexen Tires vs. Falken Comparison
Before we get into the nitty-gritty details of this comparison, let's try to sum up how the most important characteristics of any tire across the whole product range of both of these brands.
While this table is not the be-all and end-all of this comparison, it should give you a general idea of what we are dealing with here.
| | | |
| --- | --- | --- |
|   | Nexen | Falken |
| Price | Below average | Average |
| Performance | Average | Average |
| Durability | Average | Average |
| Variety | Low | Average |
| Warranty | 25K-80K miles | 20K-70K miles |
Price
Many people care the most about the price of a set of tires. This is very understandable, as the new set of tires is a very sizable investment in your vehicle.
Tires are made to last you a long time, several years at least. But the price tag can be something that is pushing people away from one brand and toward some other.
Nexen tires' price range starts around $65-$70, depending on the retailer, and can go up to just shy of $300 for "standard" consumer tires.
But more specialized, ultra-high performance and extreme performance summer tires can be as much as $450 per tire.
But, the product range can be described as below average priced when compared to other brands on the market.
Falken tires start at a similar price point, and some cheapest models can be found for around $65.
The other end of the price range is in the neighborhood of $350-$400, and the specialized tires continue above that range, reaching even $650.
When comparable models are pitted against each other, Falken tires have a tendency to be priced between a few and $50 more than equal tires from Nexen.
The only exception is the extreme performance summer tires, where Nexen has a single model straddled by Falken models on both sides.
Performance
Both Nexen and Falken are tire brands known for the high-performance tires sought after by street and weekend racers.
And the Falken has a long history of participation in motorsports, particularly drifting.
But, let's compare the performance of their other tires, and the Uniform Tire Quality Grading can help us with that by being standardized.
The traction rating of tires is an objective measure of force that a tire produces on the road surface during a complete wheel lock, in other words, how grippy the tire is.
The majority of Nexen tires are graded A, the second-highest, while some are graded even AA, the highest. On the other hand, Falken has models rated as B, while most are A grades.
The second factor is the ability of the tire to dissipate heat, which determines the maximum sustained speed at which the tire has consistent performance.
Tires of both brands are practically the same in this regard, with all winter tires scoring a B grade and summer and all-season tires scoring an A grade.
Durability
Treadwear rate is a part of the UTQG but deserves to be talked about it in more detail.
It is measured against a reference tire of standardized characteristics and expressed in 100s which are proportional to the difference in treadwear rates.
Reference tire has a rating of 100, and a tire that wears half its rate has a 200 rating and should last twice as long.
Depending on the model of a tire, Nexen products are rated between 340 and 760, with half being rated below 460 and a half above that number.
This puts their models in the upper range of some average durability of tires available on the market, but not quite above the average.
Falken tires' rating range between 300 and 700, with most being in the 400 to 440 range, which puts the treadwear of their tires squarely in the average class.
Both brands have extreme performance models, and both Falken and single Nexen models are rated 200 for treadwear. While this could sound like a very low rating, it is excellent for this tire class.
Related Posts:
Variety
When it comes to variety, Nexen has several sub-brands of specialized tires per their intended use. They are:
N'Fera for performance
N'Priz for touring
Aria for standard passenger car
Roadian for SUV and truck
WinGuard for winter tires
Nexen also has three models under their main branding, which with other sub-brands, makes a lineup of 23 models.
On the other hand, Falken has a much bigger lineup of tires made of 48 different models.
But of them, 19 models are specialized medium-truck tires, for which Nexen doesn't have comparable products in their lineup.
When individual models are compared by their varieties and in how many different dimensions and profiles come, Falken again comes on top with a wider product range.
Warranty
These brands offer very similar treadwear warranty miles for their products and very identical limited warranty policies.
While the exact wording of their warranty information may differ slightly, when you start reading the fine print, you will notice that the warranty is basically the same for comparable tires.
Both brands have selected models with road hazard warranty replacement for the first 2/32 tread depth or the first two years after purchase.
But Nexen also offers roadside assistance in the first 3 years after purchase.
Advantages and Disadvantages of Nexen Tires
If you are on the market for consumer-grade tires, the first and most obvious advantage of the Nexen brand is their price, which is below the average of the market.
But also, many car brands such as:
use them as OEM products.
So you can find affordable OEM replacement tires if you own one of these vehicles.
But, Nexen tires are not the best brand of tires when it comes to performance. They do provide great comfort, but their durability is exactly what you pay for.
And their subjective performance outside of the dry and flat roads is far behind the industry leaders.
Advantages and Disadvantages of Falken Tires
Twelve car brands use Falken for OEM tires, from the economy brands such as Toyota to luxury brands such as Mercedes Benz and Porsche.
Combined with a bigger model lineup, this means greater availability of their tires on the market.
But, outside the OEM models, Falken tires in the consumer-grade class are far from top-end products, though also they have a comparably lower price.
And the after-purchase support of their products must be called a two-tiered system.
Tires that are original equipment of carmakers have a limited warranty through their whole tread life.
Conclusion
When comparing Nexen vs. Falken brands of tires, you will come to the conclusion that they are very similar companies offering very similar models of tires.
In general, Falken is a slightly better brand because of the wider selection of tire models, but Nexen is slightly better in the area of after-purchase support.
If you are looking for a decently priced tire with a decent performance, either of these two brands is firmly placed in the middle of the pack.