If you are looking for an aftermarket wheel solution for your car, you've probably heard about Japan Racing Wheels.
The brand manufactures multiple wheel designs for different cars, providing Eastern designs to everyone.
But are Japan Racing wheels good? If Japan Racing wheels are an option for your car, this article will clear all your doubts.
The company produces high-quality products at affordable prices and is surely worth considering.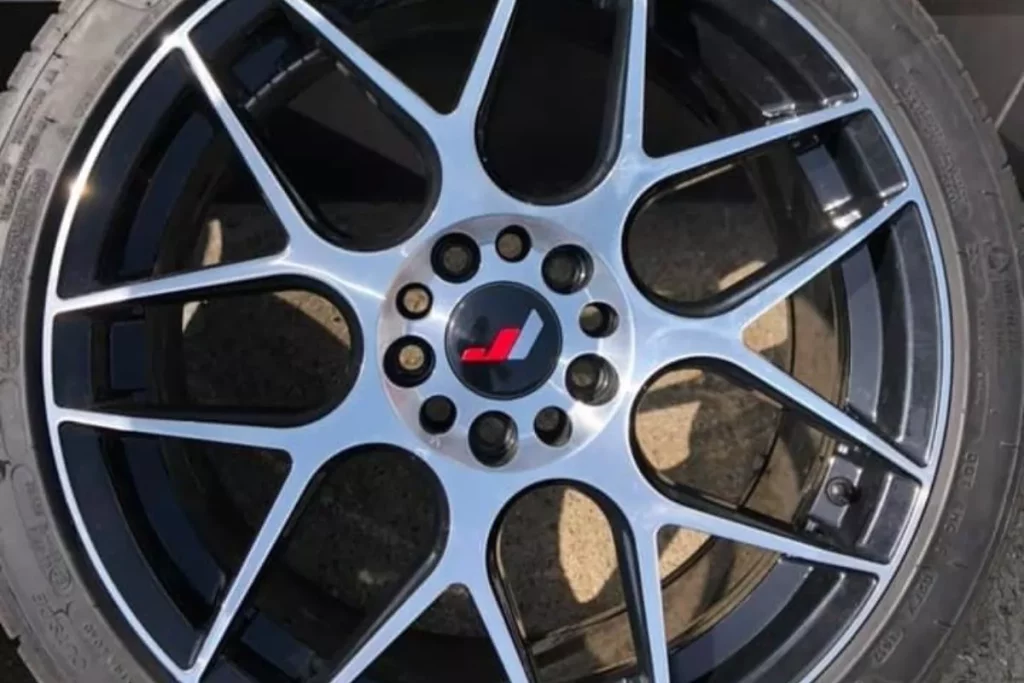 Are Japan Racing Wheels Good?
People prefer aftermarket alloy wheels for two specific reasons – price and customization. Since factory-fitted alloys escalate a car's worth, drivers go for aftermarket fitments as it gives them more customization options. Japan Racing wheels feature high-quality materials and top-class designs at affordable prices, making JR wheels alluring for everyone.
Japan Racing wheels have bold and robust characteristics and add personality to any automobile. The brand offers various wheel designs depicting Eastern racing styles in all models.
Their brightly-colored alloys offer more personality to your car's aesthetics, helping it to stand out in the crowd.
Japan Racing offers unlimited customization options to riders, ensuring something for everyone.
For instance, you can install JR wheels to any Offset or PCD by drilling specific holes.
This customization option ensures that every driver can match their expectation and suffice their riding experience according to their needs.
Besides enhancing your vehicle's aesthetics, JR wheels accentuate your car's performance to offer a convenient and efficient riding experience.
JR alloys are light, helping you to get faster acceleration, higher fuel economy, and better handling experience.
Overall, Japan Racing wheels are one of the best aftermarket solutions for your automobile.
Who Makes Japan Racing Wheels?
Japan Racing Wheels is a polish company owned by WT Sp. z o.o. The brand has been in the aftermarket wheel industry for decades and offers high-quality alloy wheels for many cars.
The company's development team designs wheels considering the latest automobile trends using state-of-the-art machinery and technology.
Where Are Japan Racing Wheels Made?
Although Japan Racing is a Polish brand, it manufactures its products in China, Taiwan, and the Philippines.
After producing their goods, Japan Racing distributes their products to online and offline partners worldwide.
The brand produces many fitment series, including the New Super Light Series, Turner Series, and the JR-X Series.
About The Manufacturer Of Japan Racing Rims
Japan Racing Wheels is a leading aftermarket alloy wheels manufacturer that offers high-quality fitments for performance cars.
The Polish brand incorporates Japanese style with classic European looks to elevate your car's aesthetics without compromising performance and efficiency.
You can get alloy wheels in multiple sizes with more than 400 different options. The wide range of width sizes spanning 6.5 to 11 inches also helps your cause, allowing you to find the right match for your automobile.
Additionally, the color schemes offered by the manufacturer ensure that you will have all the finishes to match your personality.
One of the most significant advantages of choosing JR wheels over other aftermarket solutions is their exceptional craftsmanship.
Each JR alloy ensures the highest quality and standard without compromising affordability. You can get premium wheels at lower prices, helping it outshine other rivals.
The Offset and PCD options are excellent in JR wheels as they allow you to install anything you want.
Generally, JR wheels feature 4 and 5 stud alloy variants, while PCD ranges from 100 to 120 and Offset ranges from ET0 to ET45.
However, you can customize your fitments according to your needs to get the best results.
One of the core goals of Japan Racing is customer satisfaction, and the brand sticks to this promise by delivering more options for everyone.
How Much Do Japan Racing Wheels Cost On Average?
On average, Japan Racing cost between 120 to 350 euros per wheel. However, various factors, such as alloy size, finishes, and dealer location, can escalate the price, and it would be best to reach out to the nearest JR dealer to get a detailed pricing report.
The prices may differ for different JR series fitments, so evaluating your requirements and researching may solve your problem.
Since Japan Racing wheels are also available online, you can wait for specific occasions or flash sales to get JR alloys at attractive discounts.
Where Can You Buy Them?
Japan Racing has many offline and online dealers and retailers worldwide to purchase fitments at your convenience.
You can also visit their official website to search for the nearest dealer based in your country.
Top 3 Japan Racing Wheels
SL01 – New Super Light Series
The SL01s is one of the most popular alloy wheels from JR's super light series. They feature a lightweight design. Additionally, these wheels are manufactured with a hybrid forged method, also known as Flow Forming.
You can get the SL01s in multiple sizes and finishes.
SL01 features:
TUV homologation
Flow-formed, lightweight design
It supports fitments, including 5×114.3, 5×108, and 5×100
Multiple finishes
Sizes and finishes
Diameter – 17 to 20 inches
Width – 7 to 12 inches
Finish options include Black, G Metal, Silver, Bronze, White, and Gold
JR38 – Turner Series
JR38 is one of the latest offerings from Japan Racing that features five different finishes with a new center cap.
Furthermore, these alloy wheels are available in multiple diameter sizes with spokes that add character to any performance vehicle.
Lastly, the concave, mesh-wheel design enhances your car's aesthetics.
JR38 features:
Concave, mesh wheel design
Forged wheels
One-piece wheel construction
Aluminum center cap
Sizes and finishes
Diameter – 18 to 20 inches
Width – 8 to 9 inches
Finish options include Black, Matte Black, Silver, Hyper Grey, and Bronze
JRX10 – JR-X Series
The JRX10 draws inspiration from various legendary motorsports designs and packs a lot of features.
The JDM-inspired alloys come in different sizes and PCD patterns to offer multiple customization options.
These wheels are perfect for pickups and off-road vehicles like the Toyota Hilux and the Ford Ranger.
JRX10 features:
High-quality construction
Concave design
Unique JDM-inspired wheel style
The JRX10 is perfect for offroad, 4×4 vehicles with its beefy design
Sizes and finishes
Diameter – 17 to 18 inches
Width – 9 inches
PCD pattern – 6×139.7 and 5×127
Finish – Black
What Are Some Of The Alternatives?
Considering alternatives is a healthy practice that ensures you get the best aftermarket products for your car. If you are looking for JR alternatives, you can consider Curva Concepts, Ultra Wheels, VMR Wheels, Advanti Wheels, and Option Lab Wheels.
The brands mentioned above offer similar specifications and sizes to Japan Racing products.
For instance, if you need an elegant, classic alloy wheel, you can consider Curva C300 or Ultra Patriot 120.
Likewise, performance-oriented riders can consider Ultra Wheels' 401 Marathon, 402 Alpine, or the 437 Genesis.
Frequently Asked Questions – FAQs
Are Japan Racing Wheels Reps?
Japan Racing wheels are replicas, but that doesn't necessarily make them low-quality. They offer a variety of options for customers on a budget.
Are JR Wheels Cast?
Japan Racing wheels are forged using cast and flow-forming technology. Flow-formed wheels are generally lighter than regular cast wheels.
Are Japan Racing Wheels Forged?
Japan Racing doesn't offer any forged wheels.
Who Owns Japan Racing Wheels?
Japan Racing Wheels is owned by the polish brand – WT Sp. z o.o.
Conclusion
Japan Racing produces alloy wheels of exceptionally high quality and standard, elevating your vehicle's aesthetics.
Their wide range of wheel sizes and finishes add character to any car without compromising performance and efficiency.
So are Japan Racing wheels any good? Yes, JR wheels score high on durability, performance, and efficiency, making them one of the best in the business.
Whether you want alloys for your performance car or 4×4 duties, JR wheels will never disappoint with their products.
However, looking for other alternatives widens your options, and it would be best to conduct market research before purchasing.