From Volkswagens to BMWs to the electric champ Tesla, VMR wheels have adorned the prize of complimenting many of these top-class cars over the years.
But are VMR wheels good?
Despite negative reviews buzzing the internet, VMR continues to gain popularity, and today we will take a deep look at the quality of the wheels they're offering.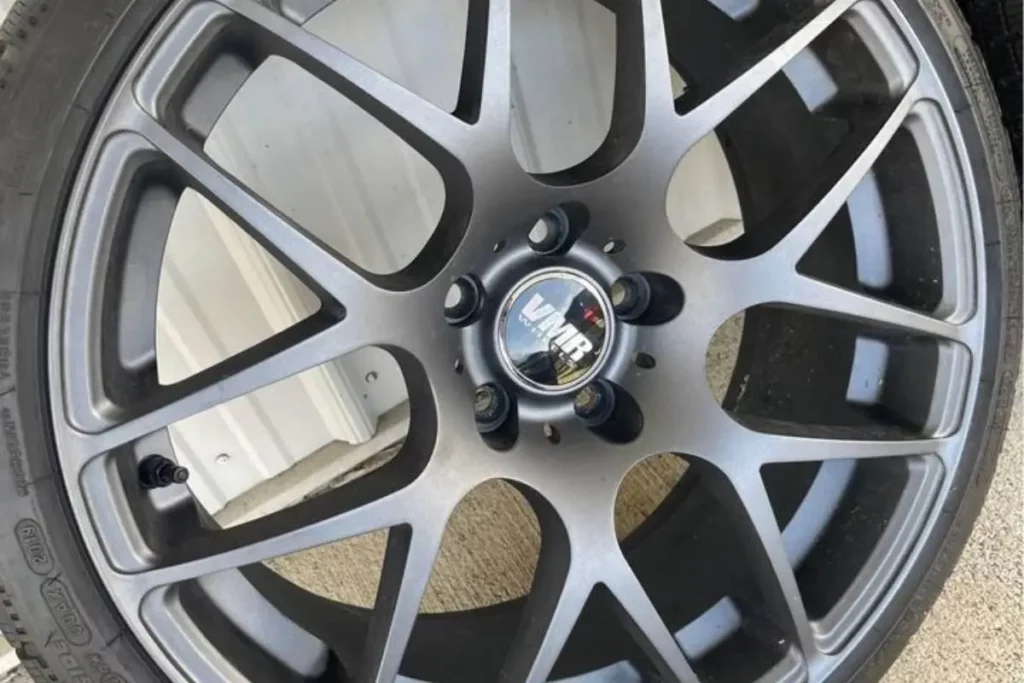 Here Is the Short Answer to Whether VMR Wheels Are Good:
VMR wheels are good mid-range priced aftermarket wheels available in multiple designs, offset, spoke patterns, and lug settings. They are reasonably priced and are backed up by a 1-year limited warranty that covers defects in materials and manufacturing.
VMR Wheels Quality and Performance
VMR Wheels have been providing alloy rims for decades. The brand employs advanced engineering and state-of-the-art machinery to create unique designs in one-piece alloys.
VMR rims also come with multiple configuration options, allowing you to pick the right size according to your needs.
They also provide wheels in different sizes, allowing riders to find the right match to complement their car's personality.
Additionally, the availability of various color options sets it apart from stock OEMs.
VMR rims have two different series – Flow Formed Series and Luxury Series.
Flow forming technology allows brands to design alloys after casting, strengthening the wheel structure and improving performance.
Besides improving your car's look, VMR wheels increase your vehicle's performance to boost confidence and efficiency. The lightweight design increases fuel economy, saving you more in the long run.
However, we've found a few negative reviews regarding the performance of VMR rims, so it would be best to check your wheels thoroughly after you purchase them.
Top VMR Wheels
V710 Series
The V710 is one of the most popular wheels in VMR's lineup that offers a deep concave design with seven split-spoke mesh. This VMR wheel is perfect for full-size luxury sedans to compact sports automobiles.
The V710 comes in multiple sizes, finishes, and bolt patterns, ensuring something for everyone.
V710 features:
7 split-spoke mesh
Deep concave design
No hub-centric rings or adapters required
Multiple offset selections
Sizes and finishes
Diameter – 18 to 22 inches
Width – 8.5 to 11 inches
Bolt Pattern – 5×112, 5×114.3, 5×120, and 5×130
Standard finish options include Hyper Silver, G Metal, and Matte Black
Over 20 custom coating options
V802 – Flow Formed Series
The V802 incorporates elegance with sophisticated design to provide modern aesthetics to any luxury vehicle.
The full-faced mesh wheel interplays reflections to elevate your car's look without compromising performance and efficiency.
Additionally, the flow-forming technology improves durability while keeping the wheel lightweight.
V802 features:
Full-faced mesh wheel
No need to install aftermarket rings or adapters
Precise Centerbore and PCD specifications
Multiple offset options
Sizes and finishes
Diameter – 18 to 20 inches
Width – 8.5 to 10 inches
Standard finish options include Matte Bronze, Anthracite Metallic, and Crystal Black
Over 20 custom coating options
Who Makes VMR Wheels?
Velocity Motoring owns VMR Wheels, producing aftermarket alloy wheels using Haas CNC machines.
The Southern California-based company comprises many car lovers who help riders find the perfect aftermarket car wheels.
The company has been in the aftermarket wheel industry since 2006, producing alloy wheels based on the latest trends and market demands.
Where Are VMR Wheels Made?
After an extensive design process involving market trend evaluations and interactions with car fanatics, the company produces its products in ISO-certified factories in China and Taiwan.
After the initial production stage, VMR's manufacturing team performs the final finishing at their Southern California facility.
A portion of the production stage is also performed at this facility.
About The Manufacturer Of VMR Wheels
VMR, or Velocity Motoring, is a manufacturing company producing flow-formed and luxury rims at affordable prices.
The Southern California-based company has been operating since 2004, satisfying the requirements of thousands of automobile fans.
The company has earned a massive reputation in the aftermarket community by providing personalized solutions for car owners. VMR started with a small group of enthusiasts who wanted to provide something for everyone.
While the brand still employs a small team, its designs have catapulted them to higher ranks in the aftermarket wheel industry.
VMR designs are unique, and their dedication to turning concepts into reality helped them gain a substantial following among automobile aficionados.
Besides the philosophy of delivering the best quality possible, the team employs the latest engineering techniques and state-of-the-art equipment to produce rims.
Velocity Motoring keeps track of the latest automobile trends to maximize its presence in the market. Their team also conducts detailed interactions with automobile devotees to develop new finishes, fitments, and styles.
VMR's ISO-certified manufacturing facilities in China and Taiwan conduct various quality checks before beginning production to ensure that every wheel provides the best experience.
Additionally, the Haas CNC machine used by the company provides precision to match exact wheel specifications.
How Much Do VMR Wheels Cost On Average?
VMR offers over 40 wheel designs in their Flow Formed and Luxury series. As you can imagine, it's impossible to pinpoint the exact amount you'll spend if you purchase a set of VMR wheels. Though, most of their sets are relatively affordable.
However, the prices may differ depending on the style, series, or finish, so check the prices thoroughly before purchasing.
It would be best to conduct market research and compare prices.
Where Can You Buy These Rims?
Velocity Motoring has many online and offline retailers worldwide, offering its Flow Formed and luxury series.
Besides other online retailers, you can also visit VMR's official site to purchase their products or place a custom wheel requirement.
Alternatively, you can purchase these wheels on retailer sites like Amazon.
Alternatives to VMR Wheels
Curva Concepts Wheels, Ultra Wheels, Japan Racing Wheels, Option Lab Wheels, and BBS Wheels are some of the best alternatives for VMR wheels. These brands offer high-quality aftermarket solutions with similar features.
VMR produces some of the best aftermarket wheels in the business.
However, you may want to consider other alternatives to widen your options.
For instance, the Curva C300, JR38, and 401 Marathon offer similar performance to VMR's V802, boosting performance and efficiency.
In short, considering alternatives is a healthy habit and helps you get the best alloy wheels to match your car's personality.
Frequently Asked Questions – FAQs
What does VMR stand for wheels?
VMR stands for Velocity Motoring LLC, a company specializing in aftermarket car wheels.
Are VMR Wheels flow formed?
VMR offers both cast and flow-formed wheels. VMR wheels have two series – Flow Formed Series and Luxury Series.
Are VMR wheels cast?
VMR wheels are gravity cast, meaning their overall weight will be higher than forged wheels.
What are VMR wheels made of?
VMR wheels are made of alloy. They offer more than 20 unique powder coating finishes.
Final Thoughts
So are VMR wheels any good?
VMR is a reputed aftermarket company that provides value to every motorcar lover.
Their products feature high-quality materials forged to enhance your car's aesthetics and performance.
Despite negative comments floating on the internet, the brand has delivered quality over the years, which is one of the best indications that a brand is reliable and trustworthy.
Besides, VMR leaves no stone unturned to turn concepts into reality, making it a solid choice for many auto fanatics.
Sources