German products usually have a reputation for being high quality and long-lasting.
In this article, you will learn the answer to many people's questions, like how good Zimmerman rotors are.
Below, we have mentioned some alternatives to Zimmerman, depending on your budget and performance.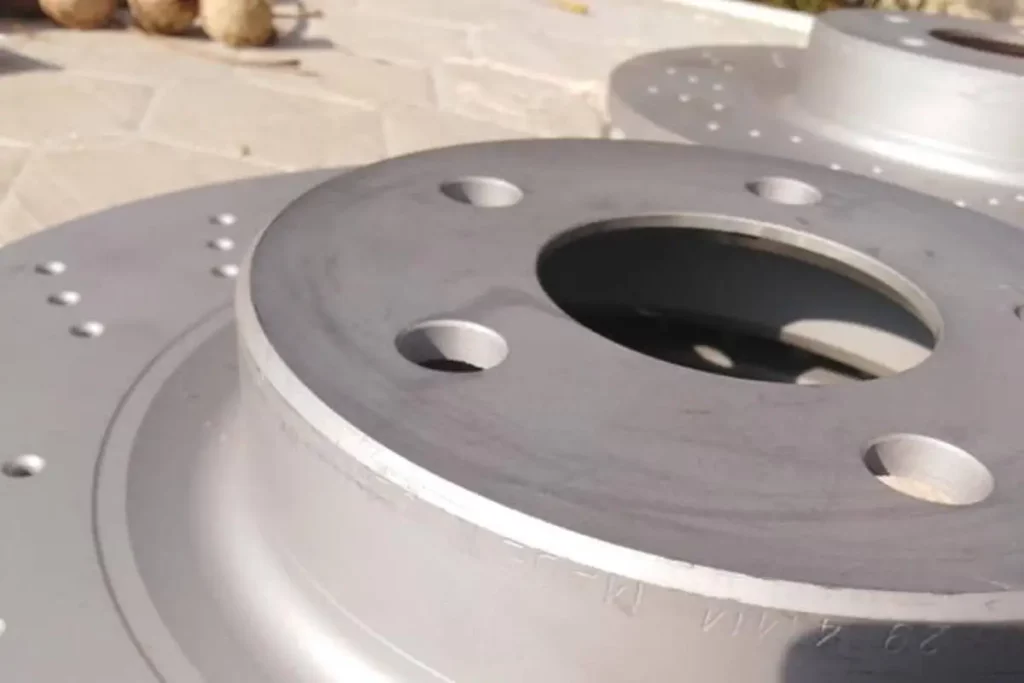 How Good Are Zimmerman Rotors?
Zimmerman rotors are high-quality and high-performance rotors. They are intended to last up to 70,000 miles or more in regular driving conditions. Zimmerman offers OEM rotors for BMW, Audi, and several other famous brands. Furthermore, these rotors are easy to install, saving your precious time.
Zimmerman rotors offer Coat-Z, a protective coating that prevents your brake discs from rust or corrosion, enhances the design aesthetic, and increases the rotor's overall lifespan.
This company implements this Coat-Z technology in all its products to improve rust protection.
Additionally, to reduce dust production, Zimmerman offers ceramic rotors that produce up to 80% less dust, reducing the deterioration.
Zimmerman rotors also include an effective ventilation process that protects them from heat damage, increasing their lifespan.
Who Makes Zimmerman Rotors? 
Zimmerman rotors are made by Otto Zimmerman – a Germany-based company known for their highly-efficient braking systems.
Along with quality rotors, this company also offers hundreds of other products, including brake pads, fluid, drums, hats, nuts, and many more.
Where Are Zimmerman Rotors Made? 
Zimmerman rotors are entirely made in Germany.
Due to calculated manufacturing, Zimmerman has been known for decades for their high-quality brake pads, rotors, and discs.
Their products are a result of years of experience and familiarity with motorsports.   
About The Manufacturer of Zimmerman Brake Rotors
Zimmerman is a Germany-based manufacturer, producer, and distributor of brake parts and accessories. This company has been leading the braking system industry for over six decades. Not only do they offer their highly-sophisticated components to the general public, but Zimmerman also sells these discs to leading vehicle manufacturers, including BMW, Audi, and more.
In 1990, Otto Zimmerman relocated its landmark from Eppingen to Sinsheim. Afterward, they expanded their warehousing space, product facilities, and administrative premises to more than 17,000 sq/m.
In 2021, the main focus of Zimmerman was to expand their production capacity.
Otto Zimmerman is known for its partnership with BMW. Due to their high-quality products, all BMW models come with Zimmerman rotors. Zimmerman owns all of their facilities: from the production department to the distribution. 
Additionally, they have drilling machines and computer-controlled robots that guarantee constant quality on a higher level and shortest production times.
Their production program offers over 4,000 braking products marketed to over 60 countries worldwide.
Their most popular products include:
Brake calipers
Mounted brake shoe kits
Brake shoes and brake pads for light commercial vehicles
Brake rotors for high commercial vehicles and personal cars
How Long Do Zimmerman Rotors Last?
As Zimmerman controls their whole production unit and uses the latest technology, their rotors are quite long-lasting. On average, a Zimmerman rotor can last for around 35,000-75,000 miles. However, if you use these discs with care, they can certainly last for over 100,000 miles.
Keep in mind that you have to provide proper maintenance to a pair of rotors to get maximum performance.
As these discs come with Coat-Z technology, you don't have to worry about rust or corrosion, but they still require product repair!
How Much Do Zimmerman Brake Rotors Cost on Average?
Zimmerman offers different variations of rotors with a variety of specifications and features. Their products are for personal cars as well as light commercial vehicles. That being said, the price of most Zimmermann brake discs might be higher than some of their direct competitors.
The actual cost of these brake rotors will depend on your vehicle and usage. For instance, if you have an automobile for personal use, you can get a reasonably priced rotor.
However, if you want discs to use on tracks, you'll need to invest more money.
Where Can I Buy Them?
Otto Zimmerman offers their product in more than 60 countries. You can get their rotors from their local store or buy them through their official website. Zimmerman also offers their genuine products through Amazon.
If you are buying Zimmerman rotors from Amazon, make sure you get a genuine product. To check whether your product is original and reliable, you can look for reviews and customer feedback. 
Related: Are Stoptech Rotors Good? (Know These Facts First!)
What Are The Best Zimmerman Brake Rotors?
Zimmerman brake rotors come in two main categories: standard brake discs and sports brake discs. If you want quality, a pair of sports rotors is probably an ideal approach for you. Sport rotors are divided into two sub-categories: Sport-Z rotors and Black-Z rotors.
The standard rotors offered by Zimmerman are for personal cars. Zimmerman offers these with low-cost price tags without compromising on the overall quality.
Motor Vehicle Block Exemption Regulations have defined them. 
When it comes to quality, Zimmerman sport rotors are a solid choice when it comes to products in this price category. These rotors feature a shorter braking distance compared to plain discs available out there.
Furthermore, they have holes and grooves that ensure you are getting an excellent braking response.
The sports variation of Zimmerman rotors comes in two different sublines:
The sport-Z rotors offer an excellent wet braking experience by removing water and brake dust permanently.
Their rotors also feature a sporty look that makes your vehicle more aesthetic and beautiful.
Alternatively, Zimmerman Black-Z rotors are one of the most refined and highest-performance brake rotors. 
Black-Z discs combine experience with Zimmerman standard rotors and the expertise of using them on tracks – especially in the VLN.
With a cooler appearance, Black-Z rotors offer faster brake response, better-wet braking performance, and Coat-Z+ technology for anti-corrosion protection.
Related: Are Duralast Rotors Good? (Answered)
What Are Some Of The Alternatives?
Zimmerman is not the only company offering high-performance braking components, including brake rotors. Brembo is one of the best alternatives to Zimmerman discs. This company provides exceptional quality brake parts. However, they have a more premium price compared to Zimmerman.
DBA rotors are an excellent pick for you if you want quality without spending your whole month's budget. Just like Zimmerman, DBA also owns all of its facilities. As a result, you get excellent products with reasonable price tags.
Frequently Asked Questions – FAQs
Where are Zimmermann rotors made?
Zimmermann rotors are 100% engineered and manufactured in Germany.
How do you break in Zimmerman rotors?
You can break Zimmerman rotors by performing "brake bedding." This is a simple process of transferring part of the coating from your brake pads onto your brake rotor. By doing this process, your rotors will last longer, are less likely to warp, and have better braking ability.
Conclusion
Are Zimmerman rotors any good? Zimmerman rotors are not only good, but they are considered one of the best products available in the market.
These rotors are coated with Coat-Z technology that protects your discs from rust and increases the overall lifespan.
Furthermore, Zimmerman offers a variety of brake rotors with different price tags. So, you can get their rotors according to your budget and preferences.
However, make sure to check the product reviews to ensure you are getting the finest parts possible!
Related: Are Raybestos Rotors Good? (Answered)
Sources
https://www.otto-zimmermann.de/en/products/sport-brake-discs/black-z-brake-discs/
https://www.otto-zimmermann.de/en/products/sport-brake-discs/
https://www.otto-zimmermann.de/en/products/coat-z-coated-brake-discs/