Choosing whether to pick Cooper or Pathfinder branded tires can be a tough decision, but sometimes can be a choice that is made for you from the get-go.
That's why we bring you Cooper vs. Pathfinder tires brand comparison.
The main difference between Cooper and Pathfinder tires is the availability of models. While Cooper tires are available in a great selection of models, Pathfinder has only three. While for both brands it can be said that they are better than average in all regards.
Cooper is an American brand and an old name in the tires industry, existing since 1914, producing many tires that are known for a good price to performance ratio.
On the other side, Pathfinder is a subsidiary of Kumho and exclusively sold through Discount Tire.
So, let's see how they compare to each other.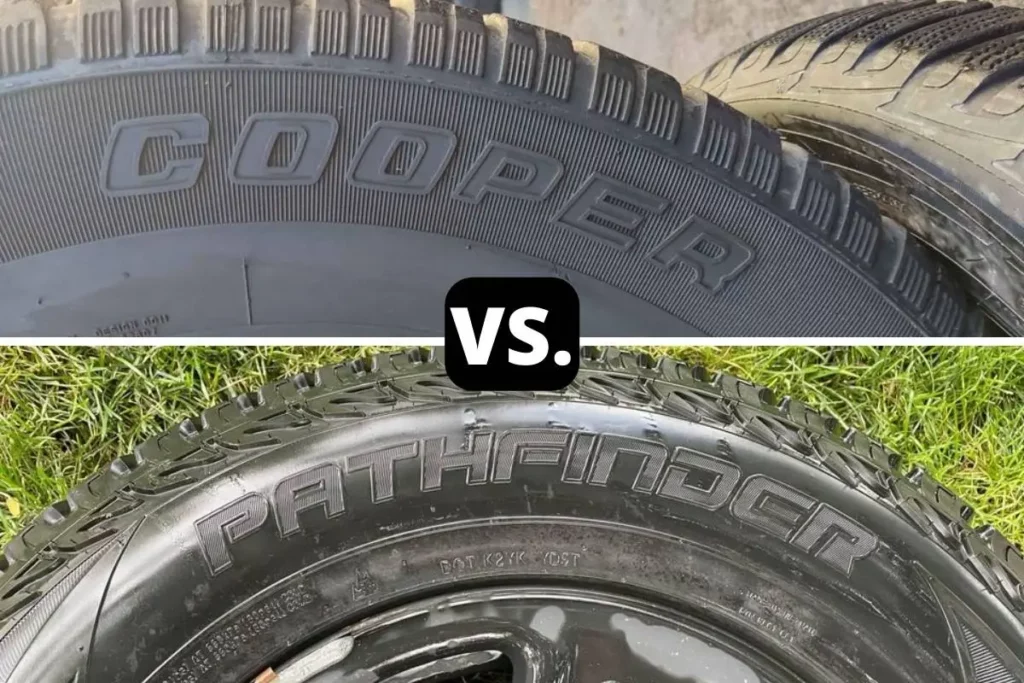 Cooper Tires vs. Pathfinder Comparison
Before diving into a detailed comparison, let's see how these two brands compare to each other, in general.
| | | |
| --- | --- | --- |
|   | Cooper | Pathfinder |
| Price | Above average | Above average |
| Performance | Above average | Above average |
| Durability | Top | Top |
| Variety | High | Low |
| Warranty | 25K-90K miles | 45K-60K miles |
Price
One of the important factors about any brand is how they are pricing their products.
This tells you what market segment they are targeting with a product and also that their goals are performance and quality-wise tailored.
Cooper produces a wide range of tires for road cars, SUVs, trucks, all-terrain, all-weather tires, etc. And the prices of their products have an equally wide range, if not wider yet.
The cheapest tire of this brand that you can find costs around $77, and the most expensive can be above $550.
But roughly speaking, half of their products are above, and half are under $200.
Pathfinder is a company with the reputation of providing performance for an affordable price.
Their three tire models' prices range between $180 and $390, with the median price being around $270.
In other words, both tire brands are priced above the average on the market.
But when Cooper and Pathfinder tires are compared for some particular vehicle models, for example, a Ford F-150, Pathfinder tires are roughly $100 more expensive.
Performance
One way to objectively compare the performance of tires is the Uniform Tire Quality Grading (UTQG) system standardized by NHTSA. It grades tires for:
traction
treadwear
temperature resistance
Traction is measured as a force produced by a tire on both wet and dry roads with locked brakes.
Both Cooper's and Pathfinder's whole ranges score A on this test, the second-best grade after AA.
And the subjective reporting of buyers of these two brands generally also places them in the same rating bracket.
A tire's ability to resist temperature buildup is a characteristic that tells you at which maximum sustained speeds the performance of tires will not change.
It is a better measure of quality than speed rating, which tells you which maximum speed is safe enough.
The majority of Cooper tires have an A rating, meaning that they can cool themself at speeds above 115mph.
The tendency is that all-terrain tires have a B rating, meaning that the maximum speed at which they properly dissipate heat is between 100 and 115mph.
Pathfinder tires score a solid B rating, with all being all-terrain models, which puts them on par with Cooper.
Durability
Arguably the best way to measure the durability of any tire is the speed of treadwear. And the above-mentioned UTQG system provides a very objective tool for that.
Treadwear is measured in comparison with reference tires, how much longer it will last under the same conditions. Most of the tires on the market fall in a range between 300 and 500.
Cooper tires, depending on the model, score between 440 and 740, meaning that they should last 4.4 to 7.4 times longer than the reference tire.
Pathfinder tires score between 500 and 680. But when similar models, sizes, and ratios; are compared, that is a 50 to 100 lower rating than Cooper models.
Variety
When it comes to comparing the variety of products made by Cooper and Pathfinder, it is a very lopsided situation.
Pathfinder has a very narrow model range, concentrated on the SUV and trucks market segments.
They currently have just three models of tires, and they come in 30 variants of widths, ratios, and rim sizes. That's 30 variants between them, not each model.
On the other hand, Cooper is a tire maker that has a product for practically all market segments, whether it be:
passenger cars
SUVs
trucks
touring
studdable winter tires
all-weather tires
mud tires
That's practically any tire category you could think of.
Their product range consists of 26 different models that come in overall around 650 variants in size, width, and profiles.
Related: Arizonian Tires vs. Goodyear (In-Depth Comparison)
Warranty
A treadwear warranty is something that should provide you with the peace of mind that your tire will be replaced if it doesn't last you a certain number of miles.
Pathfinder's three tire models, depending on the size and other dimensions, have a treadwear warranty between 45 and 60 thousand miles. 
Cooper tires come with a large range of treadwear warranties, going from just 20 thousand miles to 9 thousand miles. But this only illustrates that they offer tires for a wide variety of purposes.
High-performance touring and sports car tires wear very quickly, and the warranty is always rather short.
When directly comparing models that have the same dimensions and intended purpose, Cooper made tires have 5 to 10 thousand miles of warranty coverage more than Pathfinder.
And also, some models come with a 45-days test-drive period during which you can return them and replace them with some other Cooper model.
Related: Low Profile vs. High Profile Tires (In-Depth Comparison) 
Advantages and Disadvantages of Cooper Tires
Cooper tires come in a very wide variety of models and sizes, and they cover a very large number of different vehicle types.
From sports cars to off-road vehicles and everything in between.
It is very unlikely that you can't find a Cooper tire for your vehicle.
Their prices start very low, though they can also go very high, and in general, they are priced above the average tires in every market segment. Though not very much above.
While the price can be seen as a disadvantage of their products, Cooper tires are generally performing nearly like the best tires.
And some of their models have won accolades and awards in the past.
Related: Ironman Tires vs. Michelin (In-Depth Comparison)
Advantages and Disadvantages of Pathfinder Tires
If you are looking for a tire brand that perfectly matches the quality with the price of their product, Pathfinder is a good choice.
One disadvantage of their products is the very limited number of the models, just three.
And they cover only a small niche in the market, SUVs and light-duty trucks, with some off-road ability.
If you do not want to spend some exuberant amount of money, Pathfinder does come with a reasonable price tag.
Especially when you take into account the quality of their products, both brands are above the average but perfectly matched, and you get what you pay for.
Related: Yokohama vs. Toyo Tires (In-Depth Comparison)
Conclusion
If you are comparing Cooper vs. Pathfinder tire brands for your next purchase, such a choice should now be much easier for you.
Cooper has a wide range of tires, and the quality of some models is comparable to the best in their class.
Pathfinder has just three models, but they are usually better than their average competitors.
Keep in mind that Cooper also prices their products considerably lower than Pathfinder, giving you a much better price to performance ratio.
Pathfinder tires are still good products, but Cooper's are slightly better and much more affordable.
Related: Achilles Tires vs. Michelin (In-Depth Comparison)
Sources
https://www.automoblog.net/cooper-tires/
https://www.discounttiredirect.com/search?q=pathfinder
https://www.carshtuff.com/post/pathfinder-tires-review-brand-guide