Back in 2019, Michelin purchased Indonesian company P.T. Multistrada Ara Sarana Tbk., owners of Achilles tire brand, the biggest in Indonesia.
But how do they, Achilles tires vs. Michelin, compare to each other?
The main difference between Achilles and Michelin tires is that these brands target different buyer segments. Achilles is looking for budget-conscious buyers, while Michelin is trying to appeal to those that want nothing short of the best performance.
But that is just one part of the story. Are there differences in the quality of these tires that are larger, smaller, or equal; to the difference in price?
Why should you choose one or the other? Let's get on with it.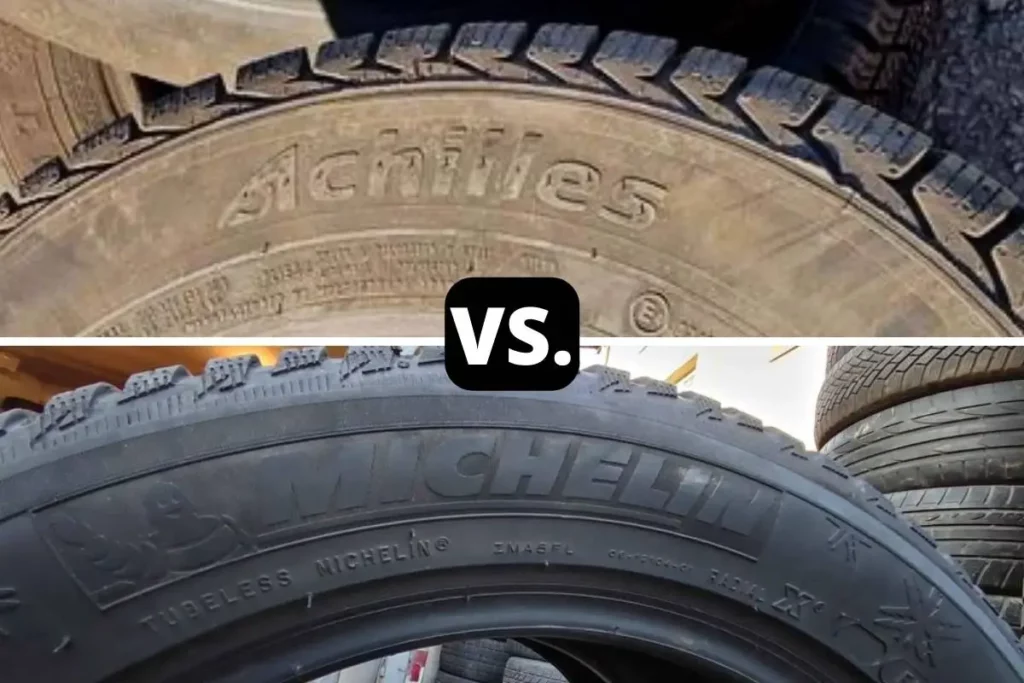 Achilles Tires vs. Michelin Comparison
Before getting into the fine details, you can check this quick and dirty comparison table of these two brands pitted against each other.
| | | |
| --- | --- | --- |
|   | Achilles | Michelin |
| Price | Low | Expensive |
| Performance | Above average | Top |
| Durability | Average | Top |
| Variety | Above average | High |
| Warranty | 35K-60K miles | 0-80K miles |
Price
The sticker price is always the first thing you see about some tires and arguably the most important factor for many drivers. It is a fact they use to decide whether one or the other brand of tires is worth it.
Achilles, as I've said above, is a brand that targets buyers who are budget conscious. You could even say those that are buying tires on a shoestring budget.
The prices of their tires start at around $50 and can go up as far as $275. Granted, depending on the model and size.
And the majority of their products are in the $100-$150 price range.
Michelin tires are premium products, and they cost it. The cheapest one you can find costs in the neighborhood of $125, and the most expensive can go for as much as $1,000.
But those are some specialized tires Achilles does not have a comparable product to.
When the individual tires with similar intended use are compared, Michelin tires usually cost two and a half to three times more than Achilles.
Related: Yokohama vs. Toyo Tires (In-Depth Comparison)
Performance
How good some tire performs depends on many factors, including:
road quality
driving style
experience
and many others.
But, all tires have to be rated using the NHTSA standardized rating system, Uniform Tire Quality Grading, UTQG, which uses three parameters to grade:
traction
temperature resistance
treadwear rate
Traction is a measure of how well a tire grips the road and is measured during a wheel lock condition.
Almost all Achilles tires are rated A for traction, which is the second-best, and few are rated A.A.
While Michelin tires generally share this rating, some are rated A.A., the top rating.
When a tire rolls on the road, it warms up, and at some temperature, its performance will start to deteriorate. Achilles and Michelin tires are pretty even in this regard.
The winter and some all-season tires have a B grading, and the majority have an A rating. In other words, both brands' tires have similar heat sensitivity.
Related: Ironman Tires vs. Michelin (In-Depth Comparison)
Durability
The third UTQG rating is measured treadwear of a tire compared to a reference tire.
During the testing, both are driven at the same time, and the tread depth is compared.
This way, variations in road quality and other factors are canceled out. The treadwear of the reference tire is 100 and tested depending on how many times faster or slower its tread wear.
Achilles tires generally have treadwear ratings between 400 and 450, promising to last four to four and half times longer than a reference tire.
For comparison, the vast majority of tires on the market have ratings between 300 and 500.
And this result rating places Achilles tires in the upper half of the average.
Michelin tires are vastly superior in this regard. And the treadwear ratings of their tires range between 500 and 850.
But when comparable tires are looked at, Michelin has a 150 to 200 higher rating, practically having around a 50% longer lifespan under the same conditions.
Variety
From the get-go, Michelin has roughly twice the number of tire models currently available on the market than Achilles does.
But, that is to be expected when comparing a budget-friendly brand to a premium one. However, that is just part of the story.
Both Achilles and Michelin are targeting to cover all tire market segments:
passenger
performance
SUV
commercial
light truck
winter tires
Both companies also offer non-DOT approved slick tires, which is very surprising coming from a budget brand such as Achilles.
Related: Cooper vs. Pathfinder Tires (In-Depth Comparison)
Warranty
Michelin tires come with the industry's leading warranty policies and customer services. There is no need to mention how many Michelin service centers exist around the country.
And their products come with various different policies that should ensure that you are happy with their product or safe from manufacturing defects while guaranteeing a long life of their products.
Any of their tire you can return within the first 60 days after the purchase and exchange for some other model of the same or lower price.
The majority of their tires have guaranteed miles ranging from 40 thousand to 60 thousand miles.
Some high-performance models go as low as 20 thousand for UHP models or as high as 80 thousand miles.
Achilles tires only come with warranty miles, which range between 30 thousand and 40 thousand miles, or one year, whichever comes first.
While these numbers are not comparable to Michelin's, they are higher than their price-point competitors.
Advantages and Disadvantages of Achilles Tires
If you have carefully read the above info, you should by now have realized what the main advantage of Achilles tires is.
Their price is not just lower but also gives more for your buck because it is lower than their life span is shorter.
You could say that for less than one set of Michelin tires, you can buy two sets of Achilles, and they will last 50% miles together.
Achilles tires have this advantage also compared to the other budget brands. While priced the same, you will get higher mileage out of them.
But there are some disadvantages to owning them, and it is performance-wise. People who have driven on these tires know that they perform between very good and excellent on bone-dry roads.
But, even all-season tires are just okay on wet roads. Mind you, they are safe tires, but on wet roads and during rains, you should be more careful.
If you are just counting miles when it comes to treadwear, these tires have very bad mileage.
But that is the conclusion of every comparison between budget and premium brands.
Budget brands' treadwear and longevity are generally exactly what you pay for. Though, Achilles is slightly better. 
Advantages and Disadvantages of Michelin Tires
The Michelin tires are a premium product, and there is no other way to say it.
If there is some specific vehicle purpose, Michelin has a tire that is among the best three there is for it.
And it doesn't matter which characteristics you compare, whether it is:
traction
stopping distance
comfort
cornering stability
longevity, or any other
But such quality and performance come with a price. They are among the most expensive tires on the market.
Related: Arizonian Tires vs. Goodyear (In-Depth Comparison)
Conclusion
Achilles vs. Michelin's comparison is reminiscent of David versus Goliath.
One brand is a budget-friendly company with better than average products, and the other is the industry leader with no compromise when it comes to the performance and quality of its products.
Which one you should choose boils down to which disadvantage is more acceptable for you.
Are you willing to accept a lower quality product, or you're okay with paying a higher price for a more premium set of tires?
Sources
https://www.walmart.com/browse/auto-tires/achilles-tires/91083_1077064_6083160_3762887?sort=price_high&affinityOverride=default&page=11
https://www.achillestiresusa.com/tires/