Tires are the only thing that keeps your vehicle on the road, so picking the right brand and model is vital.
But it would help if you also kept in mind what you want from them, which is why we have compared Ironman Tires vs. Michelin.
The main difference between Ironman and Michelin tires is that they target different market segments regarding price points and performance. Ironman Tires targets budget-conscious buyers, while Michelin strives for the best performance.
But, when it comes to comparing different tire brands, there is much more to the story than just the market segments.
The thing is that today you can't really find bad tires, and the choice comes to whether they are good enough for you.
So, let's dive into more of the details on the differences between these two brands and which is better for who and why.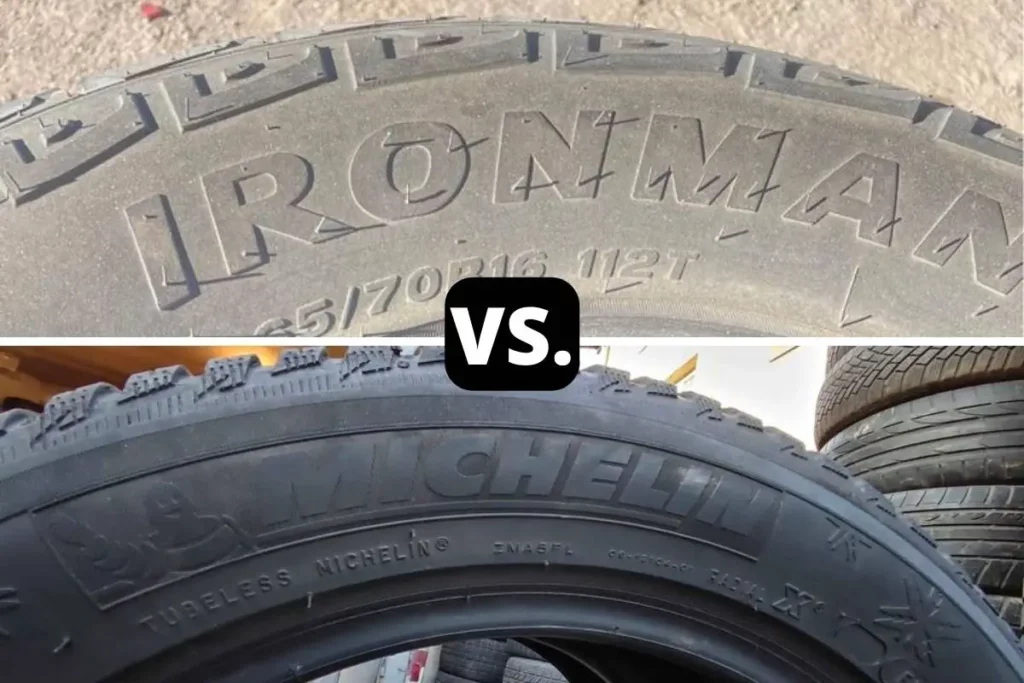 Ironman Tires vs. Michelin Comparison
Before we get into a detailed comparison, let's first see what we will be comparing. 
| | | |
| --- | --- | --- |
|   | Ironman Tires | Michelin |
| Price | Budget-friendly | Expensive |
| Performance | Mid-range | Top |
| Durability | Mid-range | Top |
| Variety | Low | High |
| Warranty | No tread life warranty | 20K-80K miles |
Price
Very often price of some products is indicative of their quality or intended buyers. How do these two tire brands compare price-wise, and why?
Ironman tires are targeting the lower end of the price scale, and their tires are generally two-three times cheaper than competitors.
Ironman tires, on average, cost between $85 and $170, depending on the model, with some going as low as $50. 
On the other hand, Michelin tires are products of continual research and development, on which hundreds of millions of dollars are spent every year.
This fact is apparent from both their price and the list of ingredients in their compounds. And the price range of Michelin tires is between $90 and $550, depending on the model.
So, which wins here? Well, it depends on what you need. If you need a tire that will perform well enough but do not want to break a bank, Ironman Tires could be your choice.
But if you are looking for the very best performance, especially on the edge of the envelope, and the price is not a problem, Michelin tires are for you.
Performance
A good measure of a tire's performance is its Uniform Tire Quality Grading or UTQG.
It is a standardized testing method developed by NHTSA, which measures three characteristics of a tire:
traction,
heat dissipation
treadwear
The first two are related to their performance and the last one to longevity.
Traction is the measure of a tire's ability to bring a vehicle to stop on wet asphalt or dry concrete and is measured by dragging them with locked brakes on these surfaces.
On tests, depending on the model, Michelin tires are graded mostly as A and AA, two of the highest ratings. In comparison, the Ironman Tires products have an A rating.
Heat dissipation is a measure of the maximum sustained speed at which a tire can effectively dissipate heat and thus not overheat.
Almost all Michelin tires have the highest A rating, meaning that they efficiently dissipate heat at speeds above 115mph.
Ironman tires are graded as A or B, depending on the model, placing them in the range between 100mph and 115mph.
When it comes to performance, Michelin tires are superior and justify their reputation. But Ironman Tires products do not lag all that far behind.
Related: Yokohama vs. Toyo Tires (In-Depth Comparison)
Durability
The durability of a tire depends on many factors:
compound composition
driving style
road conditions
tread pattern, and so on.
But, here, too, we can check the UTQG rating of Ironman and Michelin products.
This rating is a ratio of treadwear compared to a reference tire which has a rating of 100. If a tested tire has a rating of 400, its treads should last 4 times longer.
Most of the passenger vehicle tires on the market have a treadwear rating between 300 and 500.
Ironman Tires generally fall in the range between 400 and 480, placing them slightly above the average.
Michelin tires, on the other hand, usually range between 500 and 850, with the exception of some sport performance tires with ratings as low as 200.
Michelin tires are premium products, and it shows in their longevity and treadwear testing.
On the other hand, Ironman Tires show durability, which is above the average.
Related: Run-Flat vs. Tubeless Tires (In-Depth Comparison)
Variety
Currently, Michelin has around 50 different models of tires on the market, and they come in a great number of varieties:
rim sizes
widths
profiles
Defender LTX M/S all-weather tires, for example, come in as many as 76 variants. Pilot Sport 4 summer tires come in 78 variants, CrossClimate 2 in 88.
On the other hand, Ironman Tires has 17 products currently on the market. One of their more popular tires, iMOVE Gen3 AS, comes in 59 variants of size and width, for example.
The most popular GR906 tire comes in 38 variants and many other models in dozen or so.
Related: Low Profile vs. High Profile Tires (In-Depth Comparison) 
Warranty
When it comes to warranty, there is a stark difference between Ironman Tires and Michelin.
Ironman Tires Warranty & Ironman Tires Road Hazard Warranty
Ironman Tires offer Road Hazard coverage over the period of 2 years after purchase or until tires reach 50% of usable tire depth, whichever comes first.
In case of a failed tire, if it was used for "normal" driving on maintained roads, Ironman will replace it free of charge.
Unfortunately, Ironman Tires does not offer any treadwear warranty on its products.
Michelin Tires Warranty
On the other hand, Michelin has a wide range of warranties and guarantees on its products.
The first is a 60-day satisfaction guarantee, and if you are not happy during this period after the purchase of any of their product, you can simply change them for one of equal or lower value.
Michelin also offers roadside assistance for three years after purchase, and it includes free-of-charge towing up to 150 miles to the nearest Michelin-approved retailer of your choice.
Their tires also come with some of the longest treadwear warranties, ranging from 20K miles for some performance models to 80K miles, but the majority are in the 40K-50K miles range.
Related: Cooper vs. Pathfinder Tires (In-Depth Comparison)
Advantages and Disadvantages of Ironman Tires
Ironman Tires makes products that aim to bring quality at the lowest possible price. And such a goal sets certain limits that cause some expected advantages and disadvantages.
The strongest advantage of their tires is the price, which starts at just $50 for a tire. In other words, they are very affordable.
The disadvantage compared to the Michelin tires is their performance and longevity. They just are not as good.
They provide less traction and last shorter. And the smaller variety of sizes and models might make it almost impossible to find the tire you need.
Advantages and Disadvantages of Michelin Tires
Premium tires such as those made by Michelin are the best products on the market.
Performance and durability are impossible to match, but that tends to happen when a company invests hundreds of millions of dollars every year in development.
But the best performance comes with the highest price, and Michelin tires are anything but cheap.
Related: Arizonian Tires vs. Goodyear (In-Depth Comparison)
Conclusion
In an objective comparison of Ironman Tires vs. Michelin, there is an obvious winner.
The French tire company makes premium products, and its quest for top performance produces some of the best tires on the market.
On the other side is Ironman Tires, a company that strives to offer value products with budget-friendly pricing and above-average performance.
Choosing the tire brand for yourself comes down to what you want and need from tires.
If you want good traction when pushing your car to its limits, and are not asking for price, choose Michelin.
But if you are looking for affordable tires for everyday driving, Ironman Tires might have good enough ones.
Related: Achilles Tires vs. Michelin (In-Depth Comparison)
Sources
https://www.automoblog.net/ironman-tires/