Choosing a tire brand when purchasing a new set of tires is just a half of the story, as you should also choose where to buy them.
Besides the Mom-and-Pop store, there are a few chain stores to choose from, such as Walmart vs. Discount Tire Direct, with their own sets of advantages and disadvantages.
The main difference between Walmart and Discount Tire is that Walmart's Auto Care Centers are general automotive stores and shops, while Discount Tire is a nationwide chain of tire shops.
And this difference in specialization really does show in the quality and experience of shopping at one or the either.
While the individual experience at some particular location can vary by a lot, tendencies exist for both of these brands.
So, let's get into more details.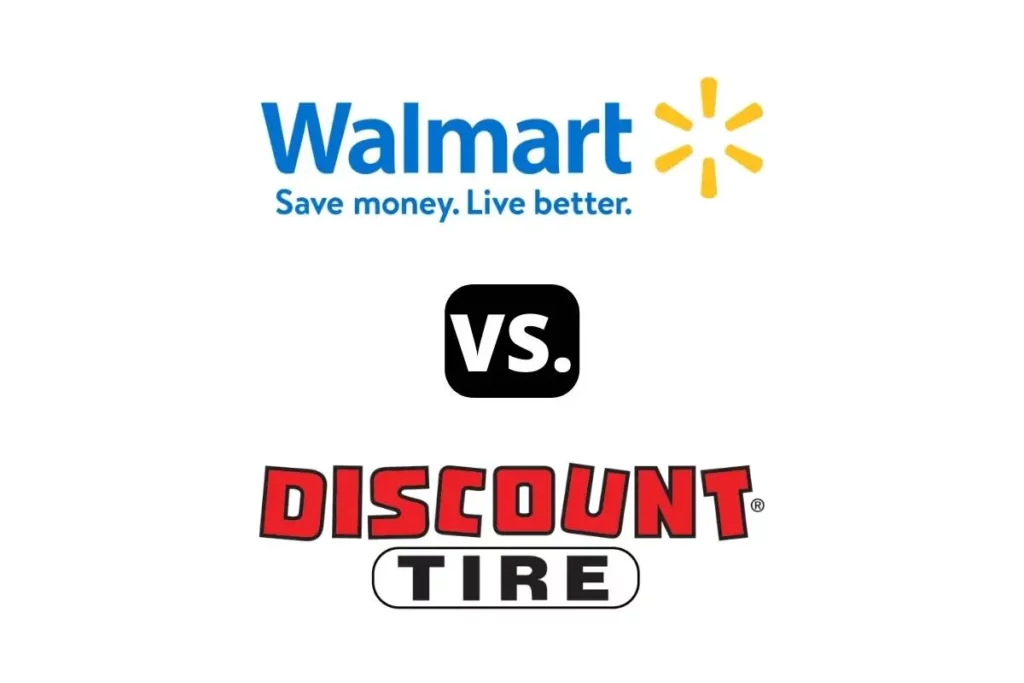 Walmart vs. Discount Tire: Tires Comparison
Before we go into the fine details of this comparison, you can check how they generally do versus each other on some criteria we find important for the quality of any tire store.
| | | |
| --- | --- | --- |
|   | Walmart | Discount Tire |
| Installation price | Low | High |
| Tire prices | Low | Above average |
| Customer satisfaction | Below average | High |
| Availability of stores | High | Above average |
| Variety of brands | High | High |
| Warranty | 25% treadwear | >3/32 treadwear |
Installation Price
Walmart has two tire installation services packages. The Basic package is the cheapest on the market and includes labor and parts costs for replacement.
In other words, labor and maybe valve stems and TPMS sensors. It also includes a 50-mile lug re-torque, if needed, and the life of tire rebalance and rotation on every 7,500 miles. All that for $15.
A tier above this is the Value Tire package, which adds a road hazard protection warranty, which consists of free flat repairs and replacement of non-repairable tires for up to 25% of treadwear or 12 months, whichever comes sooner.
This package costs $25, or $10 on top of the Basic.
At Discount Tire, for $22 dollars installation price, you cover labor, parts, the life of tire rebalance, flat tire repair, rotation, and inspection.
For an additional $25, you can get the Certificate For Repair, Refund Or Replacement program that provides you with a full refund or replacement tire in case of any damage caused by a road hazard.
But, Discount Tire also has an option that you choose some other shop for tire installation, especially in the area where they do not have their local stores, or you order tires through Discount Tire Direct.
The installation fee then is different from the above stated and depends on the particular shop.
Tire Prices
Both Walmart and Discount Tire are trying to be very competitive with the prices of tires they carry.
And when you start studying and comparing them, you can notice that both are selling them at very tight margins. But there are differences.
Generally speaking, Discount Tire will sell you tires for a few bucks less than what that same tire goes at Walmart.
But, you should be very careful when comparing price tags, especially if checking prices online.
At Walmart, all potential discounts, by manufacturer and store, are calculated into the price you will see.
On the other hand, when looking at prices on their website, at Discount Tire, all discounts and rebates are displayed at the checkout, plus they have some exclusive discounts when buying sets.
For example, a Michelin Defender LTX M/S 275/55R20 has a price tag of $219.99 at Walmart, making a set of four costs $879.96.
While at Discount Tire, the same tire is $244, but if buying them in the set of four, you will get a $110 discount, so costing you $866. A similar difference is for practically all tires they offer.
Customer Satisfaction
Well, let's first remember that it's Walmart and their Auto Care Centers. Typically, they are understaffed, and the staff is usually overworked.
With that being said, Consumer Report surveys usually place it at 24th place of 25 surveyed tire retailers.
Many people have good experience with them, but many more have less than a great one.
Discount Tire fares much better, though there is a huge variance in reputation between their individual locations.
And if you check their reviews on Google, they range between 2.3 and 4.6 average weighed marks. So, your mileage may vary.
Availability of Stores
Walmart has one of the largest networks of retail stores in the world. But not all of their locations have Auto Care Center.
Those that do, are still numbered in few thousand, and you will be hard-pressed to find a location in the States that is more than 50 miles away from one of them.
Compared to them, Discount Tire and America's Tire, their sister brand in some states, together have just over 1,000 locations.
But, they make up for that with a large network of other tire shops that provide installation and maintenance services on their behalf.
Thought to use them, you need to purchase tires online through the DiscountTireDirect.com website.
Variety of Brands
Both stores have very high numbers of tire brands they carry. For Walmart, that number is around 32 brands, arguably the highest of all tire retail chains.
You will be able to find both big and small brands, from Michelin and Achilles tires and everything between.
Discount Tire, both in-store and online, carry a few brands fewer, around 28. And both big and small name brands are well-represented.
But, at Discount Tire, you will find some private brands that are exclusive to this retailer, such as Pathfinder, Arizonian, Heartland, Sentury, and a few more specialized tire brands.
Related: Yokohama vs. Toyo Tires (In-Depth Comparison)
Warranty
Both retailers will provide you with the standard warranty that comes from the manufacturer of the tire you have purchased at their location or website.
Walmart Return Policy & Walmart Road Hazard Warranty
In addition, Walmart has a 90 days satisfaction guarantee, and during this period, you can use the Walmart return policy if the tire was not installed or driven on the road.
But for $10 per tire, you can purchase an additional Walmart road hazard warranty which covers repair or replacement of non-repairable tires up until the 25% of tread is spent.
Discount Tires Return Policy & Discount Tire Road Hazard Warranty
The Discount Tire return policy has 30 days limit, during which you can replace purchased tires for different ones of the same price.
But most tires are also warranted for time and mileage at Discount Tire.
And it is accepted during the first 36 months after the purchase, even if the tire was worn all the way to the treadwear indicator.
For an additional $25 per tire, you can purchase the Certificate For Repair, Refund, or Replacement, a Discount Tire road hazard warranty that is valid until there is just 3/32 of tread depth left.
And allows you replacement or refund of the full price in the case of tire failure due to a road hazard, with no questions asked.
Advantages and Disadvantages of Walmart Tires
Walmart is, simply put, a huge chain of stores, and you can find their locations of Auto Care Centers practically on any corner.
But the quality of their services leaves things to be desired.
While workmanship is satisfactory, making an appointment can be challenging, and stores rarely have free time for walk-ins.
Advantages and Disadvantages of Discount Tire
Discount Tire is a specialized tire retailer, and it shows in their locations and the quality of service they provide.
But all of the bells and whistles come with a markup on their prices and some add-on expenses.
In part, they do make up for the higher price of their services with excellent warranty coverage and discounts when tires are bought in sets.
Conclusion
Buying new tires is not just a matter of choosing make and model, as where you buy them can make a big difference.
Such is a comparison of Walmart vs. Discount Tire.
The former will provide you with very affordable services, while the latter will provide you with higher quality but at a cost.
Sources
https://www.cartalk.com/tires/discount-tire-review
https://www.cartalk.com/tires/walmart-tire-review
https://www.discounttire.com/customer-service/certificates
https://clark.com/save-money/walmart-tires/
https://clark.com/save-money/discount-tire-direct/