There are countless different brands available in the market that offer aftermarket wheels.
In this article, we take a look at the brand JNC and, more specifically – are JNC wheels good.
Plus, as a bonus, below, we have also mentioned some of the top alternatives to JNC.
Before you continue reading, we hope that you find the links on our website useful. If you click a link on this page and make a purchase, we may earn a commission at no extra cost to you, so thank you!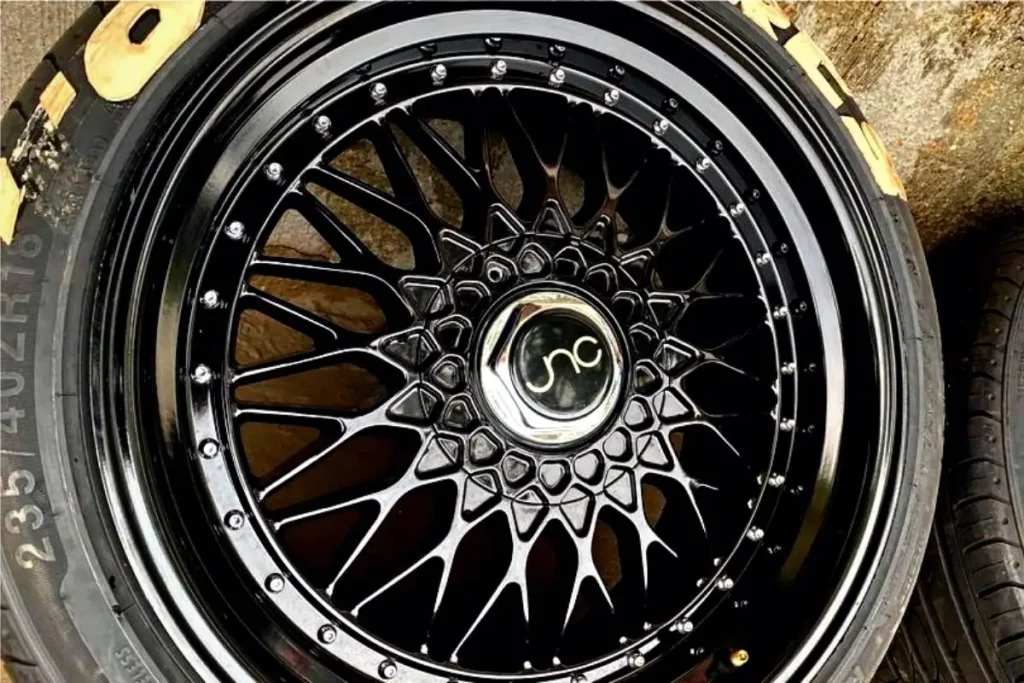 Are JNC Wheels Good?
JNC wheels are known for their affordable price tags. Compared to other aftermarket wheels, these aluminum-alloy rims are relatively heavy. JNC wheels are available in different variations and styles. The company designs and manufactures these wheels with quality material and multiple colors, making them a perfect pick for all kinds of vehicles.
JNC wheels are of decent quality and are not that popular because of that. In fact, JNC is considered one of the most underrated aftermarket wheel manufacturers.
That being said, if you have a limited budget, JNC wheels can certainly be a great investment for you.
Keep in mind that you always get what you pay for when it comes to aftermarket rims.
JNC wheels are certainly not for you if you prefer the utmost quality and performance.
In that case, you should find a company that offers more expensive products since, generally, those come with better strength, reliability, performance, and overall quality.
However, if you are looking for style instead of the best of the best quality and durability, JNC wheels are the perfect pick for you.
Top 3 JNC Wheels
JNC wheels vary in various sizes, fitments, and styles. Here are our top 3 JNC wheels that are both elegant and affordable:
JNC Wheels – JNC004 Hyper Black Machined Lip
On top of our list, we have JNC004 wheels.
These wheels are quite durable and of decent quality.
JNC004 wheels are made of aluminum alloy and are designed with cast technology. These wheels are available in 25mm offsets and 18″ rim size, making them perfect for all types of vehicles.
JNC's JNC004 wheels are available in black machined lip color that will certainly level up your ride instantly.
JNC Wheels – JNC001 Silver Machined Rims
Another product that deserves a spot on our list is JNC001. These wheels are available in 15-inch diameters, making them perfect for passenger vehicles.
JNC001 wheels come with a silver machined color and gorgeous design. Furthermore, these wheels are also made of aluminum alloy through the gravity cast method.
JNC001 wheels come with offsets of 25mm and a lug pattern of 4×100. Keep in mind that these wheels don't come with tires. So, the cost will only cover the rims of your vehicle.
JNC Wheels – JNC014 White Rims
Last but not least, we have JNC014. These wheels might cost you more than the above-mentioned variations, but they are worth it.
JNC014 wheels come in a gloss white color that offers a rich and bold appearance.
These wheels are available in 18-inch diameters and 35-mm offsets.
Like all other JNC products, JNC014 wheels are manufactured with cast technology and durable aluminum alloy.
Due to their great quality and performance, JNC014 wheels are the perfect alternative to OEM-style wheels. 
Who Makes JNC Wheels?
JNC wheels are, of course, made by JNC – a California-based aftermarket wheel manufacturer and other parts.
Although the company's headquarters is located in California, JNC wheels are available worldwide.  
Where Are JNC Wheels Made?
JNC is a California-based manufacturer that offers aluminum alloy wheels with the most budget-friendly price tags. These wheels are made with aluminum alloy with a one-piece cast method.
About The Manufacturer of JNC Wheels
Unfortunately, not much information about JNC is available on the internet. This company was founded in California in 1998. JNC wheels are manufactured under the production concept, meaning the company's main focus is to offer elegant and affordable aftermarket wheels to the whole world. Unlike other wheel manufacturers, JNC does not have any parent company.
In 1998, the aftermarket wheel industry was at its peak. During this time, everyone started to modify their vehicles with elegant and gorgeous sets of wheels.
However, not all wheel manufacturers were affordable. As a result, JNC came into existence and started making reasonable quality wheels with inexpensive price tags.
In no time, JNC became popular all around the world. Their target market was not only limited to California. Instead, they offered their wheels to the United States, Spain, Canada, and several other countries.
JNC cannot be considered a big company because they have around 30 employees and one factory. 
They started their journey as an aluminum alloy rims manufacturer. As of today, they have created multiple warehouses all around the globe to target more customers.
However, it is noticed that they are now expanding their technologies and making several other vehicle accessories as well.
How Long Will JNC Wheels Last?
Although JNC wheels are not as expensive as these mainstream brands, they still offer excellent looks and above-average quality.
They design and manufacture different aftermarket wheels with a variety of features.
So, it is nearly impossible to answer how long JNC wheels will last. With proper care and maintenance, these wheels can certainly last a lifetime. 
How Much Do JNC Wheels Cost On Average?
JNC wheels come in different styles, fitments, and sizes. As all these wheels have unique price tags, you cannot highlight a single figure. These wheels are generally pretty affordable when compared to other mainstream rims manufacturers.
Remember, you get what you pay for when it comes to rims. Additionally, wheels are one of the most important parts of a vehicle.
While an engine is required to power up your car, the right set of wheels offers a smooth riding experience.
Where Can I Buy Them?
JNC offers all of its products through its website. As JNC does not have any parent company, you can get these wheels from their official website.
Along with aftermarket wheels, you can also get several other automobile accessories from this approach.
Furthermore, if you prefer, you can also buy JNC wheels through third-party platforms, such as Amazon.
Biggest JNC Rims Competitors/Alternatives
JNC rims are perfect for those with a limited budget. However, if you have the money, we recommend investing your money into a more durable and expensive set of wheels.
Fortunately, there are thousands of other wheel manufacturers available in the market. Some of the best alternatives to JNC include Enkei, Asanti, Avid, and Motegi.
Frequently Asked Questions – FAQs 
How Heavy Are JNC Wheels?
Compared to other aftermarket wheels, JNC wheels are certainly heavy. However, the actual weight of a set of rims will depend on your selected model. For instance, JNC001 wheels can weigh around 24 pounds per wheel.
What Are JNC Wheels Made of?
JNC wheels are made of durable and strong aluminum alloy. These wheels are manufactured through one-piece cast technology that ensures durability and performance.
Besides their aftermarket wheels, other accessories offered by this company are also made of aluminum alloy.
Do JNC Wheels Come with Lug Nuts?
The answer to this question depends upon your selected model. While some wheels come with lug nuts, for others, you'll need to buy these items separately.
That being said, JNC does offer factory lug nuts with multiple finishes that will fit your wheels perfectly.
Conclusion
As JNC wheels are affordable, it's reasonable to wonder, are JNC wheels good? Well, regardless of their budget-friendly price tags, these wheels offer excellent looks and average performance.
Yes, you cannot compare JNC wheels with other popular aftermarket wheel brands, but these wheels have their value for aftermarket rims!
In simplest words, if you have a limited budget and want to upgrade your ride, JNC wheels are a solid investment.
These wheels come in different sizes and fitments. So, chances are you will be able to find a perfect set of wheels for your vehicle.
Resources